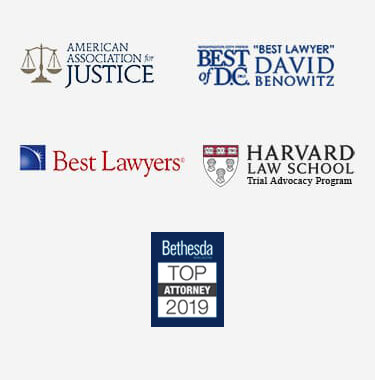 Maryland Truck Accident Lawyer
Truck collisions are among the most serious on the road. The Maryland Motor Carrier Handbook indicates that trucks may weigh as much as 80,000 pounds. The impact of a collision with these large vehicles can cause major injuries or even fatalities for those in passenger cars, as well as for motorcyclists, bicycle riders, and pedestrians.
As a result, if you or someone you know has been involved in an accident with a truck driver, it may be in your best interest to contact a Maryland truck accident lawyer as soon as possible. En Español. Whether you were injured in Montgomery County, Howard County, Anne Arundel County, or elsewhere, our Maryland attorneys can help.
Types of Truck Accidents
The Maryland truck accident lawyers at our firm have assisted clients injured in a wide array of accident types. Truck accidents, in particular, are often classified by the way they occurred, since many trucks and dangerous driving conditions share similar, classifiable qualities. Sometimes truck accidents are categorized due to the way that the truck driver acted or failed to act, and others relate to certain preventable mechanical malfunction or physical qualities (such as tire blowouts or overloading). Others still are related to way the accident dynamically took place (such as a jackknife accident or a rollover accident). The following are a few of the more common types of truck accidents that commonly occur on Maryland roadways.
As always, no two accidents are the same. Each one involves a unique set of factors and circumstances that require attention above and beyond the simple classification of the accident. The Maryland truck accident attorneys in our personal injury practice group are dedicated to investigating our clients' cases to make sure that we are able to provide the best possible representation during the claims process.
Maryland Truck Accident Claims
One of the most important factors that will be taken into account by both a trial jury and the insurance company of the defendant in a Maryland truck accident case is the nature of your injuries, including the specific injuries you suffered as a result of the crash and whether they're permanent. Just some of the injuries that may lead to a large settlement include the following:
Spinal cord injuries and other back injuries
Bone fractures such as shoulder, hip and ankle fractures
Head trauma including brain damage
Herniated discs
Paralysis
Any injury that requires surgery
These types of injuries typically result in the largest settlements because they can be confirmed through diagnostic testing administered by a health care provider.
However, insurance companies will also attach value to soft tissue injuries and other injuries deemed more subjective, such as the following:
Movement restrictions
Anxiety and depression
Visual disturbances
Headaches
Dizziness
Muscle spasms
A reputable, experienced Maryland truck accident lawyer will know exactly which details to provide to the defendant's insurance company, as well as how best to present them. Although the insurance company may offer you a small settlement in the immediate aftermath of your accident, your attorney will fight to raise the settlement value between that date and the date of your trial. In many cases, this may result in the settlement value increasing.
Who Regulates The Trucking Laws?
Truck drivers must have a Commercial Driver's License (CDL) and must obey all state and federal rules. The Federal Motor Carrier Safety Administration (FMCSA) has comprehensive regulations addressing everything from the frequency of inspections for motor carriers to the number of hours that a trucker may drive in the course of a day and in the course of a week. The Code of Maryland Regulations also addresses rules for trucks related to driver licensing, vehicle inspections, weight limits, and many other issues. The Department of Transportation in Maryland provides a summary of laws and regulations applicable to commercial vehicles in the state.
A truck crash victim may file a lawsuit against the trucker and may recover compensation if the victim can prove that the safety rule violation was the direct cause of a collision. While a plaintiff may also file an injury lawsuit and prove negligence by showing the truck driver was unreasonably careless.
Victims injured in truck collisions can file a personal injury lawsuit to obtain compensation, while fatal truck crashes can lead to a wrongful death lawsuit brought by family members of the victims. The plaintiff may sue the driver of the truck who was directly responsible for the crash, but can also sue the trucking company in most cases.
How Does the Doctrine of Vicarious Liability Apply in a Truck Crash Case?
The legal doctrine of vicarious liability applies in Maryland. Under this rule, if an employee is negligent in the course of his work performance, this is the equivalent of the employer being negligent. A trucking company can thus be held responsible for collisions that occur because the company is negligent in its policies or obligations, or because its employees were careless.
The Code of Federal Regulations Section 387.9 establishes a requirement that motor carriers have at least $750,000 in liability insurance coverage if they transport property in interstate commerce. If hazardous materials are being transported, up to $5 million in liability insurance is required. Since trucking companies must purchase large insurance policies, pursuing a claim for compensation from the trucking company can result in larger amounts of money being available to compensate a victim for all crash losses.
Hiring a Maryland Truck Accident Lawyer
A Maryland truck accident lawyer can provide important assistance to victims of truck accidents or to family members of those who are killed in truck collisions. An truck accidents attorney in Maryland can help decide who to pursue a claim against and can negotiate with insurance companies to try to resolve the case outside of court and get compensation in a settlement. An attorney can also provide representation in a MoCo or Maryland court so you can try to convince a jury to award you payment for medical costs, loss of wages, pain and suffering, emotional distress, or wrongful death damages.