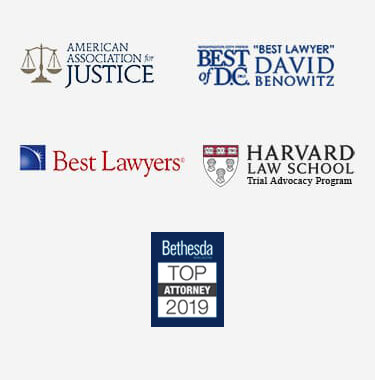 Abogado de Crímenes Federales en Washington DC
Los crímenes federales son los delitos que contravienen y rompen las leyes federales de los Estados Unidos; las cuales, a diferencia de las locales que tratan crímenes serios o violentos, estos son usualmente de "guante blanco". Los crímenes federales tienen un alcance de afectación superior a los locales, por lo que hay un interés de seguridad nacional y cargan con penas más severas. Aqui hay mas informacion sobre delitos en Washington, DC.
Agencias que Investigan Casos Federales
En un caso federal, los delitos son investigados por agencias gubernamentales nacionales, como el FBI (Oficina Federal de Investigaciones, por sus siglas en ingles) y la CIA (Agencia Central de Inteligencia). En el juicio, un abogado del país, o fiscal, presentará el caso en contra del enjuiciado.
También las agencias gubernamentales siguientes: el Departamento de Alcohol, Tabaco y Armas de Fuego (Bureau of Alcohol, Tobacco, Firearms, and Explosives), La Administración de Control de Drogas (Drug Enforcement Administration); el Servicio de Inmigración y Control de Aduanas (U.S. Immigration and Customs Enforcement); el Servicio de Impuestos Internos (Internal Revenue Service); el Servicio Secreto; entre otras, están autorizadas para investigar ofensas o delitos federales.
Abogado Defensor de Acusados de Crímenes Federales
Ser declarado culpable de un crimen federal es muy serio. Si usted piensa que podría estar siendo investigado, comuníquese con un abogado de su confianza. Tenemos un gran equipo de abogados diestros en el tema de crímenes federales.
Muchas personas no tenían idea de que estaban siendo investigadas por el FBI o la CIA, hasta que fueron detenidos. Estas agencias tienen muchos recursos para investigar a un acusado y han probado que toman su tiempo haciéndolo.
Los Delitos Federales más Comunes son:
Lavado de dinero,
Malversación de fondos,
Robo de identidad,
Tráfico de drogas,
Secuestro,
Robo de banco,
Evasión fiscal,
Ofensas inmigratorias,
Fraude y
Distribución de pornografía infantil.
Condenas de Crímenes Federales
La pena de un crimen federal, o los años de cárcel, varían dependiendo de la naturaleza de la ofensa o delito, el número de individuos involucrados, el valor que se le asocia, y el daño que se causó. Usualmente las sentencias en casos federales dictan penas mucho mayores a las locales, las cuales en muchos casos llegan a cadena perpetua y en algunos casos muerte.
Hay tres tipos de ofensas; el delito grave (o felony), el delito menor (o misdemeanor) y la infracción. Cada tipo de ofensa se divide en clases, dependiendo de la seriedad del acto. En delito menor varía de la A, a la letra C; y el grave hasta la letra E, siendo la clase A la modalidad más grave.
Para un delito grave, la multa máxima es de 250 mil dólares. Si es clase A, la pena es cadena perpetua o pena de muerte. La clase B, le asegura al culpable 25 años o más en la cárcel, por su parte la C es de entre 10 y 25 años; pasando a la letra D que es de 5 a 10; para finalizar con la E, que es de 1 a 5 años de cárcel.
Defensa de un Crimen Federal
Los casos federales conllevan un nivel de seriedad más alto que los locales, ya que dichas ofensas o delitos ponen en peligro la seguridad o la economía de los Estados Unidos. Por esto, las agencias gubernamentales que investigan dichos casos son sumamente exhaustivos. Esto crea un caso contundente en contra del acusado, pero también da lugar a violaciones a sus derechos constitucionales, en específico el que lo protege de ser investigado y molestado sin razón.
Un buen abogado con amplia experiencia en la defensa de crímenes federales; por ello, sabrá como evaluar si hubo alguna transgresión a sus derechos por las oficinas gubernamentales; además de conocer ampliamente como se trabaja con el derecho federal, para así poder brindarle el mejor resultado posible.