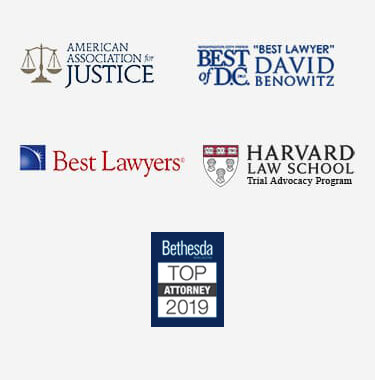 Our Approach to DC Spinal Cord Injury Cases
At Price Benowitz, all cases are taken very seriously. We have the experience and training to fully evaluate a spinal cord injury case. We work diligently to present cases in such a way as to obtain a positive outcome for our clients. The DC spinal cord injury lawyers have years of experience handling personal injury cases in the District of Columbia, Maryland, and Virginia. It is this experience that is relied upon to represent clients, who have spinal cord injuries.
The spinal cord injury lawyers at our DC office are committed to representing those who have been injured due to the negligence of others. We understand how devastating a spinal cord injury can be, so we are very sympathetic to folks who have suffered spinal cord injuries. Because of our extensive experience handling significant personal injury cases, we know how traumatic a spinal cord injury can be to the person injured, the immediate family, and on their lives going forward.
Consulting & Retaining a DC Spinal Cord Injury Lawyer
There is no fee for initial consultations at our firm. All consultations are free. We consider the consultation to be an important part of evaluation of the case. We don't charge for the initial consultation because we don't want the person to feel pressured into making a decision regarding retaining an attorney, and we also don't want a consultation fee to prevent us from helping an injured person.
In the personal injury group at our firm, all of the cases are handled on a contingency fee basis. This is true even though spinal cord injury cases can be more expensive than other cases in perfecting that claim and presenting it to a jury. The terms and conditions of the contingency fee are spelled out in the retainer agreement. The retainer agreement is required to be signed by the client before one of our DC spinal cord injury lawyers can take any action on his/her behalf.
The unique situation with spinal cord injury cases is that, in order to truly perfect the claim and present that claim to a jury, many times the plaintiff will be required to present expert medical testimony. This testimony can be difficult to present to the jury for any number of reasons. Regardless of the hurdles of presenting this testimony, the physician's time both at trial and in preparation thereto can be very costly, even many thousands of dollars. Thus, it is imperative for the plaintiff to understand who is going to bear that litigation cost, and whether or not the client can be responsible for that cost.
Working With a DC Law Firm v. Solo Practitioner
The biggest benefit of working with a law firm is that the client knows and understands that he/she has a team of lawyers and staff members working on the claim. If a person were to retain a solo practitioner, then the client would have to rely upon that one person. Our firm has experienced associate attorneys that assist the partners in presenting clients' claims.
Additionally, the client should be assured that a law firm has the resources to see the claim through trial. For example, if a case calls for the retention of one or more experts, then that case can become very expensive. When cases become more expensive, some DC spinal cord injury attorneys who may not have the financial means of a larger practice, may not want to take the risk of taking that case to trial and therefore, the attorney may pressure the client into settling the case for less than it may be worth.
Obviously, each case is different and each case should be evaluated on a case by case basis. In some cases it may make sense to keep costs low in order for a particular client to get better results.  However, the client should know at the outset that their DC spinal cord injury attorney is willing and able to pay all the costs necessary to see the claim through trial.
Attorney-Client Relationship
The DC personal injury attorneys at Price Benowitz have a good working relationship with their clients because the attorneys encourage an open and honest dialogue with their clients. At Price Benowitz, we put our clients first and advise them of the particular strengths and weaknesses of their case, and advise them based upon our experience as to what is a good result for them in their case. This honest and unbiased information allows the attorney to build good working relationships with the clients.