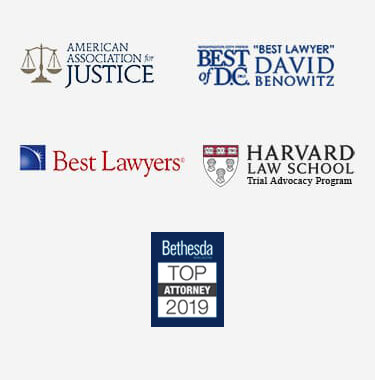 Maryland Bike Accident Attorney
With more Maryland residents taking up bicycling as a form of exercise and recreation, or to commute to work in an environmentally friendly way, crashes between cyclists and cars, trucks, and buses are becoming increasingly common. Unfortunately, cyclists are more likely to be seriously hurt or killed in a collision than motorists.
If another driver was negligent or acted aggressively on the road, you deserve compensation for your bike crash injuries. Speak with a knowledgeable Maryland bicycle accident lawyer to learn more about pursuing compensation.
A qualified Maryland bike accident attorney will examine each detail of your case, leaving nothing to chance when it comes to maximizing your settlement and playing hardball with both the insurance company and the defendant's legal counsel.
Common Causes of Maryland Bicycle Accidents
"Dooring" is a common bike accident that happens when a person parks their car on the side of the street and opens the door before checking for oncoming cyclists. This is considered a bike accident caused by negligence because drivers are supposed to be aware of their surroundings at all times, even in a parked vehicle.
Other common causes of bicycle accidents in Maryland include:
Vehicles making left turns in front of bicycles before checking their blind spots
Vehicles passing too closely
Vehicles failing to look closely before pulling out of a side street or parking lot
Vehicles cutting off cyclists on the right side in what is known as "right hook" accidents
Motorists failing to see a bike with poor reflective gear
Bicycle Safety Laws in Maryland
According to Maryland law, bicycles are vehicles. As such, cyclists are allowed to ride on streets as long as they obey traffic signals.
However, since bicycles are smaller, slower, and quieter than motor vehicles, the state of Maryland puts certain laws in place to promote safety and help reduce the chance of a collision. Important bicycle safety laws in Maryland include:
Bicyclists under the age of 16 are required to wear a helmet that meets certain standards
Motorists must not pass a cyclist any closer than three feet
Bicycles are not allowed on roads with a speed limit higher than 50 miles per hour
Cyclists must ride in a bike lane if one is available, except under certain conditions
Cyclists must ride as close to the right side of the road as possible and with the flow of traffic
Cyclists must not wear headsets or earplugs that cover both ears while riding
Bicycles must have a front lamp and a red reflector on the rear
A bicycle accident attorney can explain Maryland's bike laws and how they may impact a case.
Determining the Value of a Bike Accident Settlement
The amount of compensation someone could receive for their bike accident injuries varies greatly depending on a number of factors, such as:
The type and severity of the injuries sustained
How much time was missed at work
If the negligent driver was under the influence of drugs or alcohol
The circumstances of the accident
If the cyclist followed all of Maryland's bicycle laws
Where the accident took place
Average Settlement Values
Predicting the value of someone's specific settlement is extremely difficult even for a highly experienced Maryland bicycle accident attorney. This is because a wide range of factors are at play. Some of these factors are considered only by a trial jury or a judge, or perhaps only by an insurance company for those seeking settlements.
To determine their potential settlement or reward, someone should consult with a well-qualified bike accident lawyer in Maryland who can help them accurately calculate all of the losses and harms that they have suffered.
Speak With a Maryland Bicycle Accident Attorney
To learn more about how a bicycle accident lawyer in Maryland can help you get all of the compensation you deserve for medical bills, lost wages, pain and suffering, and more, contact or firm today. Our attorneys are ready to stand up for you and make sure the process goes as smoothly as possible, regardless of whether your accident took place in Montgomery County, Howard County, or Prince George's County.