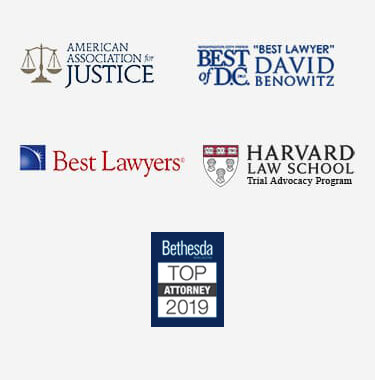 College Park Personal Injury Attorney
Despite being a small college town, College Park, Maryland is not without its fair share of accident risks. Individuals who are injured in accidents such as automobile collisions, slip and falls, or public transportation accidents should consult with a College Park personal injury lawyer to learn about their options for pursuing compensation.
Personal Injury Cases in College Park
With three major highways, an airport, and stations for the Washington, DC Metro Green Line, and the MARC train, College Park experiences a high volume of traffic and activity. Being a transportation hub also has its downside, however, with the highly trafficked area putting drivers, pedestrians, and other travelers at risk for accidents and injury. Accidents involving motor vehicles, buses, and even trains can cause serious injuries to motorists and others on the roadways, and when they do occur, it is important that the at-fault parties are held responsible for their careless actions. When someone is in an accident involving large motor vehicles traveling at high speeds, the potential for serious physical injuries, including traumatic brain injuries, are heightened.
Slip and Fall Claims in College Park
Another common personal injury claim arises out of slipping and falling on someone else's property.  In many situations, building and property owners have a responsibility to maintain safe conditions for visitors. When someone trips, falls, or is otherwise injured because of dangerous conditions that the property owner had a legal duty to prevent, the injured party can file a premises liability claim to seek recovery for injury or damages.
College Park Medical Malpractice Cases
Medical malpractice claims can stem from unfortunate situations in which doctors or other medical professionals fail to provide the standard of care they owe to their patients, resulting in debilitating illness, injury, or even death. Patients who put their health and their lives in the hands of medical professionals and then experience undue suffering can seek compensation for their hardship through a medical malpractice suit.
Motor vehicle accidents, slip and falls, animal attacks, bike accidents, workplace injuries, and various other types of situations can all lead to personal injury claims. A skilled personal injury attorney in College Park can help you pursue compensation if you have been injured in an accident caused by someone else's negligence.
College Park Personal Injury Representation
Seeking compensation for damages following an accident is important for injured victims who have suffered unnecessarily. Plaintiffs in personal injury cases may recover damages for:
Medical bills
Physical pain and suffering
Lost wages from time out of work
Property Damage
Other harms and losses
Not only can a personal injury suit help injured victims with the financial and emotional strain they endure, but it also serves to hold the at-fault parties accountable for the negligent acts that caused the injuries in the first place. Personal injury claims have the added benefit of protecting the rest of the community from suffering the same fate by deterring those responsible from making the same reckless decisions in the future.
How a College Park Personal Injury Lawyer Can Help
The College Park personal injury lawyers at our firm have extensive experience handling a wide variety of injury claims. They understand the pain, anger, and frustration that victims experience when they are injured due to the carelessness of others. Our personal injury attorneys can fight aggressively to earn just compensation for the damages experienced by those who have been harmed. If you or someone you love has been injured in an accident, contact our law office today to schedule a free consultation and explore your options for filing an injury claim.