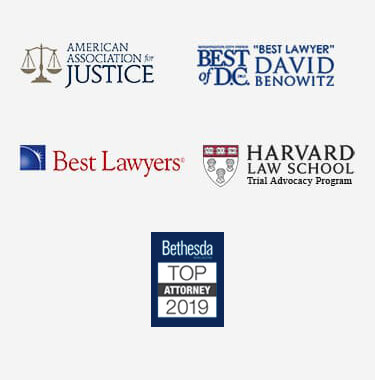 Montgomery County Personal Injury Attorney
A serious injury can turn your life upside down. This is particularly true in an area like Montgomery County, Maryland where mortgages and other expenses can be high. Furthermore, many MoCo residents commute to DC or Baltimore, which may very difficult after sustaining- and while recovering from- a serious injury. An experienced Montgomery County personal injury lawyer can help an injured victim seek compensation for the damages they sustained due to someone else's reckless or negligent actions. En Español.
Types of Injuries in Montgomery County Claims
The possible serious injuries that a victim could sustain in an accident are endless, but can include:
Burns and scars
Spinal cord injuries (including neck and back injuries)
Broken bones or severed limbs
Internal injuries
Death
If the defendant is found negligent in causing your injuries, you have the right to collect damages to compensate you for any physical, financial, and other hardship directly associated with your injuries. A Montgomery County injury lawyer can explain what expenses may be eligible for compensation.
Montgomery County Auto Accidents
Motor vehicle accidents can lead to extremely serious injuries and can include collisions between passenger vehicles, trucks, buses, and even bicycles. Some common case types include:
Commercial truck (18-wheeler) wrecks
Public transportation wrecks:
Off-road vehicle accidents
Pedestrian Accidents
The injuries sustained in motor vehicle collisions can range from minor scrapes and bruises to broken bones or even severed limbs. Drivers on Maryland roadways have a responsibility to operate their vehicles in a safe manner, but when drivers fail to uphold that duty there can be catastrophic consequences, such as the injuries listed above.
Premises Liability in MoCo
Premises liability law holds property owners responsible when someone is injured on their property. Also, many times when a person is injured in an assault on someone else's property, they may be able to hold the property owner liable for damages because owners have a responsibility to protect those on their premises from harmful acts that are reasonably foreseeable of others while on their property. There are a large number of premises liability claims, which can involve injuries stemming from:
Medical Malpractice Injuries
Medical professionals are held to a high standard of care when it comes to protecting patients from harm. Whether it's a family doctor, emergency room physician, or ICU nurse, they have a responsibility to provide a certain level of care to their patients. Unfortunately, this standard of care is not always upheld and when medical professionals deviate from that standard, their patients can be seriously injured and those patients have a right to seek compensation for the harm that was caused by the doctor, hospital, or other medical professional. Types of medical malpractice cases include:
Misdiagnosis or delayed diagnosis
Childbirth delivery injuries
Medication errors
Anesthesia errors
Surgical errors
Victims of medical malpractice may sustain internal or external physical injuries or develop illness based on the substandard care provided to them by the doctors and nurses they trusted. In cases of misdiagnosis, often patients are forced to undergo unnecessary and expensive treatment for an illness that they don't even have. It is important that any individual who suffers because of a medical professional's carelessness in this area attempt to recover damages through a medical malpractice claim in Montgomery County. A MoCo injury lawyer with experience handling medical malpractice claims can answer your questions.
Wrongful Death / Survival Claims
Losing any loved one is a tragic experience, but when that death is caused by another party's negligence, surviving family members can pursue a wrongful death suit as a means of holding the responsible parties accountable. The estate can also bring a survival suit. Their emotional loss and financial hardship along with the sudden absence of significant income the deceased produced and expensive hospital and funeral bills can be staggering for the surviving family members of the deceased.
Damages in Montgomery County Personal Injury Cases
Damages in Maryland personal injury cases are classified into two categories: economic and non-economic. Economic damages are actual expenses incurred. Non-economic damages are highly subjective and are often the greatest area of contention between plaintiffs and defendants. Generally, damages involve:
Your medical bills are actual economic damages you have already incurred and those you will have to pay in the future, as well as payment for repaired/replaced items (such as your car if you're in an accident, and any items in it that were destroyed in the wreck).
The other actual economic damages consist of loss of wages and/or earning capacity as a result of your injuries. Also includes income you may lose in the future and the difference in income if you are forced into a lower paying job because of your injuries. Non-economic damages include pain, suffering, emotional distress, future physical impairment and disfigurement, loss of consortium, and additional damages.
Punitive damages might also be awarded by the jury. These are awarded when the defendant's negligence is compounded by other factors such as willful intent or blatant disregard for your safety.
Statute of Limitations and Contributory Negligence
With few exceptions, the majority of personal injury claims must be filed within three years of the date of the accident or the discovery of the injury caused by the accident based on Maryland Judicial Procedure Code Section 5-109. In the event of medical malpractice, the statute can be as high as five years, depending on the date that the malpractice injury is discovered. There are exceptions that may extend the statute. An experienced Montgomery County personal injury lawyer can tell you more about how the circumstances of your case may apply. All injury claims in Maryland are subject to the doctrine of contributory negligence. This means that if an injured plaintiff shares as little as one percent of the fault for the accident that caused their injuries, they are barred from recovering any damages. If you feel you may have contributed to an accident in Montgomery County you should still speak with an experienced injury attorney to explore your likelihood of success.
Experienced Montgomery County Personal Injury Attorneys
Maryland personal injury law can be complex and overwhelming for injured victims to tackle alone. The experienced Montgomery County personal injury lawyers at our firm have handled all different types of Maryland injury cases and are well-suited to advise you if you are pursuing a claim. Contact our law office today to speak to a knowledgeable MoCo attorney who can help you explore your options.