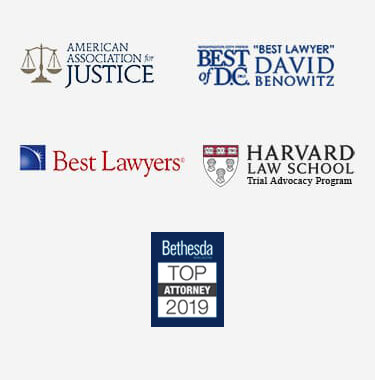 DC Car Accident Attorney

If you've been the victim of a car accident in Washington DC, your life could be changed forever. With the help of a reputable DC car accident lawyer, you can fight for the settlement you deserve–one that will allow you to redeem your lost wages and medical expenses while sustaining your ability to provide financially for your family. Our proven auto accident attorneys can examine all details of your case and utilize every available resource in order to help you win your case and maximize the value of your compensatory settlement.
An experienced attorney is equipped to handle auto-related injury claims and is ready and willing to help you during what is surely a time of great stress and turmoil.
The legal professionals at our firm will examine every aspect of the incident as they build the strongest possible claim. That care and dedication is your best chance for receiving damages, either through a settlement or an award of damages by a judge or jury. Those damages can include compensation for any harms and losses you have suffered, lost wages, and sky-rocketing bills. Contact our DC law offices today for a free initial case consultation with one of our auto accident attorneys to learn more about your specific options.
Types of Car Wrecks
Different kinds of car accidents are more or less likely to inflict serious injuries on the victims. Price Benowitz LLP has experience handling many types of accidents, including:
Furthermore, car accidents can be caused by a number of different driving behavior. Particularly dangerous behavior that frequently results in accidents.
These accidents often result in property damage, but more importantly, they can cause personal injury from the force of collisions (e.g., whiplash) or even death. Contact a DC car accident attorney today to help you get compensation for your injuries. Our firm also handles claims involving other kinds of motor vehicle accidents. Here are some car accidents that may be treated differently from typical car accident cases:
Causes of Auto Accidents in DC
If you have been involved in a car crash, you are probably struggling to deal with a mountain of medical and car repair bills and, possibly, lost wages from being unable to work due to your injuries or inability to use your car. You are also likely wondering whether you have any legal recourse to seek compensation for these losses. Frequently, what many of us refer to as car accidents are not accidents at all, but are caused by the negligence, carelessness, or recklessness of another party. That may include someone driving under the influence, texting while driving, following too closely, speeding, or a number of other things. A dedicated DC auto accident lawyer will have extensive experiencing litigating these types of cases and more, and he will have numerous successful results. He will know what types of issues to explore when filing your claim, which can range from flawed vehicle designs and defective car parts — such as defective or dangerous engine components, seat belts, air bags, tires, brakes, and steering systems – to drivers who fail to keep their vehicles properly maintained and serviced. Other types of accidents include those involving large trucks, which logged nearly 4,000 deaths and more than 100,000 injuries nationwide.
Combined, these defects and careless drivers contribute to thousands upon thousands of deaths every year. These issues also demand that victims take legal action to ensure that the individual or parties responsible for causing the victim's injuries, of the death of a loved one, will not continue unfettered. If you have been implicated in such an accident, it is in your best interest to contact an experienced DC auto accident lawyer.
Predicting the Settlement Value in a Car Crash Case
Even for an experienced DC attorney, it's very difficult to predict an approximate settlement value for a specific car crash lawsuit because so many factors are at play, including the severity of the accident and the resulting injuries, whether these injuries are permanent and/or significantly life-altering, the makeup of the jury, the perceived distribution of fault in the incident and much more. By speaking to a qualified auto injury attorney you'll be able to receive a rough estimate of what your settlement value could look like, though your actual settlement could differ greatly from this estimate due to factors that occur while the lawsuit is ongoing.
Factors that Influence the Value of a Settlement
If your car accident case reaches a trial, both the outcome of the lawsuit and the monetary value of the settlement you receive will be determined by a jury of your peers. The jury will look at a wide variety of factors when determining both of these, including but not limited to the following:
The overall strength of your liability case
Their perception of your credibility
Their perception of the defendant's credibility
Whether the accident was avoidable by either you or the defendant, and who was ultimately at fault in the crash
The severity of the car accident
The severity of your injuries, particularly if they are permanent
The condition of the vehicle(s) before and after the accident
Any arguments that could be brought up by the defendant's attorney
The arguments your attorney could use to refute the aforementioned arguments
Whether any witnesses observed the car crash as it happened
The perceived credibility of those witnesses
Any pain and suffering you endured and continue to endure resulting from the crash
Any loss of companionship you endured as a result of the accident
An attorney in DC would be responsible for investigating each of the factors that lead to a car accident in order to build a strong case to present to the jury. His or her goal will be to present these factors to the jury in a way that influences them to increase the value of your settlement, using any legal means available.
The Role of the Insurance Company in Determining Your Settlement Value
Before your case reaches a trial, and probably shortly after your accident, you will likely receive a call from the defendant's insurance company offering you an initial settlement value. By refusing this offer and hiring a DC auto accident attorney to work on your case, the insurance company will continually increase its offer, hoping that you'll settle before a trial. Some of the factors that the insurance company will look at when determining each settlement offer include the following:
The specific location of the accident
Medical records confirming your injuries
The severity of the accident
Lost wages and future lost wages resulting from your injuries
Whether your lawyer has a history of refusing early settlement offers and bringing cases to trial (this increases the value)
It's important to note that insurance companies typically do not take pain and suffering into account when determining pre-trial settlement offers, since these factors are usually quite subjective. In most cases, insurance companies use software as opposed to actual human logic to calculate these factors, which is why subjective factors are difficult to weigh. This is where it truly pays to have a skilled and compassionate lawyer in DC who will explain your pain and suffering from a car crash to a jury in a way that they can understand and sympathize with.
Pros and Cons of Settling a DC Auto Accident Case
Victims will typically choose to settle their case if the offer they receive from the insurance company is enough to cover the damages owed to them. However, victims should under no circumstances settle their case without the input of a professional auto injury attorney. Usually, insurance companies will offer victims an amount significantly less than what the victim is entitled to receive. Once a settlement has been reached, the victim is extremely unlikely in receiving any compensation after the case has been settled.
If a settlement cannot be reached, the plaintiff will have no other choice but to take their case to court to obtain compensation. By taking a case to court, a person's compensation award will be contingent solely on the court's decision. As a result, it is possible for the court to award a victim what they deserve, while still risking not obtaining any type of compensation whatsoever.
How a DC Car Accident Lawyer Can Help
Every case is unique in terms of its facts, circumstances, and in the application of the facts of any particular case to the law. Every case has its own uniqueness and merits that have to be pursued in terms of what the cause of the accident was, what at fault party did or didn't do, if they violated any traffic law, and the type of injury and the treatment.
Every case is unique and every case is individual, and that's why it's that much more important to get an attorney involved. An experienced attorney will know how to handle all of these issues from the inception of the case. They will know how to prove that the other party caused the accident as a result of road rage or general negligence. It's important to get the attorney involved the earlier the better, because the attorney can advise the injured party as to the best way to move forward in navigating all of the issues in a case.
In addition, the attorney can investigate the accident. A number of times, if medical treatment is refused on the scene, there won't be a lot of investigation by the police officer, just an exchange of information and the police officer will write a report of the accident scene. If that's the case, it's important for the attorney to get an investigator involved early to be able to investigate the accident, talk to witnesses, and do independent investigation to help substantiate what will have to be proven in the case. As the injured party and the plaintiff in a court case, it is our burden to prove everything, which means the more evidence we have, and the earlier we have it, the better it is for the case.
Frequently Asked Questions
Dealing With Auto Collisions In Your Life
According to the United States Census Bureau, more than 10 million auto accidents occurred each year across the country from 1990 to 2009. During that same time frame, more than 35,000 deaths were logged within one year of an auto collision. And according to the National Highway and Traffic Safety Administration, motor vehicle crashes increased in 2012, following a six year national decline. If you were injured in a car accident in the District of Columbia, or if you have lost a loved one in an automobile or other vehicle crash in the region, a DC attorney can help you pursue civil justice through a personal injury or wrongful death claim.
Our office handles a wide variety of auto accident claims, including:
Contact a Car Accident Attorney in DC
If you have been involved in a car collision, the one of the worst things you can do is not talk to a dedicated legal professional. The DC auto accident attorneys at our firm are highly skilled at holding negligent drivers and insurance companies responsible while remaining extremely sensitive to the needs of their clients and providing strong emotional support. Their passion for helping victims while pursuing justice means that you will benefit from the best of both worlds in the personal injury legal services realm.
Someone who has been involved in an accident with someone who is uninsured or underinsured will want to speak with an attorney and discuss how to move forward.
Client Review
Review Title: You cannot go wrong by choosing to work with him.
Review Description: Working with Seth Price was a pleasure. He's not only intelligent, compassionate and hard working, he's extremely ethical and honest. Seth truly cares about doing what's right, and he cares about the people he serves. You cannot go wrong by choosing to work with him.