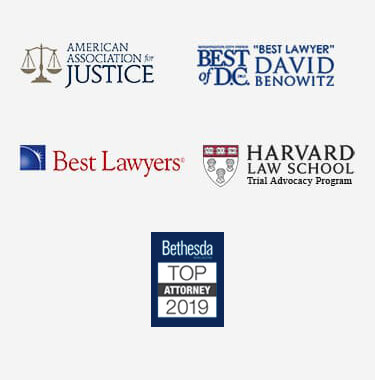 DC Drugs Lawyer
Being charged with a drug or counterfeit substance offense in Washington DC is very serious, and could result in either misdemeanor or felony penalties depending on the severity and nature of the offense. In general, controlled substance crimes involving possession of a small amount of a drug results in a misdemeanor and the possibility of fines and jail time. However, for crimes involving larger amounts of controlled substances, and for crimes in which the defendant is charged with manufacturing, distributing or selling drugs, a felony may be imposed. In this case, associated penalties may include decades in prison and hundreds of thousands of dollars in fines. This, in turn, can make it difficult for the defendant to find stable employment, housing, loans and other life necessities well after the legal process has finished.
The difference between drug possession and drug possession with intent to distribute can be highly subjective, and calls for the aid of a skilled Washington DC drug lawyer. One of our seasoned attorneys can carefully examine each detail of your case in order to produce a robust defense based on the evidence and legal precedents. This will ensure that you receive the best possible outcome to your trial. En Español.
Drug Possession DC
According to Washington DC criminal code § 48-904.01(d), it is illegal for an individual to intentionally or knowingly possess a controlled substance without a valid prescription from a medical practitioner. The penalty for this crime in the vast majority of cases is a misdemeanor, along with up to $1,000 in fines and 180 days in jail.
However, §48-904.01(d)(2) imposes an elevated penalty on those found in possession of the liquid form of phencyclidine (PCP). In this case, the offense is a felony with a penalty of up to $12,500 in fines and three years in prison.
Drug possession charges always call for the assistance of a responsive Washington DC drug defense attorney. Our lawyers in the area have years of experience fighting and beating drug possession charges.
Manufacturing and Distribution Charges
Washington DC code § 48-904.01(a) makes it illegal for individuals to manufacture or distribute controlled substances. This same code equally prohibits distributing or manufacturing it.
If the controlled substance in question is considered a Schedule I or II abusive or narcotic drug, the penalty is a prison term lasting no longer than 30 years and a fine not to exceed $75,000.
For Schedule I, II and III drugs that are non-narcotic and non-abusive, the penalty is up to five years in prison along with a fine of up to $12,500. However, if the controlled substance in question is less than a half-pound of marijuana, and if the offender is violating this code for the first time, the penalty is up to 180 days in jail and a fine not to exceed $1,000.
For Schedule IV drugs, the penalty is up to $12,500 in fines and no more than three years in prison. For Schedule V drugs, the penalty is further reduced to a maximum fine of $2,500 and no more than one year of incarceration.
The penalties are identical for counterfeit substances. For example, if you manufactured and distributed a counterfeit version of a Schedule II non-narcotic drug, you could face up to $12,500 in fines and five years behind bars.
According to §48-904.06, any person who is 21 years of age or over and distributes a Schedule I or Schedule II controlled substance that is a narcotic drug, phencyclidine, or a phencyclidine immediate precursor to a person who is under 18 years of age may be punished by fines up to $75,000 and up to 60years in prison, or both.
§48-904.03a of the Washington, DC code makes it illegal for any person to open or maintain any place to manufacture, distribute, or store a narcotic or abusive drug for the purpose of manufacture or distribution. The penalty for this crime, as per part (b) of the code, is a prison term between five and 25 years and a fine not to exceed $75,000. Five years in prison is a mandatory minimum sentence for this crime.
Fraudulent Behavior Involving Narcotics
Washington DC code § 48-904.03 covers laws pertaining to drug crimes that involve fraud and deceit. According to this code, it is illegal for a person to intentionally or knowingly do any of the following:
Use a suspended, revoked, fictitious or mis-issued registration number in the course of manufacturing or distributing a controlled drug
Acquire a controlled drug through subterfuge, deception, forgery, fraud or misrepresentation (such as if you fake a medical condition in order to obtain a drug)
Provide fraudulent or false information in a report or application, or to purposefully omit information from the same
Possess, make or distribute a device intended to print or reproduce an identifying mark on a drug container, rendering it a counterfeit substance
The penalty for doing any of the above is a prison sentence lasting up to four years, along with a maximum fine of $12,500.
Penalties for Repeat Drug Offenders in Washington DC
According to code § 48-904.08, individuals convicted of a second crime under Chapter 9: Controlled Substances are subject to penalties twice those of first-time offenders. This equates to prison sentences with double the maximum length, as well as fines double their maximum value. This code may be applied even if the first offense was committed in a different state other than Washington DC. Any crime involving hallucinogens, stimulants, depressants and narcotics is covered by this code.
In many cases, certain intricacies of the Washington DC criminal code make it difficult to determine whether a criminal defendant can be classified as a repeat offender. Instances such as these are where it is truly beneficial to have a professional, experienced local drug lawyer at your side.
Reach Out to a DC Drugs Attorney for Assistance
Facing criminal charges can be overwhelming, especially if you are facing a serious offense. Instead of navigating this process alone, call a tenacious DC drugs lawyer for help with your case. An attorney can explain your rights, answer your questions, and work to build a defense on your behalf.