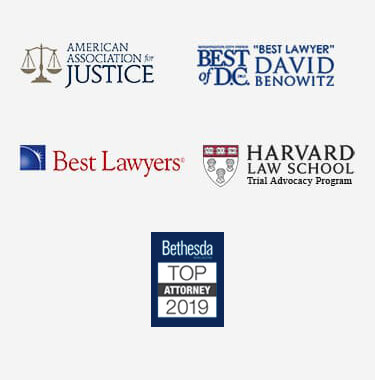 Elements of
Personal Injury Claims
It's important to keep in mind the following four elements that must exist in any personal injury claim: Injury — Someone must be injured. But not all acts of negligence cause "injury." This can be confusing. Legally, an injury occurs only when serious symptoms continue after the accident. If you merely slip and fall on someone's property and only suffer a painful bruise that disappears in a few days, you have not been legally injured. Liability — The person or business entity you blame for your injury must have legal liability. There must be something that this entity or individual was legally required to do (or not to do) and their failure to do so caused your injury. Duty (or "duty of care") — A person or legal entity is required to act toward others and the public with "watchfulness, attention, caution, and prudence with reasonableness." If a liable party's actions fail to meet their legal standard of duty, then negligence and damages may be claimed by the injured party. There are several levels of duty, which your DC injury lawyer can explain to you during your initial consultation. Damages — The amount of money a plaintiff (the injured victim) may be awarded in a lawsuit. There are many types of damages, which are also best left for your DC injury attorney to explain. However, damages typically fall into two basic categories: (1) actual damages are those the defendant owes you directly; and (2) punitive damages represent additional monies levied against a defendant in order to punish his or her conduct. Additional considerations like hospital liens may also factor into a case.
Experienced DC
Personal Injury Attorneys
By now, you probably have a lot of questions. That's understandable. And that is why it is important for you to speak with an experienced DC personal injury attorney. He or she can walk you through the claims process and dispel any fears or concerns you may have. It's important to note those who fail to retain an attorney can run the risk of compromising their compensation rights, usually due to the tactics of an insurance company and their team of high-priced lawyers. Well over 90 percent of personal injury defendants are represented by an insurance carrier. Their first line of defense is an insurance adjuster whose job is to offer you the least amount of compensation. Without an experienced DC injury lawyer, what do you do? For if you accept an offer, usually far below the true value of the harms and losses you have suffered, you must sign a release. That release can limit your ability to seek further compensation if your injuries, and any related costs, increase in the future. Another advantage to retaining a passionate personal injury attorney is the comfort that comes from knowing all the calls and bully tactics employed by many insurance adjusters and their lawyers will stop because your DC injury attorney will be the only person to deal with these individuals. In addition to the valuable legal representation you will receive in and out of court, a personal injury law firm also knows how to effectively investigate plaintiff accident and injury claims. The evidence they unearth during their discovery will be used to bolster your claim. Armed with this information, and expert witnesses, they can negotiate for a fair settlement, and you will avoid the need for a costly trial. A lawyer with years of experience under their belt will also be able to provide information about MRI and CAT scans and whether it would help a person's case to have those tests done. A settlement can result in greater damage amounts than those you might have secured had you taken the case to trial. And a settlement is often the fastest way to resolve the issue for all parties involved. A dedicated personal injury attorney will know when this option is in your best interest, and when your best course of action is to take your fight to court.
Tips when looking for
"The Best DC Injury Lawyer"
Tip #1: Don't look for the "best DC injury lawyer." Instead, look for the attorney or law firm that you feel is the best fit for you and your case. When you have been wronged by another person or company in a way that results in some harm to you, whether physical or financial, it can be a very aggravating situation. For that reason, we believe, we hear from many people who want to file a case and who want "the best lawyer in DC" to represent them. There is always the possibility that if an attorney isn't the exact right fit, but has the necessary knowledge for your particular case, for a co-counsel agreement between two or more attorneys. Our firm's policy is to place the client's desires and wishes first and foremost. However, there is a potential for issues to arise between co-counsels on a single case. Additionally, there is also a chance that an attorney will refer you to another attorney that might be better-equipped to handle your needs.
However, the truth is that there is no such thing as a "best lawyer or law firm in DC." What you should be looking for is the attorney or law firm who is qualified to take your case and who you believe is the right fit for you. The law is very broad, and different attorneys have experience handling different kinds of cases. For instance, an attorney who handles civil rights cases may not have experience with medical malpractice. Just as important, you should find a lawyer and law firm who you feel is the right to represent you and your interests. Rather than looking for "the best law firm in DC," you should consult with different attorneys who have experience handling cases like yours and look for an attorney you feel you can trust and build a strong relationship with.
Free Case Evaluation
After getting rear-ended, my car was totaled and medical bills were piling up. Maxwell, Tina, and Carolina were so helpful as they assisted and guided me through the process of working with other insurance companies. I was able to sit back and let them handle everything, and they kept me in the loop with frequent updates. They were extremely professional and they genuinely cared to make sure I understood everything before making a decision to settle the case. I appreciate all of their hard work and would recommend them to anyone looking for a personal injury attorney!
Jordan B.
Price Benowitz is amazing! They were very patient with collecting information for my car accident. They are very thorough with creating a demand and closing statement. The team here also is willing to explain every step of the process in detail to advise you in making the best decisions. I would suggest this company to anyone in the DMV area.
Lorraine F.
My experience with Price Benowitz LLP was nothing short of exceptional. I cannot say enough about the office and staff here, they helped me with the my claims for my car accident where I sustained right knee injuries. Carolina and Tina both tracked my progress and consistently updated me with next steps and progress of my claim. They strive to give me the best possible service they could and succeeded beyond my expectations. John provided the follow through and and persistence and accomplished a settlement that worked out for everyone. I couldn't be happier with the results, service, and just actual caring that I received from everyone involved in my case.
Michael C.
While I like to think of myself as a righteous man, I am always comforted that Price Benowitz has my back. They're extremely generous and attentive, even when they're not billing. They're an important part of the DC area and have always been generous online in their blogs and articles. They're not jealous of their knowledge, they just want to make sure the little guy has a fighting chance. I only have one get out of jail card in my wallet and that's for Seth Price at Price Benowitz.
Chris A.
I loved working with the folks at Price Benowitz. They worked very hard and I can truly say that I got a very fair settlement because of the work that was done by the Lawyers at Price Benowitz. I would use them again and I highly recommend Price Benowitz Law firm to anyone and everyone.
Robin T.
I was very pleased with the the speed Price Benowitz got back to me from my initial call and voice mail that I left. They had a lawyer call me immediately and the results of my case was successful. I thank them very much for their time.
Wayne S.
Price Benowitz is a great office to go to if you need help in the DC area. They are professional and kind-hearted people that will help you every step of the legal process
Christina W.
Best attorneys I have found for my wife's personal injury claim. Attorneys and their staff are dedicated, honest and professional.
Kumar D.