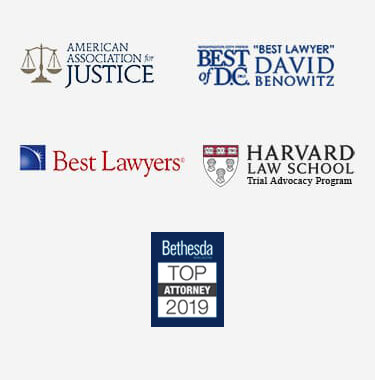 Driving Under the Influence (DUI) and Reckless Driving Offenses
There are four classifications of alcohol and drug-related driving offenses in Maryland:
Driving under the influence of alcohol – DUI. [Maryland Transportation Code section 21-902(a)].
Driving while impaired by alcohol – DWI: [M.T.C. section 21-902(b)].
Driving while impaired by drugs and/or alcohol – DWI: [M.T.C. section 21-902(c)]
Driving while impaired by a controlled dangerous substance (including marijuana) – DWI: [M.T.C. section 21-902(d)]
The maximum penalties for any first-time DUI/DWI conviction include:
Up to one year in jail
$1,000 fine
Suspension of driver's license
DWI (drug) convictions could bring lesser penalties, depending on the level of drugs that are present in your system if it's a first offense. But a conviction of any DUI/DWI charge causes insurance rates to dramatically rise. A conviction could impact your personal and professional life for years. You will also incur demerit points against your Maryland driving record, which could endanger your license.
Reckless driving laws are prosecuted thorough Maryland Transportation Code section 21-901.1 due to the suspect's willful disregard of the safety of other people or property. Penalties for a first time conviction are a fine of up to $1,000 and six MVA points.
Penalties for the lesser charges of negligent driving: [M.T.C. section 21-901.1(b)] and aggressive driving: [M.T.C. section 21-901.2] are not as serious. But those who are guilty of these offenses will still incur fines and MVA penalty points.
How A Criminal Lawyer Can Help
A defense attorney will help protect you, your rights, and your freedom right from the start. A common mistake people make early on in a criminal case after they have been arrested is waive the right to remain silent and the right to speak with an attorney before talking to or answering any questions from the police. This often stems from a mistaken belief that "lawyering up" is equivalent to admitting guilt or that by speaking freely to the police, the person will appear more innocent and cooperative. However, this tactic often results in people inadvertently and unintentionally incriminating themselves and ultimately, hurting their own cases. Having an attorney who can guide you and advise you as to what you should or should not do can help ensure that issues and mistakes like this never happen to you.
The Value of Trust
Ultimately, the relationship between an attorney and a client is predicated upon trust. You must be able to trust that your lawyer is experienced and knowledgeable and will work as hard as possible to obtain a favorable result in your case. Speaking to a defense attorney as soon as possible after you have been arrested or have learned that you are being investigated by the police will ensure that you're getting the best possible legal aid for your particular case and that your rights are being protected. Learn more about Price Benowitz criminal defense practice group.
Free Case Evaluation
After getting rear-ended, my car was totaled and medical bills were piling up. Maxwell, Tina, and Carolina were so helpful as they assisted and guided me through the process of working with other insurance companies. I was able to sit back and let them handle everything, and they kept me in the loop with frequent updates. They were extremely professional and they genuinely cared to make sure I understood everything before making a decision to settle the case. I appreciate all of their hard work and would recommend them to anyone looking for a personal injury attorney!
Jordan B.
Price Benowitz is amazing! They were very patient with collecting information for my car accident. They are very thorough with creating a demand and closing statement. The team here also is willing to explain every step of the process in detail to advise you in making the best decisions. I would suggest this company to anyone in the DMV area.
Lorraine F.
My experience with Price Benowitz LLP was nothing short of exceptional. I cannot say enough about the office and staff here, they helped me with the my claims for my car accident where I sustained right knee injuries. Carolina and Tina both tracked my progress and consistently updated me with next steps and progress of my claim. They strive to give me the best possible service they could and succeeded beyond my expectations. John provided the follow through and and persistence and accomplished a settlement that worked out for everyone. I couldn't be happier with the results, service, and just actual caring that I received from everyone involved in my case.
Michael C.
While I like to think of myself as a righteous man, I am always comforted that Price Benowitz has my back. They're extremely generous and attentive, even when they're not billing. They're an important part of the DC area and have always been generous online in their blogs and articles. They're not jealous of their knowledge, they just want to make sure the little guy has a fighting chance. I only have one get out of jail card in my wallet and that's for Seth Price at Price Benowitz.
Chris A.
I loved working with the folks at Price Benowitz. They worked very hard and I can truly say that I got a very fair settlement because of the work that was done by the Lawyers at Price Benowitz. I would use them again and I highly recommend Price Benowitz Law firm to anyone and everyone.
Robin T.
I was very pleased with the the speed Price Benowitz got back to me from my initial call and voice mail that I left. They had a lawyer call me immediately and the results of my case was successful. I thank them very much for their time.
Wayne S.
Price Benowitz is a great office to go to if you need help in the DC area. They are professional and kind-hearted people that will help you every step of the legal process
Christina W.
Best attorneys I have found for my wife's personal injury claim. Attorneys and their staff are dedicated, honest and professional.
Kumar D.