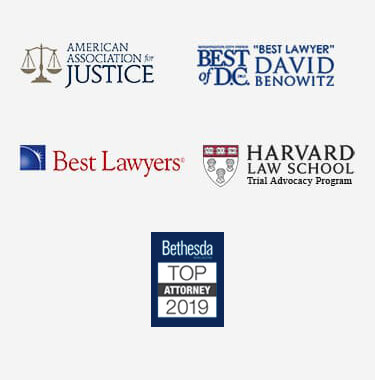 Bowie, MD Personal Injury Attorney
Bowie is one of the fastest growing cities in Maryland with a population of about 50,000 people. It has over 2,000 acres of parks, a golf course, the Bowie Center for the Performing Arts, and a AAA baseball team affiliated with the professional Baltimore Orioles. In such a quickly expanding city, accidents are bound to happen. If you or someone you love has been injured because of someone else's negligence, a Bowie personal injury attorney can help you pursue compensation through the filing of a claim.
Bowie Personal Injury Cases
No one wants to think about getting injured or hurt. Nevertheless, injuries can and do occur and those responsible for another person's suffering should be held responsible for their careless decisions. Personal injury claims allow injured victims to seek compensation for their hardship and have the added benefit of holding at-fault parties accountable, thus protecting the rest of the community from similar accidents in the future.
Bowie Auto Accident Injuries
Motor vehicle accidents are a common cause of serious injuries. Drivers who act recklessly can cause severe damage to other vehicles and drivers on Bowie roadways. Filing a personal injury claim following an automobile collision can be a complex and confusing process for those who have been injured, and insurance companies will often take advantage of this by offering injured victims unnecessarily low settlements in order to make the matter disappear quickly. An experienced Bowie personal injury lawyer can help make sure that injured party receives fair compensation for the damages they sustain in an auto accident.
Slip and Fall Injuries in Bowie
Sometimes accidents happen on another person's property. Conditions such as wet floors, broken stairs, or falling objects can injure unsuspecting visitors. Property owners are responsible for maintaining safe conditions and may owe a legal duty to individuals who have been injured through a premises liability claim. An experienced personal injury lawyer in Bowie can assess whether a premises liability claim exist and help ensure that the injured party receives compensation for damages.
Dangerous Products in Bowie
Product liability is a means of legal recourse for individuals who have been harmed by a defective or dangerous product. Manufacturers who allow unsafe products to get into the hands of consumers or who fail to provide adequate safety warnings for their products can be held accountable for their negligence. A skilled Bowie personal injury attorney can assist with these types of claims, among others, so that injured victims can focus on recovery.
Seeking Damages in Personal Injury Claims
Other types of injury cases can involve workers' compensation, medical malpractice, and even wrongful death suits. Injured victims may seek monetary compensation for damages such as:
Physical pain and suffering
Property damage
Lost wages due to time away from work
Emotional trauma
No amount of money can undo an injury, but seeking compensation for damages is an important step to make up for the physical, emotional, and financial strain experienced by those who have been harmed.
Call a Bowie Personal Injury Lawyer
The Maryland personal injury lawyers at our firm have experience handling a wide variety of injury claims. If you or a loved one has suffered a serious injury because of someone else's negligent or reckless actions, contact our law office today to schedule a free case evaluation and to explore your options for pursuing compensation.