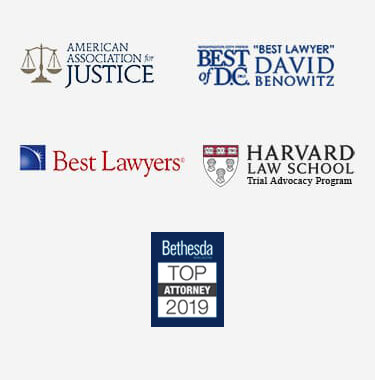 Rockville Personal Injury Attorney
If you have been injured in an accident caused by another person's actions or negligence you are probably feeling overwhelmed and at a loss as to what to do. You are not, however, alone and help can be easily found with the assistance of a Rockville personal injury lawyer. A dedicated personal injury attorney can help you seek compensation for damages suffered as a result of the other party's negligence. An experienced Rockville personal injury attorney can help you to secure the compensation you need and deserve. The team of attorneys at our firm has successfully litigated a number of personal injury cases and helped numerous accident victims obtain their rightful compensation.
In Rockville, daily commuters are at a near-constant risk for being involved in accidents in their personal motor vehicles or while utilizing public transportation, including the Washington Metro rail system's Red Line, the MARC commuter Brunswick Line, and Amtrak rail system (for more information about Rockville's public transit systems, click here). Whether en route or boarding, disembarking, or waiting for a commuter car, an injury accident on the daily commute can throw one's everyday life into upheaval.
Unintentional Injuries in Rockville, Maryland
In the course of day-to-day activities, Rockville residents may become involved in accidents which can lead to debilitating injuries and lengthy recoveries. Another person's negligence, carelessness, or recklessness can cause a victim to suffer in a number of accident scenarios:
Workplace accidents
Motor vehicle accidents
Premises liability accidents
Product liability accidents
And many more
These accidents may leave an individual with something as minor as scrapes and bruising or something as severe as paralysis or brain trauma. Even "simple" mishaps can result in the most serious of injuries or even death.
Whatever type of accident may have befallen you, if you are not responsible for your own injury, a personal injury attorney can help you hold accountable those who caused your accident. Failure to respect the safety and well-being of another is unacceptable, whether intentional or not. If another's actions caused injury to you or a loved one, he or she may be held financially liable for the physical, emotional, and economic damages caused. An experienced Rockville personal injury lawyer can tell you more about your right to compensation during a free and confidential consultation.
Head Trauma and Brain Injuries
According to the Centers for Disease Control and Prevention, each year at least 1.7 million traumatic brain injuries (or TBIs) occur either as an isolated injury or along with other injuries. TBIs are a contributing factor to a third (roughly 30.5 percent) of all injury-related deaths in the United States. And about 75 percent of TBIs that occur each year result from concussions or other forms of mild injury.
Mild TBI
Patient initially loses consciousness for no more than 15 minutes
Patient may suffer memory loss regarding the accident
Patient may be dazed/confused/disoriented
Most commonly diagnosed type of TBI
Moderate TBI
Patient initially loses consciousness for more than 15 minutes but no more than a few hours
Patient suffers more pronounced confusion or disorientation than with mild TBI
Patient is more likely to suffer some form of memory loss than with mild TBI
Severe TBI
The patient may lose consciousness for six hours or more following the accident
The period of unconsciousness is not always immediate and may take place after a period of clarity
The patient may remain in a coma or vegetative state
The patient may regain only minimal consciousness
Impaired brain function may be life-long
Those suffering from severe traumatic brain injuries often fail to achieve a full recovery and are forced to rely upon family, friends, and medical personnel to care for them around the clock. If you have suffered a brain injury, or if you are caring for a loved one whose TBI has left him or her permanently disabled, allow a personal injury attorney to advocate on behalf of you and your family and to help you obtain just compensation for your physical and emotional suffering and loss.
Permanent and Long-Term Disability
If an unintentional or personal injury caused by another party has left you or a loved one with a permanent or life-long disability, the physical suffering may be accompanied by severe emotional and financial obstacles that accrue over time. An income-provider who is no longer able to earn a paycheck to support her family, a husband who is no longer able to leave his wife unattended, a child who has lost the companionship of a parent; these are all circumstances that can result from a serious personal injury and may qualify for compensation. Learn about nursing home abuse.
In addition to long-term and permanent disabilities, there is also the possibility that a personal injury can lead to death. If a loved of has passed away due to the negligence or lack of care of a healthcare professional, consult with a Rockville wrongful death lawyer immediately.
Call a Rockville Personal Injury Attorney Today
If you are dealing with the aftermath of a personal injury accident, you do not have to take on that burden alone. A Rockville personal injury lawyer with our firm is available to speak with you regarding your case. Understanding your rights as an accident victim and allowing an experienced professional to provide you with invaluable legal counsel can help you hold accountable those liable for your suffering. Contact an attorney at our Rockville law offices today to learn more about your options for seeking compensatory financial awards.