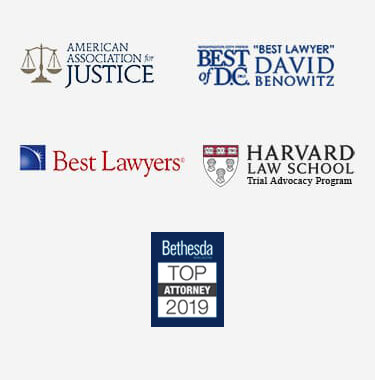 Howard County Injury Lawyer
A Howard County injury attorney can assist victims of personal injury in their fight for just compensation. When an individual is injured as a result of the negligence of another individual or company, the injured party is entitled to file a claim for damages which can include, but are not necessarily limited to, medical bills, loss of earnings, property damage, and a variety of other harms and losses suffered. While it can be extremely difficult to put a price on many of those items, a well-qualified Howard County injury lawyer can help victims thoroughly evaluate their potential claim, and will give them an honest assessment of the case and whether it is worth pursuing. That attorney can also fight to obtain a favorable settlement or, if that is not possible, court-awarded damages.
The team of injury attorneys at Price Benowitz LLP are deeply dedicated to the pursuit of civil justice for all individuals who have suffered as the result of another person's recklessness or negligence. They will work tirelessly in their attempt to meet all of their clients' needs while also pushing to hold those responsible for the injury, which can help to protect not only the victim, but everyone within their community.
Howard County, Maryland Facts
While you might think that any injury attorney can help you in your claim, it's advisable to look for an attorney with local ties to the region. That local connection is an extremely valuable asset when it comes to understanding how the local courts and other authorities handle personal injury claims. It is also key to a personal injury lawyer to understand what challenges and risks might exist in a community, which may be highlighted in your personal injury claim.
Howard County is located in the central Maryland, between Baltimore and Washington, DC. The county is considered part of the Baltimore-Washington metropolitan area and it includes Ellicott City. It is home to nearly 300,000 residents, with a median family income of $125,152 in 2012, and a number of local colleges and other educational institutions. All of those resources bring good opportunities and bad, including a number of scenarios in which individuals can find themselves suffering from a wide variety of devastating personal injuries.
Howard County Personal Injury Cases
There are many different types of personal injury claims. A dedicated Howard County injury lawyer will possess the skills and knowledge best-suited to handling any number of personal injury claims. These claims can include, but are not limited to:
Accidents, generally
Slip and Fall
Product defects
Traumatic brain injury
Construction site accidents
Wrongful death
Dog bites
Nursing home neglect
Aviation Accidents
Understanding Personal Injury Claims
A personal injury claim in Howard County is subject to all the statutes and regulations required by the state of Maryland. These laws can be difficult for most individuals to understand. There are four basic terms or principles that one should be aware of when considering a personal injury claim in Howard County, MD.
Personal Injury
Personal injury is generally defined as any situation where a person has suffered serious injury as a result of someone else's negligence.
Negligence
Negligence is defined as the failure to use care that a reasonable person would apply in any given situation. Examples of negligence include, but are not limited to, a business or property owner failing to fix or address hazardous conditions after being notified of the danger; or the driver of a vehicle talking or texting on their cell phone when they should give their full attention to the road.
Statute of Limitations
The statute of limitations in most Howard County, MD injury cases is three years from the date of injury, though some exceptions may apply.
Contact Our Firm Today
A Howard County injury attorney will be best-suited to protecting the rights of any individual who has been injured as a result of another person's negligence. Though no reputable lawyer, or firm, can guarantee a client that they will be successful in their claim, their assistance will certainly increase the chances that an injured individual will see optimal results with their case.
To schedule a no-cost consultation, call Price Benowitz today.  You can contact us any time of day and any day of the week and be confident that you will be greeted by a person, and not a machine. Our attorneys and case managers are always available to discuss your potential claim, and will provide you with a frank assessment of your case. Because time is a factor, due to the statute of limitations and the need to secure witness information and other evidence, you should contact our firm as soon as possible.