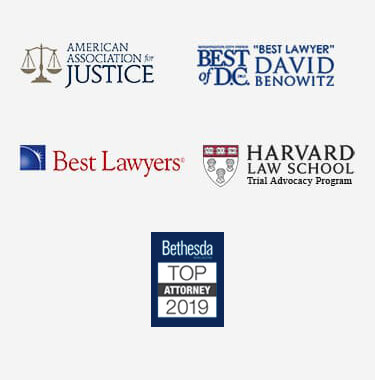 Claims Regarding Fraudulent
Prince George's Count OB-GYN
If you or a loved one was once a patient of fraudulent doctor Charles Akoda, please contact Glenn Ivey, Of Counsel or John Yannone to discuss your case. Compensation may be available to you, so make sure to contact a compassionate and skilled Maryland injury attorney today to discuss.
"Who Is The Best
Attorney in Maryland?"
When speaking to individuals who are searching for an attorney, we hear this question a lot. Sometimes we are asked who the "best lawyer in Maryland" is, and other times who "the best Maryland injury law firm" may be. We understand that when you feel you have been hurt by another's actions, you want an experienced and talented advocate to represent you in your case. However, looking for an attorney is not so simple. Instead of looking for "the best," you should be looking for the best lawyer or law firm to represent you in your case. There are many different kinds of cases, and it is not always obvious what kind of lawyer or law firm may be a good fit to represent you. Here are some important places to start. First, look for an attorney who is licensed to practice in the jurisdiction where you want to file a case. Second, look for an attorney who has sufficient experience handling similar cases to represent you competently. Find a lawyer who understands what MRI and CAT scans are and how they play into a personal injury case. This second point is one reason why looking for the "best Maryland injury lawyer" is not always an effective strategy. For instance, intellectual property claims or fraud cases often involve very different areas of law from civil rights violations or medical malpractice issues. Third, you should look for attorneys who you feel you can trust and advocate for you. Speak to different attorneys. Do research online. Every case is unique, and although previous results cannot predict or guarantee similar or favorable results in the future, you can also look at reviews from former clients to see how their experience was with a particular law firm.
Time Limits For Filing
Injury Cases in Maryland
The Statute of Limitations in Maryland is 3 years for most cases, however, there are certain exceptions to that such as if someone is under the age of 18 or rendered disabled either physically or mentally. For most cases such as car accident cases, slip and fall cases, other typical lawsuits it is 3 years from the date of the accident to file a claim. With that said, it is always best to get accurate information on the statute of limitations for a case. For that consult with an injury attorney in Maryland.
Strict Liability Laws
While most personal injury cases in Montgomery County and the rest of Maryland must be proven under the legal theory of negligence, the law may enforce the doctrine of strict liability in certain cases. For injuries suffered from a dog or animal attack, the owner may be strictly liable for the victim's damages if the dog was running freely prior to the accident. This means that regardless of whether or not there was any negligence on their part, a dog owner may be held liable for injuries inflicted by their animal.
Contributory Negligence in Maryland
Sometimes, a MoCo or Maryland court may find that both the plaintiff and the defendant share liability for the underlying accident. In such cases, the courts follow the contributory negligence doctrine. This doctrine would preclude a plaintiff from any financial recovery if they are found to bear the slightest fault for the accident.
Contact Our
Maryland Injury Lawyers
Please visit our comprehensive list of attorney profiles for each of our lawyers to learn more about their experience, area of practice, and dedication to the field. Choosing the right attorney is crucial in properly defending your case. At Price Benowitz, you will not have to worry that you are getting subpar legal advice. You can rest easy knowing that you are in the hands of a highly experienced legal team, working relentlessly for you.
Free Case Evaluation
Call Now (202) 742-5068
After getting rear-ended, my car was totaled and medical bills were piling up. Maxwell, Tina, and Carolina were so helpful as they assisted and guided me through the process of working with other insurance companies. I was able to sit back and let them handle everything, and they kept me in the loop with frequent updates. They were extremely professional and they genuinely cared to make sure I understood everything before making a decision to settle the case. I appreciate all of their hard work and would recommend them to anyone looking for a personal injury attorney!
Jordan B.
Price Benowitz is amazing! They were very patient with collecting information for my car accident. They are very thorough with creating a demand and closing statement. The team here also is willing to explain every step of the process in detail to advise you in making the best decisions. I would suggest this company to anyone in the DMV area.
Lorraine F.
My experience with Price Benowitz LLP was nothing short of exceptional. I cannot say enough about the office and staff here, they helped me with the my claims for my car accident where I sustained right knee injuries. Carolina and Tina both tracked my progress and consistently updated me with next steps and progress of my claim. They strive to give me the best possible service they could and succeeded beyond my expectations. John provided the follow through and and persistence and accomplished a settlement that worked out for everyone. I couldn't be happier with the results, service, and just actual caring that I received from everyone involved in my case.
Michael C.
While I like to think of myself as a righteous man, I am always comforted that Price Benowitz has my back. They're extremely generous and attentive, even when they're not billing. They're an important part of the DC area and have always been generous online in their blogs and articles. They're not jealous of their knowledge, they just want to make sure the little guy has a fighting chance. I only have one get out of jail card in my wallet and that's for Seth Price at Price Benowitz.
Chris A.
I loved working with the folks at Price Benowitz. They worked very hard and I can truly say that I got a very fair settlement because of the work that was done by the Lawyers at Price Benowitz. I would use them again and I highly recommend Price Benowitz Law firm to anyone and everyone.
Robin T.
I was very pleased with the the speed Price Benowitz got back to me from my initial call and voice mail that I left. They had a lawyer call me immediately and the results of my case was successful. I thank them very much for their time.
Wayne S.
Price Benowitz is a great office to go to if you need help in the DC area. They are professional and kind-hearted people that will help you every step of the legal process
Christina W.
Best attorneys I have found for my wife's personal injury claim. Attorneys and their staff are dedicated, honest and professional.
Kumar D.