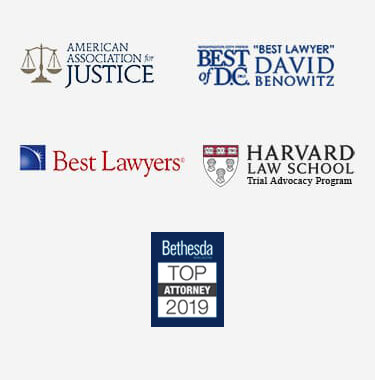 Gaithersburg Personal Injury Attorney
Have you have been seriously injured in Gaithersburg or anywhere else in Montgomery County?  Is someone else responsible for your injuries?  Did a family member become injured or suffer an accidental death as a result of someone's negligence?  If this has happened, you can call a Gaithersburg personal injury lawyer to help you seek compensation for financial damages that have resulted from this tragedy.  Our experienced local personal injury team at our law firm can assist you and  act on your behalf to seek the fairest compensation and help alleviate many of your fears.
About Personal Injuries
The term "personal injury" is a specific type of law that refers to civil reimbursement for any sort of injuries.  These injuries include but are not limited to physical, emotional and financial harm, and other monetary losses as a result of another's negligent actions.  When someone suffers an injury, Maryland law allows that victim the legal right to seek monetary relief from the liable or at fault defendant(s) who are responsible for the injury.
Personal injury laws in our state do not force defendants to automatically pay damages.  Rather, Maryland personal injury law requires the injured plaintiff and his or her lawyer to convince a jury that the other person (or organization) is guilty of negligence.  Attorneys for the defendants will attempt to shift blame elsewhere and to minimize the plaintiff's injuries. However, with a Gaithersburg personal injury lawyer on your side, you can fight effectively to receive the compensation that you deserve.
Elements of a Personal Injury Claim
Personal injury civil claims and cases are successful when certain standards of proof are met.
Proximate Cause – Someone must be acutely injured or causally related.
Duty – A liable person or legal entity must act toward others and the public with the "watchfulness, attention, caution, and prudence with reasonableness."  This is known as duty (of care).  For example property owners taking responsibility for keeping his or her premises reasonably safe.. If proved that the duty was breached, a lawsuit may be filed.
Breach of Duty – The person or business entity that has been sued must be proven to have breached their duty to you.
Damages – This is a legal term which encompasses any and all monetary losses that the plaintiff has a right to claim in his or her personal injury lawsuit.  There are many types of damages.  But they generally fall into two basic categories:
Compensatory damages are those the defendant owes you directly.  Punitive damages are additional monies awarded to the plaintiff by a judge or jury to punish a defendant for its actions.
Cases Handled by Our Firm
Below are the most basic types of cases we handle.  Depending on each specific case, the nature of the injuries, and the number of defendants, more than one general category may apply to your situation.  Once you consult one of our Gaithersburg personal injury attorneys, you'll have a better idea of the sort of lawsuit appropriate for your needs.
Motor Vehicle Accidents
When a person is hurt or killed in an auto accident, there can be many reasons.  The fault is usually one of carelessness on the part of the other driver, or a malfunction on the part of the vehicle that is the responsibility of the car's manufacturer, or road conditions that were hazardous and which – if repaired – could have averted tragedy.
Medical Malpractice
This occurs when a patient is harmed by a doctor (or other medical professional) who fails to perform his or her medical duties.  It can involve failure to diagnose, misdiagnosis, improper care, complications giving rise to birth defects, surgical mistakes, and in many instances; nursing home abuse or neglect.  Malpractice cases can be brought against a doctor, nurse, nurse's aide, even a hospital or outpatient care facility.
Premises Liability
In cases involving premises liability, injured plaintiffs must prove that property owners (or in some cases, renters) either failed to maintain their property or created unsafe conditions which caused an injury; and that the defendant was aware of  the unsafe hazard, but didn't repair it, or alert visitors or tenants to this fact or failed to keep the premises in a reasonable safe condition.
Product Liability
This includes defective consumer products as well as dangerous drugs.  When someone is hurt because a product is defective or dangerous, the company that produced it can be held liable for damages.  In many cases manufacturers are aware of the risks to consumers when using their defective product, but sell it to consumers anyway to generate profits more quickly.  Often, they think it's less expensive to settle lawsuits than to recall – and stop selling – dangerous products.
Call A Gaithersburg Injury Lawyer Today
If you're injured in an accident due to someone's negligence, there is no guarantee your medical bills or other rightful damages will be covered by that negligent defendant's insurance company or that the person is even insured.Insurance companies and their legal teams are very adept at minimizing settlement amounts, especially when plaintiffs have an inexperienced lawyer representing them.
If you have been seriously injured by someone's negligent actions or willful intentions, contact our office for an immediate complimentary case evaluation.  We know the local legal landscape and can explain your options, the best strategies and possible compensation amounts so you and your family can begin the road to recovery. Call a Gaithersburg personal injury lawyer from our firm today.