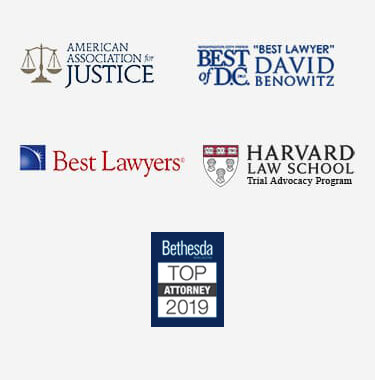 Annapolis Personal Injury Attorney
If you have been injured in an accident or suffered losses as the result of another person or company's negligent behavior, you may be eligible to recover your damages through personal injury claim. Your Annapolis personal injury lawyer can investigate the circumstances of your injuries and assess your chances of recouping your losses in court or during settlement negotiations.
If your personal injury lawyer believes you have a valid claim, you may be able to obtain both monetary damages, such as medical bills, lost wages, and rehabilitation costs, and non-monetary damages, such as the costs of losing the ability to pursue future opportunities, the damage to your emotional and mental health, and your pain and suffering.
Benefits of Hiring a Personal Injury Lawyer
The legal process associated with a personal injury claim is complex and will require the help of an experienced Annapolis personal injury lawyer who can determine which party bears the responsibility for your injuries and the type and extent of damages you have suffered.
Your Annapolis personal injury attorney  can also make sure your claim is filed within the statutory time limit, which is typically three years from the date of your injury under Maryland Code § 11-504,  though there are some exceptions your Annapolis personal injury attorney can explain.
Because Maryland is one of only a few states that follows the contributory negligence rule, it is especially important to consult with an Annapolis personal injury lawyer who knows how to work within these strict legal constraints. Most states use the comparative negligence rule, under which a victim's compensation may be reduced by the amount of fault the court determines that he or she bears in causing their own injuries. However, under the contributory negligence rule in Maryland, a victim who contributed to their own injury, even as little as 1 percent, may be altogether barred from recovering damages from the more responsible party.
Your Annapolis personal injury lawyer can analyze the facts of your case to establish whether you bear any fault for your injuries. Another benefit of hiring a personal injury attorney in Annapolis is that he or she will be familiar with the local courthouse personnel, the necessary legal procedures for the jurisdiction, and how previous cases similar to yours have fared in court. All of these familiarities can give your Annapolis personal injury attorney insight that can benefit legal strategies, negotiation tactics, and trial preparation.
Types of Personal Injury Cases We Handle
Personal injury claims seek to recover compensation for damages suffered as a result of another party's harmful or negligent conduct. The Annapolis personal injury attorneys with our firm handle all types of personal injury claims, whether the harm suffered was physical or not. Some of the most common claims we handle include but are not limited to:
Pedestrian Accidents
Premises Liability
Consult an Experienced Annapolis Personal Injury Lawyer
Recovering after a personal injury is stressful enough without having to worry about the financial strain of paying medical bills, or replacing your damaged property. Your Annapolis personal injury lawyer can worry about pursuing the compensation you deserve from the responsible party while you focus on becoming healthy and moving forward with your life. With your Annapolis personal injury lawyer by your side guiding you through the legal process of recouping your losses, you can begin to put the negative experience of suffering a personal injury behind you.