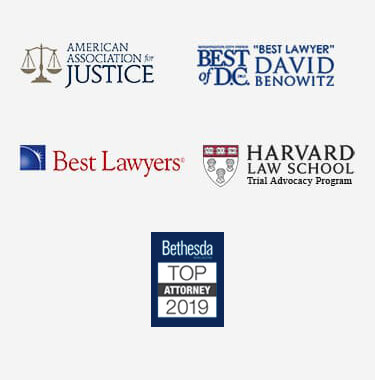 Mitch Greenberg
Maryland Workers' Compensation
& Criminal Defense Attorney
Mitch Greenberg Workers' Compensation Claims
Hiring a Maryland workers' compensation lawyer to handle your claim is the most critical step in increasing your chance to receive all the workers' compensation benefits you deserve. The personal injury lawyers at our firm can help you get your life and finances back on course. Contact a Maryland workers' compensation lawyer today for help with your claim.
Glen Burnie Office
7310 Ritchie Hwy Suite 609, Glen Burnie, MD 21061
(443) 672-8529
Washington DC Office
409 7th St NW #100, Washington, DC 20004
(202) 599-1716
Contact Us
Workers Compensation: Background
In the early twentieth century, as work-related fatalities and injuries began to rise, lawmakers recognized the need to protect those injured on the job- for moral, legal and economic reasons. Workers' compensation laws have been steadily refined over the past century to better serve the nation's employees.
But problems still remain. Although workplaces have grown safer in the last century, on-the-job incidents and work-related deaths are still not uncommon. Each year, thousands die due to the negligence of businesses and the need for workers' compensation lawyers continues to increase.
Maryland workers' compensation laws enable employees affected by job-related injuries and illness to receive compensation to meet their immediate and on-going medical expenses, losses of income and other expenses. The legal and oversight reforms, however, are far from perfect. Despite these gains in legal protection, many employees are denied the benefits to which they are entitled. To fully understand what benefits and compensation you may be owed, contact a workers' compensation lawyer in Maryland, one who has extensive experience and a strong track record for positive results.
Our Maryland Workers' Compensation Attorneys Can Help You
Though workers' compensation laws are designed to provide much-needed benefits to employees injured or made ill while performing job-related tasks, an employer-who may be overly focused on protecting their bottom line-may be quick to deny or contest benefits. The employer's company and their representatives may attempt to refute that the injury or illness occurred at work or deny that it happened as a result of working conditions.
Don't be intimidated. Our lawyers have extensive experience handling workers' compensation cases and can help you get the peace of mind that you deserve. We will work with you to investigate the incident, collect evidence of the injuries you have incurred, compile pertinent medical records, and guide you through the claims and appeals process if necessary.
Injured employees deserve to have well-trained Maryland workers' compensation lawyers fight for them, just like their employers have. Though it may be tempting to file a compensation claim without the help of an attorney, the laws governing workers' compensation benefits are often complex and vague. Even if your case appears cut and dry, and your employer is clearly responsible for the accident, nuances in the law can complicate a case and put your likelihood to win compensation in jeopardy. Nebulous definitions of qualifying injuries, illnesses, and medical conditions can further complicate the understanding of the laws. Our lawyers are able to assist you in obtaining the benefits or settlement you need, and deserve, following a job-related injury or illness.
Many people believe that any injury occurring at the workplace is eligible for workers' compensation benefits, but the Maryland Workers' Compensation Act defines a qualified injury or condition as "an accidental personal injury arising out of and in the course of employment?' Having the skillful legal representation of an experienced lawyer on your side can help you demonstrate benefits eligibility and challenge any denial of benefits. A well-qualified Maryland workers' compensation attorney will be committed to helping employees receive the benefits to which they are entitled following an eligible work-related injury, or occupational disease.
Assertive Workers' Comp Attorneys
Workers' compensation lawyers work closely with injured employees to help them receive the medical and disability benefits they need as a result of a workplace accident or job-related medical condition. Benefits may include, but are not limited to:
Temporary partial disability benefits
Permanent partial disability benefits
Medical benefits & treatment
Wage reimbursement benefits
Vocational rehabilitation benefits
Death and funeral benefits
What Mistakes Should Injured Employees Avoid?
Let your employer know about the workplace injury as soon as possible. Make sure you let your employer know immediately as soon as the injury occurred, including when it happened, and what the circumstances were. Second, seek treatment. In Maryland, you are allowed to seek treatment with whichever doctor you want; the employer/insurer cannot require you to see a specific doctor of their choice for treatment.
Make sure that you have legal representation starting before you file the claim with the Commission through handling any disputes that may arise over the process. For example, if you are not receiving the proper amount of benefits that you think you should be getting or if there is a dispute as to permanency (i.e. nature and extent of injury), you can then have a lawyer file issues with the Commission. A hearing date will then be assigned, and a Commissioner will resolve the dispute.
Call for an Evaluation of Your Claim
The Maryland workers compensation attorneys at our firm are experienced litigators, well-acquainted with the nuances and complexities of the Maryland Workers' Compensation Act. They are committed to protecting the rights and benefits of all Maryland employees. For a no-cost evaluation of your case, contact the firm today.
Additional Workers' Comp Information
Client Review
Review Title: Excellent and professional service
Review Description: Excellent and professional service. Would definitely recommend and hire this firm again in the future.