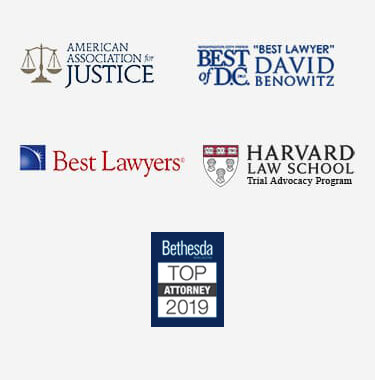 DC Injury Cases: Our Approach to Co-Counsel
Sometimes, attorneys from different firms will act as co-counsel on a particular case to help a client ease through the process and have access to an even greater range of resources. The relationship between co-counsels should always be genial and cooperative — all attorneys are fighting for the same client. Our firm has a strong belief in this approach. Schedule a consultation with our DC injury practice to discuss co-counsel details more fully.
Types of Cases We Would Serve as Co-Counsel
Our firm can act as co-counsel in essentially all of our particular practice areas. We, from time to time, act as co-counsel in personal injury cases. We can also act as co-counsel in our trust and estate department as well as criminal cases.
A co-counsel agreement is not limited to any particular area of law. We have been called upon to enter into these agreements in many different parts of our practice areas.
Our Role as Co-Counsel in Other Firm's Case
Our firm's role really depends upon the nature of the referral or co-counsel agreement. We are happy to have as involved of a role as necessary or as in the client's best interest. We are also happy to simply serve as a nominal co-counsel to assist an out-of-state claim or an out-of-state attorney to pursue a claim locally.
We are a full-service law firm that has an active litigation practice with resources necessary to assist just about any case through the litigation process. We are happy to assist co-counsel in any way that we can.
Maximizing Value of Co-Counsel Cases
Our firm can maximize the value of any case based upon our level of experience and prior handling of these cases. We have handled any number of different types of personal injury cases both in Maryland and the District of Columbia. Likewise, we have the resources necessary to pursue a claim all the way through trial.
Why We Enjoy Working as Co-Counsel in DC
In large cases, it makes sense to engage co-counsel for a number of reasons. The first is that you are bringing on additional attorneys who have voluminous experience in personal injury cases in Maryland and in the District of Columbia. This experience allows all the attorneys to consult with each other and draw on each individual attorney's information and experience to obtain the best outcome possible for the client.
The other issue in large cases is that it simply allows the attorneys to share the workload, depending upon the nature of the claim or where the claim is pending. Co-counsel agreements will allow attorneys to divide the work, either based upon the convenience geographically or based upon their level of experience in handling a particular claim.
For example, if a claim is pending here in the District of Columbia and depositions seem likely to occur, then counsel from another state may engage our firm to act as co-counsel and attend those depositions or take the deposition as necessary to advance the claim.
Likewise, if another attorney isn't as experienced in handling a particular expert's deposition or expert witness at trial, then a co-counsel agreement may be entered into for us to assist in that particular area of that case.
Again, it really depends upon the nature of the co-counsel agreements and the issues that are presented in that individual case. Whenever you have a very large case, it often is helpful to engage co-counsel to draw on different areas of expertise of particular attorneys.