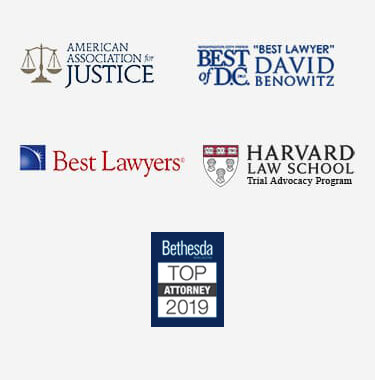 Bethesda Personal Injury Attorney
If you've been injured due to someone else's negligent or reckless behavior in Bethesda, Maryland, contact a Bethesda personal injury lawyer. Victims who sustain injuries caused by are entitled to seek compensation for the responsible party. An experienced Bethesda personal injury attorney can help injured victims navigate the personal injury claim process and ensure that they obtain the maximum recovery possible for the damages they have suffered.
Bethesda Injury Claims
Serious accidents can occur in a wide range of environments, including when you are on the job, in a motor vehicle, or on someone else's private property. Common situations that lead to personal injury cases include, but are not limited to:
Animal attacks
Workplace accidents
Medical errors
Individuals who are harmed in the above situations can seek legal recourse against the at-fault parties through a personal injury claim. Victims who are hurt on the job may be eligible for workers' compensation from their employer or the owner of the building where they work. If occurs on another's property, the owner of that property could be responsible for damages according to premises liability statutes. If a doctor or other medical professional was negligent in their treatment of a patient, the patient could sue on the basis of medical malpractice.
Other types of personal injury claims include product liability claims. Manufacturers have a responsibility to ensure the products they make are safe for consumer use. When product defects cause injury to unsuspecting consumers, the product manufacturers should be held responsible. Even properly manufactured machines and consumer items can cause serious injuries if they do not have the proper safety devices or warnings. If you have been injured in any way because of negligence or recklessness on the part of another person or entity, a skilled Bethesda personal injury lawyer can help you explore your options for recovery and assist you with filing a claim.
Collecting Damages in Bethesda Personal Injury Cases
Suffering injuries of any kind is a traumatic experience, especially when the incident that led to your injuries was not your fault. Those who have been injured because of someone else's carelessness may be able to obtain compensation for damages such as physical pain and suffering, medical expenses, and damage to property. It is important to hold the at-fault parties accountable for their negligent behavior so that other members of the community do not suffer the same fate in the future. If a personal injury will affect you for many years of your life, you would be well-served by an experienced Bethesda personal injury attorney who can help make sure that you receive fair and just compensation for the hardship you have endured.
Learn more:
The Importance of an Bethesda Injury Lawyer
The dedicated team of personal injury lawyers at our firm has extensive experience handling all types of claims, from workers' compensation to premises liability and even wrongful death suits. Our injury attorneys are empathetic towards innocent victims who have suffered at the hands of others and will fight to obtain the maximum possible recovery on behalf of their clients so that they can focus on recovering from their injuries. If you or someone you love has been injured in an accident, contact our law office today to speak to an experienced Bethesda personal injury lawyer and learn more about the possibility of filing a claim.