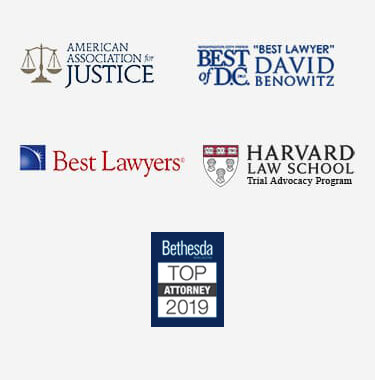 Fairfax Personal Injury Lawyer
Accidents may seem like a part of everyday life, but no innocent person should be made to pay for someone else's carelessness or recklessness. If you've been harmed in an accident caused by someone else in Fairfax County, Virginia, it's your right to hold the responsible party accountable for his or her role in your injury. Slips and falls cases, workplace injuries, medical malpractice injuries, dog bites, car accidents, boating accidents, nursing home neglect, and other serious injuries are all eligible for compensation under personal injury law in Virginia. To determine if your injury qualifies for such a claim, you will need to speak with a Fairfax personal injury lawyer.
Personal Injury Claims in Fairfax County, Virginia
Fairfax County, like the rest of Virginia, has a particular legal framework for personal injury claims. These personal injury cases usually have a two-year statute of limitations for injury claims with adult claimants. Claims for small children can use a different set of rules and regulations that need to be researched by a competent Fairfax personal injury lawyer. A statute of limitations of two years means that a claim for a personal injury needs to be filed within two years of the actual injury to the claimant. In addition, some insurance companies may challenge a personal injury claim, and the insurance matter may need to be brought before a Fairfax County judge to decide a disputed claim.
A qualified personal injury attorney can help a claimant overcome obstacles such as disputed insurance matters. A Fairfax personal injury attorney can help injured parties reach the most favorable legal settlement possible. There are certain time limitations for cases to be decided, and various types of personal injury matters that may need to be managed. Depending on the type of
Types of Personal Injury Cases filed in Fairfax, VA
There are many different types of personal injury cases that are filed in the Commonwealth every day. They may be related to any of the following:
Car Accidents
Slips and falls
Dog bites
Medical malpractice
Nursing home abuse
Workers' compensation
Dangerous products
Wrongful death
Contributory Negligence in Virginia and Lawsuit Limitations
Personal injury claims in Virginia are governed by a doctrine known as contributory negligence. This says that a claimant cannot receive compensation for damages from a personal injury lawsuit if the claimant had even 1% fault in the matter. Only four states, including Virginia, and the District of Columbia adhere to the pure contributory negligence rule. This means that the insurance companies in Fairfax County cases often utilize this doctrine to attempt to force a less favorable settlement for the injured party. A qualified professional personal injury attorney may be needed to level the playing field and help the injured party reach the most favorable legal settlement possible.
Punitive damages are damages that are awarded to punish the party responsible for an injury. In the Commonwealth of Virginia, there is a $350,000 "cap" on recovery of punitive damages for most personal injury settlements. Punitive damages are not available in all cases, but if you are injured by a third-party who is particularly egregious in their disregard for your rights, such as a drunk driver, make sure you discuss the possibility of punitive damages with your Fairfax personal injury lawyer.
There are some defendants that have a certain level of immunity against personal injury claims. Municipalities and sovereign governments usually are immune from personal injury claims.      An experienced and knowledgeable personal injury attorney in Fairfax can let you know when your claim may be subject to an immunity defense and when exceptions to these doctrines are available.
The Importance of a Fairfax Personal Injury Lawyer
Even if your case seems open-and-shut to you, navigating the complicated field of personal injury without proper legal advice is a serious mistake. A Fairfax personal injury attorney will work hard to assist you in reaching the most favorable legal settlement possible for your claim. If you choose an attorney with Price Benowitz to aid you in your recovery, you can count on a team of skilled legal professionals working by your side to advocate on your behalf all through the process.
We will safeguard your rights and protect you from making any mistakes that might decrease your chances of receiving a favorable outcome. We will negotiate with the party responsible for your injury to try and broker an agreement that guarantees you what you are owed; however, our      Fairfax personal injury lawyers also stand ready to represent you in the courtroom if that is the avenue that offers you the best chance of a favorable and just recovery. Call our experienced attorneys today for a free consultation.