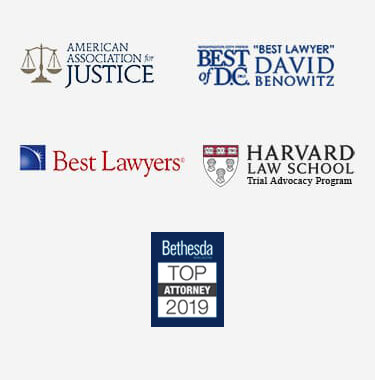 DC Workers' Compensation Lawyer
Employees who are injured on the job often need assistance with paying medical bills and replacing their lost or diminished income while they recuperate from illness or injury. While injuries occurring as a result of an employer's negligence may be subject to personal injury litigation, all private-sector employees are entitled to workers' compensation benefits regardless of whether or not the employee was at fault in causing the accident. The District of Columbia Workers' Compensation Act provides benefits to workers' who suffered an injury, illness, or a medical condition arising out of or in the course of employment.
Unfortunately, many employees do not reap the workers' compensation benefits they need and deserve because they do not quickly seek representation from a qualified DC workers' compensation lawyer. Attorneys are working on behalf of the employers' insurers, working to nullify your claim. You deserve a legal advocate in your corner who can help you avoid mistakes in filing your claim, and fight aggressively to help you get the benefits you need following a workplace injury.
What Is Workers' Compensation?
When an employee is injured in a workplace accident, sustains an occupational illness, or suffers the job-related aggravation of an existing condition, he or she may be eligible for workers' compensation benefits including medical benefits, wage loss benefits, disability benefits, and death benefits. However, an employer's insurance provider may deny the compensability of a worker's claim, leaving the injured employee without justifiable benefits. Luckily, the workers' comp insurance companies are not the ultimate decision-makers regarding benefits eligibility; rather, the ultimate authority lies with the District of Columbia Department of Employment Services (DOES). The DOES mediates disputes between employees and employers or insurers and monitors employer compliance with insurance coverage requirements. If your claim has been denied, it is important to retain the services of a Washington DC workers' compensation attorney who can provide effective legal representation to help you obtain all benefits for which you qualify.
Workers' Compensation Benefits in Washington DC
The DC workers' compensation attorneys at our firm are committed to providing legal counsel and representation to those seeking workers' compensation benefits including:
Temporary Total Disability Benefits
Permanent Total Disability Benefits
Temporary Partial Disability Benefits
Permanent Partial Disability Benefits
Death Benefits
By contacting us early, you maximize your potential for fully recovering the compensation you need. We can help you properly document your injuries, file your claim in a timely manner, and challenge a denial of benefits. Do not lose out on the workers' compensation benefits you are entitled to. Act now to find a workers' compensation lawyer in DC.
Contact an Experienced DC Workers' Compensation Attorney Today
Our attorneys are well-versed in the subtlety and complexity of the workers' compensation laws and regulations that govern your rights as an injured worker. Through our experience and knowledge, we are continually able to help those who have been injured at work and those suffering from work-related medical conditions get the benefits they are entitled to. If you have already been denied benefits, or you want sound legal counsel from the beginning of your claim, our attorneys are ready and able to provide the representation you need to help you get the benefits to which you are entitled.
If you have been injured in a workplace accident or if you are suffering from an occupational illness, the skillful DC workers' compensation lawyers at our firm are ready to help.
Client Review
Review Title: I would recommend as an attorney to friend and family
Review Description: Worked with the best lawyer and the case was cleared. Made an even better situation by having the case cleared. He was prepared to help me no matter what. Got back to me quickly and answer all my questions. I would recommend as an attorney to friend and family