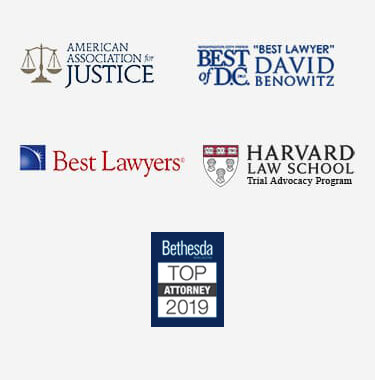 DC Social Security Attorney
Applying for Social Security Disability Insurance (SSDI) benefits can be an extremely complicated process. For the best result in filing your disability claim you should speak with a DC Social Security lawyer. Our team of attorneys at Price Benowitz LLP have the experience necessary to handle your case and are passionate about securing the benefits that you require and deserve. They are based in our Washington, DC headquarters – which is located in the heart of the District of Columbia — and have solid working relationships with the authorities that will be handling your claim and your hearing. That connection is valuable in understanding not only what you will be up against as you fight for your claim, but in determining whether you have a claim that is worth pursuing.
If you are physically or mentally disabled and unable to work, chances are you do not have the time, energy, resources, or understanding to properly file your SSDI claim. The SSDI application process can be complex and confusing, even under the best circumstances. Hiring an experienced DC Social Security attorney increases your likelihood of approval by ensuring that each step of the application process is properly handled. A well-qualified DC Social Security attorney will help you with every step of the disability process. Each step includes various forms of paperwork that must be completed and has its own set of strict deadlines. These steps can include:
Social Security Disability Application
Request for Reconsideration
Request for a Disability Hearing
Disability Hearing
Appeal of Denied Benefits
Unfortunately, many SSDI applications are initially rejected because the Social Security Administration (SSA) is overwhelmed with cases of disability fraud. This, however, means that many valid claims can face initial rejection, which denies deserving citizens of much-needed benefits. Legal representation from an experienced DC Social Security lawyer can improve the likelihood of having your claim initially accepted, or having a previously denied claim granted via appeal. Any important task is best accomplished with the help of an experienced professional, and claiming SSDI benefits is no exception. When your quality of life and the well-being of your family and loved ones depend upon receiving Social Security disability benefits, contact a DC Social Security attorney committed to handling your case with the dedication and experience necessary to help you successfully receive your benefits.
Social Security Disability Claims in DC
The disability process can take months, or even years, to reach a resolution. Requests for hearings, booked court dockets, and a lengthy appellate process can delay your receipt of the disability benefits you need now. If you think you are eligible for SSDI benefits, do not hesitate to contact a dedicated DC Social Security lawyer to begin the process of filing your disability claim. The process includes a great deal of paperwork, which includes extensive documentation of your injury or disability. Even a minor mistake can jeopardize your ability to secure the benefits that you require, and deserve. That is why it is crucial that you retain counsel with experience in filing and fighting for Social Security benefits. An experienced attorney will know how to answer the questions, and provide the proof that the government requires in any Social Security claim. To be considered eligible for Social Security benefits, the government considers a number of factors. These factors include, but are not limited to:
If you have earned enough work credits to be eligible for disability insurance;
If you are unable to continue with the work you did before your injury or illness;
If you are unable to adjust to new or different work due to your medical condition(s);
If your disability prevents you from engaging in any substantial gainful activity; and
If your disability has lasted, or is expect to last, for a year or more or it is expected to prove fatal.
Social Security Disability Applications are Difficult
Many people think all that is required to make a successful claim is to simply explain their hardship to the SSA. Sadly, this is not often the case. It is a complicated legal process that requires you to adhere to a five step process in order to prove that you are "disabled" by the criteria set by the Social Security Disability Program (SSDP). Those five steps are as follows:
Are you working? If you worked during the calendar year and earned more than $1,000 per month, on average, you typically will not be considered disabled by SSDP standards. You should, however, speak with a knowledgeable attorney to determine whether you can be disqualified on this criterion alone.
Is your condition among the government's list of qualifying medical conditions? If your health issue is not on the SSDP list, you may not qualify for disability insurance. Do not assume this is an absolute given, however. Medical records can sometimes be used to prove that you are disabled. You should discuss this with a dedicated Social Security disability attorney.
Is your condition considered severe by SSDP standards? To qualify, your medical condition(s) must inhibit or interfere with basic activities that are required for your work or job. In order to prove this step you will need thorough documentation and evidence.
Are you able to continue with your work or job? You will need a medical expert who can attest to the fact that you are no longer able to perform the duties that are required at your work or job. A Social Security disability lawyer can have you evaluated by a medical expert if you have not done so already, and that attorney will be best-suited to gathering the evidence that you will need for this part of the process.
Can you do any other type of work? If SSA finds that you are unable to perform the duties of your previous job, they will immediately try to determine whether you are capable of other types of work. There are a number of factors that come into play at this stage of the process, including your age, your work experience, any transferable skills that you may have and your level of education.
Given the difficulty of proving all these factors, it should come as no surprise that many people fail to secure Social Security disability benefits on their first try. This underscores the importance of finding and retaining a qualified DC Social Security disability lawyer, one who has a strong track record for winning such cases and who will fight for your claim and your rights.
Why are so Many Denied Social Security Benefits?
In addition to the previously listed issues, there are a number of other reasons why someone who is legitimately disabled may be denied benefits. Perhaps your doctor does not fully understand the legal definition of a disability or someone within the SSA failed to obtain the medical evidence that is required to prove your claim. Many cases are lost on appeal because the person filing the claim did not properly follow the appellate procedure. A personal injury attorney who is experienced in handling Social Security disability cases will know how to gather the necessary proof to demonstrate your disability and your inability to work for a full year, or more. He or she will also organize all of your work and medical history documentation, which can include voluminous records from previous employers and all of the medical records required to meet the SSA's criteria. And your attorney will do all of these things within the required time frame, as there are strict time limits that apply to any Social Security claim.
Contact Price Benowitz LLP for Help
No reputable law firm or attorney can guarantee that you will be able to qualify for benefits, but every lawyer will tell you that the likelihood of your success depends in large part upon who you have handling your claim. Filing for Social Security benefits is a daunting and time-consuming process and one that is best left to professionals who have been through the process countless times before. If you are struggling with a life-altering medical condition that has destroyed your ability to care for yourself and your loved ones, contact our team of Social Security and personal injury attorneys at Price Benowitz for a no-cost case evaluation. This initial consultation will help you better understand the process that is required to prove your claim, and will give you a good sense of whether you are likely to be successful in your claim. Contact our Washington, DC injury law firm today to set up a consultation.