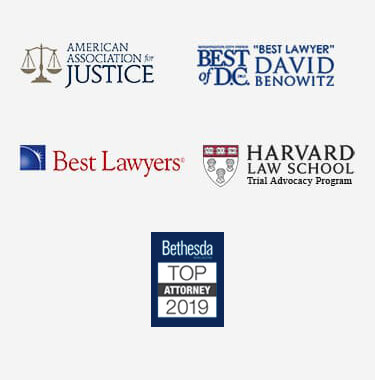 Cheverly Personal Injury Lawyer
Severe injuries from accidents can have devastating consequences on your health and finances. If that accident was due to another person's negligence, you could be entitled to significant financial compensation through a civil lawsuit. Property damage, medical bills, and more should not be your responsibility when you were not at fault. For help with pursuing legal action, consider calling a qualified attorney.
An experienced Cheverly personal injury lawyer could fight for your best interests and help you recover the monetary damages you deserve.
Recoverable Damages for Injuries in Cheverly
The point of a civil suit is to seek financial compensation for an injured defendant. Injury victims are often entitled to significant recovery for their losses under state law. The types and amounts of damages available can vary from case to case, but a meeting with a knowledgeable personal injury attorney in Cheverly could help a victim understand their rights and what kinds of damages they may be entitled.
Property Damages
When a victim's personal property is damaged in an accident, the costs of repairing or replacing that property might be compensated in a personal injury lawsuit. This could include the cost of repairs or replacement of a vehicle, a home, contents of a car, or any other item of personal property.
Medical Bills
Medical bills are often some of the most expensive costs an injured person incurs. Medical care is extremely costly, and the bills can pile up fast. They can also put a great strain on a person's financial health and well-being, especially if they are also unable to work while they recover.
Ultimately, when another person's negligence was the cause of the accident, the defendant should be responsible for these costs—not the victim. A proactive lawyer in Cheverly could help a victim fight to hold the at-fault person accountable through a personal injury claim.
Lost Wages and Earning Capacity
When an injury leaves a person unable to work—either temporarily or permanently—there is a major cost involved. An injured individual deserves compensation for their lost wages when it is caused by a defendant's negligence. Without the ability to work, it can be incredibly difficult for the person to support themselves and their family.
Lost earning capacity is a type of damages designed for when an injured party can no longer perform the same type of work they did before, and they lose income as a result. This difference in value may be a possible award for an injured victim, in addition to compensation for lost wages.
Pain & Suffering
Injuries resulting from an accident inevitably lead to a certain amount of pain and suffering. Proving pain and suffering requires specific types of evidence and years of experience in the personal injury field—fortunately, a local Cheverly attorney has the experience to pursue these damages.
Wrongful Death
If a loved one is killed after an accident, wrongful death damages are designed to compensate the surviving family members of the decedent. While no amount of money can replace a family member, it may help compensate for their lost income, support, and much more while a family adjusts to their loss.
Contact a Cheverly Personal Injury Attorney to Fight for Your Rights
After an accident, you may face high medical bills, property damage, and many other financial strains. When another party was negligent and caused your injuries, you have the right to seek fair financial recovery.
A dedicated Cheverly personal injury lawyer could help you demand the comprehensive compensation you need to move forward with your life. Call today to get started on your legal claim.