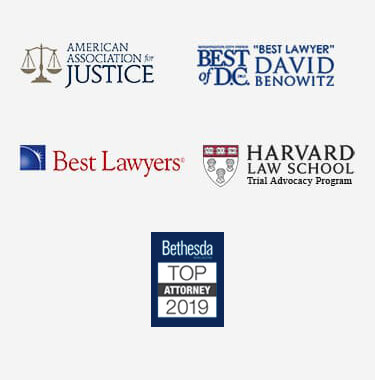 Prince George's County Personal Injury Attorney
Every day, people are injured as a result of another person's carelessness. For many of the victims of these incidents they are forced to deal with medical bills, loss of wages, pain, inconvenience, embarrassment, and mental anguish which can affect every aspect of their once normal lives. These incidents frequently result in people losing their homes, cars, jobs, and loved ones simply because someone else did not do what they were supposed to do. Some insurance companies prey on desperate victims, offering them small settlements, assuming they will be accepted without much thought. A Prince George's County personal injury lawyer can represent these victims in their pursuit of a settlement or court-ordered compensation.
If you are suffering from an injury caused by the negligence or recklessness of another, one of the PG County injury attorneys at our firm can help. They will thoroughly examine all of the facts of your case to determine whether you are eligible to receive compensation, and will give you an honest assessment of your potential claims. A claim can result in compensation for medical expenses, lost wages, loss of benefits, property damages and pain and suffering.
Understanding Personal Injury Claims
Before you contact an attorney or attempt to file a personal injury claim, there are some basic principles and terms that you may want to review. For the layperson, this area of civil litigation can extremely difficult to decipher. Understanding the basics of personal injury law can help put your mind at ease, and will also help you and your attorney build a stronger claim. However, it is no substitute for contacting a Prince George's County personal injury lawyer for a consultation.
Why Hire a Prince George's County Personal Injury Attorney?
Hiring an attorney who understands all of the unique characters of the county is important for a number of reasons. That local connection is an asset for any personal injury plaintiff, particularly when it comes to having experience with local courts and how they handle claims within their jurisdiction.
Statute of Limitations
Nearly all PG County personal injury cases are subject to a three-year statute of limitations. For more information on the limitations, and any exceptions that may apply, you should speak with a dedicated Prince George's personal injury attorney.
Personal Injury
The term personal injury is broadly defined as any situation where a person has suffered bodily injury due to the negligence of another person.
Negligence
Negligence is generally defined as the failure to apply reasonable care in any given situation. Examples include the owner of a dog failing to keep their pet on a leash, or secured on their property, and the dog getting loose and biting someone. Another example would be the manufacturer of a defective product, such as a toy or medical device, which fails to protect the public from known dangers posed by the bad product.
Prince George's County Personal Injury Claims:
A PG County personal injury attorney can guide you in a wide variety of personal injury claims including, but not limited to:
Metro accidents
Product defects
Traumatic brain injury
Construction site accidents
Dog bites
Nursing home neglect
Aviation Accidents
Motorcycle Accidents
Prince George's County, MD
Prince George's County, MD borders a large segment of Washington, DC – including the northern, eastern and southern portions of the District. This sprawling county is part of the Washington, DC metropolitan region and contains a thriving population of nearly 900,000 residents. In addition to the numerous schools, hospitals, colleges, businesses, and government offices located in the county, PG is also home to the Joint Base Andrews. The base was formed in 2009 with the merger of the Andrews Air Force Base and the Naval Air Facility and it is home to roughly 3,000 residents. For information on certain specific services we provide within Prince George's County, please look at the pages listed below:
Contact Our Prince George's County Personal Injury Attorneys Today
Personal injury claims cover a wide spectrum of injuries and accidents. With the help of a Prince George's County personal injury lawyer, you can focus on recovering from your injuries. Our law firm has a team of personal injury attorneys who are well-versed in Prince George's County's laws and procedures. Their experience and knowledge will prove invaluable in determining your legal rights. Contact our Maryland law offices today for a free case consultation.