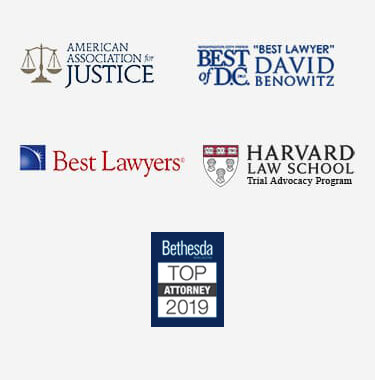 Maryland Drunk Driving Accidents
The Centers for Disease Control and Prevention estimate that every day, in the United States, nearly 30 people die in motor vehicle crashes that involve a drunk driver. And in 2010, more than 10,000 people were killed in alcohol-related crashes, accounting for nearly one third of all traffic-related deaths in the country, according to the CDC. In Maryland, there are many traffic hazards that can pose a serious threat for collision. When alcohol is added to the mix of complications, the potential for tragedy is dramatically increased. If you have sustained injuries related to a Maryland drunk driving accident, contact the team of dedicated and knowledgeable auto accident attorneys at our firm to learn more about potential compensation for the harms and losses you have suffered.
Working with an Experienced Personal Injury Attorney
If you have been involved in a drunk driving accident in Maryland, obtaining the services of a well-qualified personal injury lawyer is crucial to determining whether you have a valid civil claim. In cases of injury, or perhaps the death of a loved one, an experienced lawyer can help you navigate the complicated legal process and provide support for you in your pursuit of civil justice. This is important not only for yourself and your family, but for your community, as the person who was responsible for the injury or death should be held accountable for their reckless negligence. If you have sustained injuries as a result of that negligence, you could be entitled to compensation for:
Medical bills
Ongoing medical treatment
Job loss
Lost wages
Pain and suffering
As with most personal injury cases, the statute of limitations in Maryland does limit the amount of time that you can file a claim. For most Maryland injury claims, the time to file is limited to three years. Due to the time-sensitive nature of these claims, you will want to seek the immediate attention of a qualified attorney who is up to date with the current legal process and who has extensive experience in litigating successful claims for drunk driving-related injuries in Maryland. Call our firm today to schedule a no-cost legal consultation, and start the process of building the strongest possible civil claim.
Maryland Roads and Drunk Driving Regulations
The I-95 Express Toll Lanes Project, along with other major highway repairs, has resulted in various road closures and unpredictable traffic patterns that frequently pose problems for drivers in the best of circumstances. With impaired vision and delayed reaction times being symptomatic of driving while intoxicated, these sometimes unexpected roadblocks can add to the potential for an accident when a drunk driver is on the road.
Whether the road conditions are good or bad, Maryland law clearly states that an adult over the age of 21 who is involved in an accident could be accused of a DUI if their blood alcohol content (BAC) level measures .08 percent or more. For drivers under the age of 21, any amount of alcohol that raises the BAC level over .02 percent could result in a DUI charge. The DWI (driving while impaired) level is slightly lower, at .07 percent. Even lower rates are imposed on drivers of commercial vehicles. These drivers are not permitted to operate a vehicle if they exhibit a BAC level of .04 percent or greater.
Injuries and Fatalities
Injuries that occur as a result of alcohol-related crashes in Maryland can range from moderate to life-threatening. Some of the more serious injuries, which will likely require extensive and on-going medical care, include, but are not limited to:
Whiplash
Broken bones
Sprains and fractures
Paralysis
Concussions
Neck and back injuries, including spinal cord damage
Recently, Maryland legislators have proposed bills that would impose harsher penalties for convicted DUI offenders. Currently, individuals accused of a DUI could face:
Fines
License suspension
Probation
Incarceration
Court-mandated alcohol and addiction education and treatment
Work With a DUI Accident Injury Lawyer Today
If you've been harmed in an accident caused by someone who was operating a motor vehicle while impaired by drugs or alcohol, you may have the right to compensation. Call our experienced personal injury attorneys to complete your free initial consultation today.