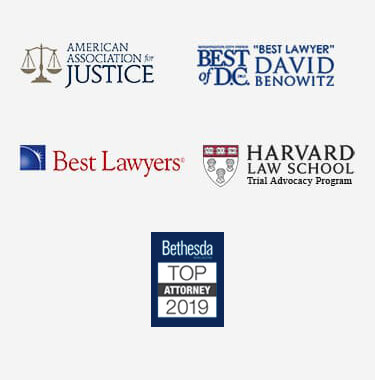 Maryland Neck and Back Injury Attorney
If you have suffered a neck or back injury in Maryland, obtaining experienced legal representation could help you optimize any potential financial compensation. For information about your individual personal injury case, contact the team of Maryland neck and back injury lawyers at our firm today.
The vertebral column, also known as the backbone or spine, runs from the lower neck to the tail bone and serves a variety of vital functions that directly affect an individual's ability to physically function. Many injuries sustained to the neck and back can lead to a permanent disability, particularly if the spinal cord is damaged as a result of the injury. Neck and back injuries are commonly associated with automobile accidents, slips and falls and sports-related accidents. A neck or back injury that goes untreated or is deemed untreatable could have life-altering consequences.
Maryland neck injury lawyers and back injury lawyers rarely focus specifically on victims who only suffer those particular injuries.  This is good news for clients, since these sorts of trauma often accompany other types of personal injuries.  The following information, however, pertains specifically to injury claims involving the spinal cord.
Debilitating Impacts of Neck and Back Injuries
Among the most common causes of neck and back injuries are:
Sports-related accidents
Motor vehicle crashes
Slips and falls
Regardless to how your injury occurred, you might be entitled to more compensation than you realize. Often, settlements are calculated based on the severity of the injury, the cost of medical care as a result of the injury, and the amount of emotional trauma associated with the event.
Because the neck and back are so crucial to many bodily functions, injuries associated with those parts of the body frequently result in the need for on-going and costly medical treatment, missed time at work – or even the loss of a career – and terrible pain and suffering.
Back Injuries
Damage to the back can result in a multitude of health issues, including, but not limited to:
Problems with posture
Lack of or a complete loss of mobility
Nerve damage
Weight gain due to limited mobility
The Maryland back injury lawyers at our firm understand how devastating these sorts of injuries can be, and we're here to help.  It can be difficult to deal with any sort of trauma to the bone, soft tissue, or nerves that comprise and protect the body's central nervous system, and medical bills can accumulate accordingly.  Our attorneys can help you calculate your claim and file for the compensation necessary to help yourself heal effectively.
Neck Injuries
Neck injuries can be equally detrimental, resulting in:
Cervical spinal cord injury
Herniated discs
Inability to move the head
Between 80 and 90 percent of people in the U.S. will experience back pain at some point in their lives, according to the Cleveland Clinic. The American Chiropractic Association studied a link between chronic back pain and depression, claiming that 80% of chiropractic patients who suffered from chronic back pain also suffered from severe depression. If you or a loved one is suffering specifically from back pain in the wake of an accident, contact a Maryland neck injury lawyer today.
Maryland Tort Law
Maryland's tort laws play a key role in personal injury cases involving neck and back injuries. These laws were designed to protect individuals who suffer physical harm, emotional abuse, and financial loss as a result of another party's negligence. If you were injured as the result of a violent act, your right to file a personal injury claim is still protected by Maryland Tort law. Such an act can result in both criminal and civil proceedings. In cases of negligence, injuries sustained are typically presented as unintentional torts. If it is proven that negligence led to serious injury, the at-fault party or parties may be held liable for compensation in a civil suit.
Obtaining a Maryland neck injury lawyer immediately following an accident is the best way to understand how to file and pursue a claim for the best possible outcome. Evidence and eye witness reports can be key factors in trial preparation and these elements are often time sensitive. Delay in the legal proceedings of a personal injury case can be quite costly for the injured party who might be forced to:
Pay for medical care and hospital stays
Miss work
Cut corners to make up for lost wages
Work with a Maryland Neck Injury Lawyer Today
If you have suffered a neck or back injury, the Maryland back injury lawyers at our firm can provide you with the support and guidance you require in building the strongest claim possible. Call today for an initial, no-cost consultation and let our attorneys take care of your legal needs, leaving you to focus on your health and your family.