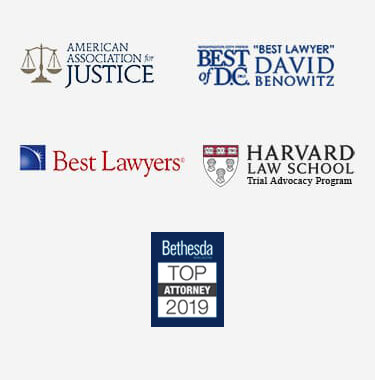 Prince George's County Slip and Fall Lawyer
Premises liability laws hold property owners, business operators, and renters responsible for accident-related injuries that victims sustain while visiting their property. Though many premises liability claims involve slip-and-fall accidents, there are any number of other forms of property liability where a negligent owner or operator can be a civil claim or lawsuit defendant. If any form of negligence on the part of someone else has caused you harm, contact a Prince George's County slip and fall lawyer today.
When you call the PG County personal injury attorneys at our law firm, we'll listen to your story and determine your options for moving forward and seeking compensation for any lost wages, pain, and suffering caused by your injuries.
Prince George's County Slip and Fall Injuries
A "slip" happens when there is not enough traction on a walking surface, while a "trip" usually involves an obstacle in the path of the victim.  Both can cause victims to lose their balance and hurt themselves, sometimes seriously. Some of the conditions that can lead to a slip- or trip-and-fall may include:
Wet or oily floors
Poorly maintained walkways
Broken stairways
Loose handrails on stairs
Uneven flooring or loose carpeting
Unsafe construction sites
Poor lighting
Obstructed views
Clutter
Any of these types of conditions, and many more can be grounds for a legal claim with a Prince George's County slip and fall attorney.
Determining Liability in a Slip-and Fall Accident
Typically, the owner of the property is responsible for injuries caused by negligent maintenance. However, many commercial properties are leased to business tenants, and the owner might not directly control its maintenance.  That's when the business renting the property becomes responsible for this task.  In residential liability, the homeowner, or rental tenant and the landlord, might share maintenance responsibility, depending on the situation. A contractor working on the premises might also share in the liability. In many cases, the liable party will have liability insurance.
Property owners aren't universally liable every time a person falls on their premises, and deciding whether they are can make injury claims rather complex.  Generally, for a property owner (or legal renter) to be liable for a slip-and-fall injury, evidence of a defect or a dangerous condition that posed an unreasonable risk of harm to the visitor and caused the accident must be present. Expert testimony from an engineer or safety expert can help the injured plaintiff's lawyer prove the dangerous conditions and that reasonable measures should have been taken by the owner or legal occupant to correct them, but weren't.
Next Step in a Slip and Fall Claim
Once it is established that a property owner or occupant breached their duty to take reasonable precautions or measures, you must prove that this negligence or breach caused your injuries. Usually, that is done in either of the following ways:
Proving that the negligence or breach was a substantial factor in bringing about the injury.
Proving that without the negligence or breach the injury would not have happened.
One typical defense is for the property owner's lawyers to claim that you contributed to your injury through your own negligence by failing to see the hazard that injured you. Maryland law states that you are responsible for your own safety – within reason.
Why to Contact a Prince George's County Slip and Fall Attorney
Since an accident scene can change dramatically in just a few minutes after a premises injury, it is essential to contact an experienced Prince George's County slip and fall lawyer immediately in order to begin an investigation, before evidence that supports your claim can disappear. The statute of limitations for slip and fall accident in Maryland is three years, so you or your PG County slip and fall attorney must file your claim within three years of the accident taking place.
Therefore, if you have been injured in a slip-and-fall accident in Prince George's County, contact a lawyer right away. An experienced lawyer will be able to tell you your options and the legal avenues at your disposal, during a free case evaluation. Call today.