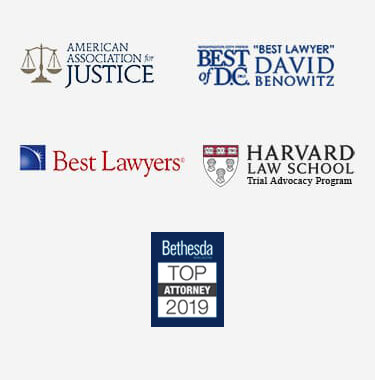 Maryland Personal Injury FAQs
After suffering an injury, whether in a motor vehicle accident, assault, or from another cause, a million different questions could be racing around in your head. To help you become more informed, here is a list of the most common frequently asked questions (FAQs) regarding Maryland personal injury cases. If you believe you have a personal injury claim in the state of Maryland, you would be wise to contact a seasoned attorney who knows the best way to handle your case. At Price Benowitz LLP, our dedicated team of attorneys has knowledge in personal injury law and will work around the clock to secure the best possible outcome. Please read through the following Maryland personal injury FAQs to become better acquainted with the issues surrounding personal injury cases and what filing a claim may entail.
I've Been Injured, What Do I Do Next?
The very first thing you should do if you are injured is call 911 to seek medical assistance. If necessary, the police may come as well. Depending on the type of incident, an officer or officers may gather information for a police report. You will want to obtain a copy of that report once it is filed, along with any other official records – such as medical records — pertaining to the crash. You will also need to exchange insurance information with the driver of the other vehicle. In cases where there is property damage involved, you should try to take as many pictures of the damage as possible for documentation.
After you've received medical care and assistance from the proper authorities, you may then begin to contemplate your next steps.
Should I Go to the Hospital?
Even if you don't think you need to go to the hospital, it may be in your best interest to do so and let a professional determine whether you are injured. Not only can they check for any injuries that might not be outwardly apparent, they can also provide you with information on how long it will likely take you to recover.
Also, even for minor injuries, it can be beneficial to see a doctor so that you are treated before the injury gets worse. Sometimes delaying treatment on minor injuries could lead to them becoming more of a problem in the future.
Seeing a medical professional right away also helps to establish or prove a direct link between your injuries and their cause.
What Do I Do If I'm Hurt at work?
First of all, as with any injury, seek medical attention if required and notify your employer about your injury immediately. If you were injured while on the job, you employer will most likely need to file a report describing the incident. Next, the workers' compensation commission of Maryland will need to be involved to process your injury in the workplace claim properly. Due to the complexity of workers' compensation claims, please refer to our other site on Maryland worker's compensation for more information about injuries in the workplace.
Am I Entitled to Compensation?
The answer to this question depends on the specific circumstances of your situation, but in most personal injury cases where there is negligence there could be compensation available for the following:
Lost wages
Medical expenses
Pain and suffering
Other economic losses
You may seek compensation for these items even if your insurance company has already covered your bills or if your employer paid you for your time off of work. This is because Maryland has a rule called the collateral source rule, which holds the negligent party responsible regardless of whether there are other parties who may be paying for damages. These other parties may be entitled to be paid back if there is a verdict against the at-fault party.
What Information Should I Give to the Insurance Companies?
Your insurance company may require you to provide information to them to process your claim. However, you're allowed to get advice from a lawyer before talking to your insurance company if you so choose. Even if the insurance company is persistent, you have the right to consult with a lawyer first. Also, you are not required to speak with the insurance agencies of other involved parties.
In general, it's best to be cautious. Don't sign anything too quickly. You can seek legal advice before signing or agreeing to any type of settlement offer.
Should I Call a Lawyer?
Calling someone to help you navigate your personal injury claim is always recommended. A personal injury lawyer will be able to provide advice on what actions you should take and how to get the appropriate settlement. They can also help you determine whether you have a good case for a personal injury lawsuit.
Many personal injury cases do not require a full lawsuit to get compensation and are settled out of court.
If you do contact a lawyer, you should try to have the following information ready:
The details of the incident, including what caused it and all relevant circumstances;
The police report, if applicable;
What injuries have you suffered;
What actions have been taken since the injury;
Copies of all related medical bills;
Any photos of injuries or property damage;
Contact details for all witnesses.
How Soon Do I Need to File a Claim?
The statute of limitations for personal injury cases in the state of Maryland is three years. The Maryland Code states that personal injury lawsuits generally must be filed within three years of the injury, or within three years of the date the injury or illness was discovered, if applicable, but no later than five (5) years. There are exceptions to this, such as when the injury involves a minor.
Contact a Maryland Personal Injury Attorney Today
To find out more about your options regarding your specific claim, contact Price Benowitz LLP and schedule a free consultation with one of our experienced Maryland personal injury lawyers. Our team is experienced in personal injury matters and can help you get the compensation you deserve. Call us today and set up an appointment.