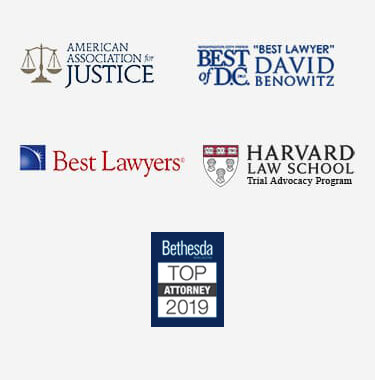 Montgomery County Car Accident Attorney
Car accidents happen every day in Montgomery County, Maryland. The reasons for them are diverse. Examples of auto accidents caused by other drivers may include speeding, failure to yield, loss of vehicle control, and failure to allow for unusual driving conditions, to name a few. Lack of proper maintenance of the car or truck that hit you may also be a factor. These factors may have a considerable impact on the strength of your personal injury claim, and a Montgomery County car accident lawyer can explain how in further detail. En Español.
How a MoCo Car Accident Lawyer Can Help
If you have been injured in a car accident – or a family member has been injured or killed – you need a reputable Maryland car accident attorney to represent you. One that is an effective advocate who will protect your rights – and those of your family. Even if you have never been involved in a car accident, speak with a lawyer to discuss what you should be aware of and focus on after an accident, in case you should ever be involved in one. That way, your interests are more likely to be protected.
If you have been seriously hurt, a Montgomery County car accident lawyer has the investigative skill, the negotiating tenacity, the will to insulate you from defendant insurance companies, and the trial experience you need to win the full and fair compensation you and your family deserve. We work with witnesses, medical experts and our own investigators to build the most solid compensation case possible. An attorney can also advise a client on common mistakes they should be wary of making that might seem innocuous at first and ultimately harms them further downt the line. Contact us for a free case evaluation.
Injuries and Liability in Montgomery County Car Accidents
According to the National Highway Transportation Safety Administration (NHTSA), more than three million people are injured annually in motor vehicle accidents throughout the U.S. and more than 30,000 people die. Under the law, you and your family may be entitled to compensation benefits from a negligent driver for past and future lost wages, past and future medical expenses and pain and suffering. You may also be entitled to compensation for other damages which could include physical impairment, disfigurement and – if a family member was killed in the wreck – wrongful death damages. If the negligent party involved flees the scene, a lawyer can also help you figure out your options for seeking injury compensations.
When you're hurt in a car accident, how do you know if you have a successful personal injury case or not? Variables include the number of vehicles involved (and defendants), and how seriously you are injured. The amount an insurance policy protects the negligent driver (or the company that employs them) must be considered: your medical bills, repair or replacement costs, your lost income, and how much you might lose in the future. Accident where a vehicle rolls over can also have devastating impact on someone when it comes to vehicle damage and personal injury.
There are many different ways that a car accident claim can be complicated, whether it involves cell phone use or driving under the influence. This is why any injured car accident victim needs to retain an experienced car accident attorney in MoCo at the earliest possible time to protect their rights.
If someone happened to be traveling as a passenger in a taxi when they get into an accident, that could be a complicating factor when it comes to questions of liability and insurance
Insurance Companies in Car Accidents
No two car accidents are alike. There are many different ways a car accident occur, from head-on collisions to rear-end collisions. Depending on your case and how severely you or a family member are injured, auto accidents can involve complex – and often protracted – negotiation and litigation. Trying to handle your own claim almost always produces much lower settlement offers.
Because insurance companies are looking out for their own interests, one of the first calls you get after being hurt in an accident caused by another driver is from their insurance company, usually a claims adjuster. If your injuries and damages aren't serious – or they don't believe they are – low settlement offers usually follow. For example, if you got into a car accident in a parking lot, there is a good possibility that the insurance companies involved will try to argue that you were somehow contributorily negligent. That's because defendant insurance companies are in the business of raking in premiums and paying out as little as possible in claims. Teenage drivers who have just received their license may also see their already high insurance premiums rise.
Every step the insurance adjuster makes is carefully planned to limit and deny benefits that injured car accident victims – and their families – deserve, compensation the law entitles them to receive. And there's only one way to stop this behavior. Clients thank us when they hire our attorneys because they are no longer bothered by these claims adjusters. Those calls stop because the defendant's insurance company – including their lawyers – must deal with our law firm.
Wrongful Death Claims from Car Accidents
Vehicle accidents are the leading cause of accidental deaths in the U.S. And since wrongful death claims are usually much higher than average, insurance companies fight especially hard to deny them or offer the least amount of compensation they can. The carrier will appear to be sensitive to the grieving family's needs. But they will not forget their own interests. A Montgomery County car accident attorney can help you establish the cause behind the accident and hold the other party responsible for any pain and suffering you have experienced due to their negligence.
Damages from wrongful death can include pain and suffering (for both the victim and surviving family members), property damage, loss of consortium, funeral and medical expenses and even possible punitive damages. Our car accident attorneys in MoCo find it very satisfying to not only protect these vulnerable people from the insurance carriers, but help grieving families recover from such tragedies.
Contact a Car Accident Attorney Today
Many people are hesitant to contact a lawyer in the wake of a serious personal injury. However, those that contact our firm are often surprised by how much we can do form them and their families during such difficult times. The Montgomery County car accident lawyers at our firm understand what people just like you must go through when recovering from a serious injury, and we're here to help make it as easy as it can be, given the circumstances. Please give us a call today.