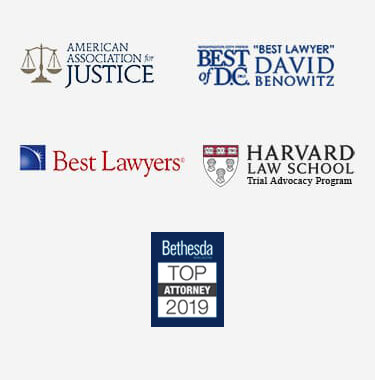 Maryland Motorcycle Accidents by Unsafe Lane Change
Riding a motorcycle is usually an exciting and exhilarating experience. However, there are considerable dangers associated with operating or riding as a passenger on a motorcycle and riders are often at risk for accidents, particularly when drivers of other vehicles make unsafe lane changes. Accidents involving motorcycles often cause injury, especially because of the extreme lack of protection that motorcycles provide compared to cars and trucks.
Over half of all motorcycle crashes in Maryland involve a motorcycle and another vehicle, and of those crashes, the driver of the vehicle is at fault more than half the time. One of the most common causes of motorcycle accidents involving another vehicle is unsafe lane changes by the driver of the vehicle, which can be the result of negligence or inattentiveness on the part of the driver, by the motorcycle being in the driver's blind spot, or by a driver who is only looking for cars, not realizing that motorcycles are also on the road. If you are injured in such an accident, a motorcycle accident lawyer in Maryland can help you pursue a personal injury claim and seek compensation for damages you have suffered from an unsafe lane change.
Injuries Resulting from Motorcycle Accidents
Because motorcycle riders are largely unprotected, injuries and even fatalities often arise from accidents involving motorcycles where vehicles change lanes unsafely.
While injuries and fatalities in accidents involving vehicles have been declining, injuries and fatalities to motorcycle riders have been increasing.  The most serious injuries that victims in motorcycle accidents are subjected to include head, neck, and brain injuries.
Suffering head and brain injuries in a motorcycle accident can be not only an emotionally traumatic experience, but an expensive one as well.  Traumatic brain injuries can also manifest themselves at any point after the accident and include symptoms such as headaches or migraines, nausea, dizziness or light-headedness, sleep issues, behavior or mood changes, or cognitive or coordination problems.
Other injuries that riders can sustain as a result of a motorcycle accident include:
Bone fractures
Ligament and tendon injuries
Spinal injuries
Abdominal injuries
Other soft tissue injuries
Road burn or road rash
Injuries resulting from motorcycle accidents can sometimes take a long time to treat, and treatment plans can include invasive and uncomfortable methods such as casts, surgery, and rehabilitation or physical therapy. Having to treat injuries through surgery or rehabilitation can be expensive for motorcycle accident victims, and can be compounded by long-term disability and pain, as well as financial strain by lost income due to missed work.
How a Lawyer Can Help
Pursuing a claim for motorcycle accident injuries arising from an unsafe lane change by another vehicle can be a difficult undertaking. Sometimes it can be challenging to prove that the driver of the other vehicle made an unsafe lane change, as the other driver may claim they reasonably believed it was safe to change lanes, and that the motorcycle driver was the one who created the unsafe condition.
If you believe that your motorcycle accident was the result of an unsafe lane change by the driver of another vehicle, you would benefit from seeking the help of an experienced personal injury attorney who can guide you through the process of filing a claim. A experienced motorcycle accident attorney will carefully review your case, including accident reports, insurance claims, and medical records, and can help you understand the various liabilities of the parties involved, as well as your rights under the law and your prospects for recovery.