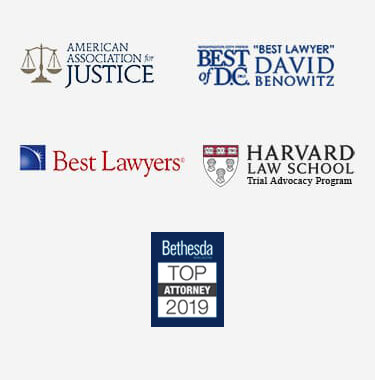 Maryland Construction Site Accident Lawyer
A construction accident is typically an incident arising in and around a construction site whereby a person responsible for providing a duty of care breached that responsibility resulting in significant bodily injuries to an innocent party.
Each year, thousands of Americans are killed on the job, and tens of thousands are injured. More than 20 percent of private sector workplace fatalities occur in the construction industry, highlighting a need for intensive safety protocols.
If you have been hurt or lost a loved one in a job site accident, a Maryland premises liability lawyer can help you get the compensation you need for maximum recovery.
Most Common Construction Accidents
Construction accidents can happen for any number of reasons, particularly given the high volume of construction in the nearby DC geographic area. Anyone who has been injured through construction work or merely passing by a construction site, should consult with a Maryland construction accident attorney to evaluate the situation and determine what recovery, if any, is available. Most construction accident fatalities result from only four types of accidents:
Falls
Electrocutions
Workers struck by an object, including falling objects
Workers caught in or between objects, equipment, or machinery
Scaffolding accidents; ladder accidents; falling tools or building materials; defective or malfunctioning tools, equipment, or safety gear; and construction vehicle accidents are just a few of the causes of construction site injuries and deaths.
Most of these accidents and injuries are preventable if proper safety protocols are in place, equipment is properly maintained, and workers are provided the necessary protective gear and trained how to properly use it. When a company fails to make safety a priority, accidents can cause significant injury or death. Working with a construction accident attorney in Maryland can allow injured workers and their families to hold accountable those whose negligent practices compromised worker safety.
Types of Injuries
Injuries at a construction site can vary from minor bumps and bruises to very significant personal injuries and even death. Typically the nature and extent of the injuries depend on facts and circumstances giving rise to the injury.
Common construction injuries include the following:
Amputation of extremities or limbs
Head injury and traumatic brain injury (TBI)
Spinal injury, including back and neck injuries
Burns from electrocution, fire, explosion, and caustic chemicals
Broken bones
Sprains, strains, and repetitive use or overuse injuries
Lacerations and cuts
Respiratory illness from exposure to dust, debris, and chemicals
Eye injuries
Hearing impairment from repeated exposure to loud construction noises
These injuries frequently require costly medical treatment. As medical bills pile up, many injured workers are also confronted with an inability to work because of their injuries. A construction injury can bring with it significant financial and emotional stress in addition to the physical pain and suffering of a serious injury.
Damages
Common types of recovery include financial compensation for medical bills, pain and suffering, loss of earning potential, and more.
An injured person is compensated through both economic and non-economic damages for a construction site injury. Economic damages typically refer to the cost of medical treatment incurred both in the past, present and the future, as well as any lost time from work. Non-economic damages, is a legal term that typically refers to more subjective complaints of pain and suffering, and inconvenience.
Punitive damages are not usually awarded to construction site cases, as the standard for punitive damages is very difficult.
Negligence
If the injured party is an employee, recovery may be solely through workers' compensation benefits. Therefore, an initial evaluation of that issue needs be done by an experienced injury attorney.
Maryland is a contributory negligence jurisdiction. This means that if a Fact Finder, albeit a judge or a jury, finds the injured person even 1% at fault, then the injured person is completely barred from recovery. The majority of the country follows comparative negligence whereby the jury is allowed to attribute a percentage of negligence to both the plaintiff and the defendant, and the plaintiff's recovery would be proportionate to his percentage of liability.
Contacting an Accident Attorney
People should understand that construction accidents can be very difficult to determine who is at fault. Many times a construction site involves many different layers of responsibility from the owner to the developer, to the contractor, to the sub contractors, security or other people, that are on the site to perform certain tasks. Therefore, it is important to know that injured people have the right to recover from their injuries, but it may be very difficult to determine who is responsible for compensation.
Finding out whether or not you may be able to obtain compensation for your construction injury and losses is only a phone call away. Call to schedule a free, confidential consultation with a Maryland construction accident attorney who can answer your questions and begin searching for solutions.