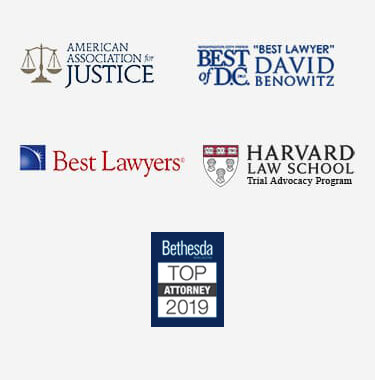 Settle a Maryland Personal Injury Case or Go to Trial
Anytime that someone is making a personal injury claim, they should be careful in deciding whether to bring that claim to trial, or accept a settlement offer. There are multiple important factors to consider in making this decision, and it is always helpful to have the advice of an experienced Maryland personal injury lawyer when considering these options.
Legal Options Available to an Injured Person
Typically, when a person has been injured due to the negligence of another and they retain the services of an attorney, the attorney will attempt to negotiate a satisfactory settlement of the claim without initiating litigation. This is done for a number of reasons, but is primarily to avoid the higher cost of litigation and other factors that litigating the case may present. If a settlement cannot be obtained, the injured person can abandon their claim and receive no compensation or they can initiate a lawsuit. Ultimately the injured person decides whether to take the settlement or go to trial.
Reasons to Settle a Case
A person should always consider settling a case because if a case were to proceed to trial, there is no guarantee of a recovery. Also, the cost of going to trial can reduce the recovery that is delivered by a jury, so mathematically, even if the jury awards an amount higher than the last settlement offer, the client may end up receiving less in take-home compensation after paying the trial cost.
However, there are always a number of factors that go into evaluating a settlement offer based upon each individual case. Certainly if it appears that the settlement will result in more compensation for the injured party than a trial would, they should consider settling the case.
Reasons to Go to Trial
Sometimes it is easy to decide whether or not to reject a settlement offer and bring a case to trial. If the settlement offer is egregiously low, the person will effectively be left with no other choice but to initiate a lawsuit and hope that the jury agrees with their evaluation of the claim.
Consulting an Injury Attorney in Maryland
An experienced personal injury attorney serves a valuable role in evaluating any settlement offers that are made. The attorney has experience in handling similar claims. and can draw upon that experience to advise the client as to whether there are potential benefits of accepting the settlement offer. An attorney should have a better idea as to the value of a client's claim, as they will have seen similar cases before. Because they have this knowledge, an attorney should be able to provide valuable advice on whether or not a settlement is reasonable, or so low as to justify bringing the case to trial. Of course, should a case go to trial, a lawyer's assistance would become invaluable.
Important Information to Bring
An injured person seeking to make a personal injury claim should take any and all information they have in their possession to the initial consultation with the attorney. All information is important and during the course of the consultation, questions may be asked that pertain to seemingly irrelevant or unrelated information, so it is good to be prepared with as much information as possible.