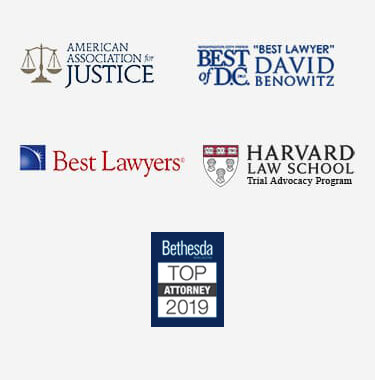 ERISA Trials in Maryland
Procuring long-term disability benefits from your ERISA disability insurance carrier can be complicated and frustrating. Disability insurance is there to help you in the case of an injury or illness that causes a disability, but the promise of those benefits may seem hollow.
In many ERISA governed claims, the court may only overturn the insurance company's denial if you prove that the denial was "arbitrary and capricious", which is considered a higher burden of proof in a civil court.
If you are seeking legal action, a skilled long-term disability attorney who is knowledgeable in ERISA law may help you understand your legal rights for ERISA trials in Maryland.
Important Legal Elements in ERISA Trials
The Social Security Administration utilizes a five-step sequential evaluation, which asks the claimant several questions, including:
Did the claimant engage in gainful activity?
Does the claimant have a severe impairment?
Does the claimant meet a listing?
Can the claimant return to the work that they did in the past?
Is the claimant capable of performing other work in the national economy based on their age, education, and transferable skills?
Each long-term disability policy may have their own definition of disability. However, there are key differences between long-term disability and social security disability.
In the Social Security determination process, advancing age can play a key role in whether benefits will be awarded. Advancing age is treated as a limiting factor in one's ability to adjust to the work. On the other hand, long-term disability insurance carriers do not use age in assessing whether a policyholder meets its definition of disability.
Employer-provided long-term disability insurance is governed by ERISA, the Employee Retirement Income Security Act, a federal law that oversees a variety of specific procedures and time limits for filing LTD claims. One provision that may catch applicants by surprise is that, in a lawsuit against a plaintiff's insurer, the plaintiff may be prohibited from introducing new evidence.
The federal judge, with very limited exceptions, may decide the case based on what is in the plaintiff's administrative record. Thus, an attorney may seek to stack the administrative record with favorable evidence before internal appeals within the insurance company have been exhausted.
Does ERISA Law Require Jury Trials in Maryland?
Not all civil cases will require a jury trial. The Seventh Amendment to the U.S. Constitution states that in cases involving common law, where the value in controversy exceeds twenty dollars, the right of trial by jury will be preserved. "Common law" actions are typically lawsuits seeking damages. These may be different than actions based in equity, such as injunction requests or cases seeking an order to do something specific.
What Damages Are Not Awarded in ERISA Trials?
An ERISA disability lawsuit will often be resolved by a judge. In some cases, the decision will be made via the filing of a summary of judgment motion. Furthermore, unlike many individual policies, ERISA law does not allow for punitive damages or bad faith claims.
There are certain ERISA regulations that impose penalties or fines due to insurers failures to provide certain documents or comply with certain ERISA reporting requirements; however, these fines are often inconsequential.
Contact a Maryland ERISA Attorney
If you have been denied total or partial disability benefits, a skilled attorney who has extensive experience in litigating ERISA long-term disability claim denials may help you understand your legal options and what it takes to succeed in ERISA trials in Maryland. To learn more, call today.