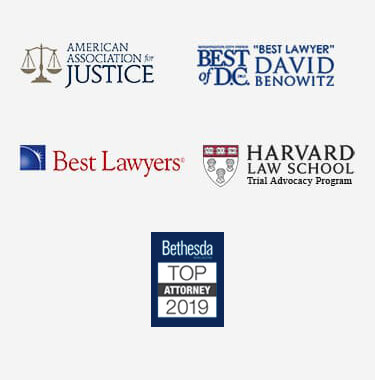 Anne Arundel County Wrongful Death Attorney
Losing a loved one is one of the greatest tragedies one can endure, and unfortunately it happens far too often that parents, children or spouses are taken unexpectedly through events that could have and should have been prevented. When a family member is killed in an accident caused by another person's reckless, careless, negligent, or malicious actions, it can make the loss even more painful. Along with the feelings of grief, emptiness, and anger, survivors often experience a sense of injustice that the one responsible for the incident is able to carry on with everyday life, while the life of the one they hold dear has been taken.
The skilled Anne Arundel County wrongful death lawyers with our firm have experience in providing litigation in cases of wrongful death. There are a number of personal injury incidents that can bring forth a case of wrongful death:
Vehicle Collisions (automobile, motorcycle, boat, ATV, public transit)
Criminal Action
If you have endured a painful loss at the hands of another, it is within your rights to hold the person(s) responsible for your suffering liable for their role in your loss. An experienced Anne Arundel County Wrongful death attorney with our firm can help you do that.
Medical Malpractice
When a loved one is injured and needs medical attention, even for a seemingly minor injury, the level of care he or she receives can be a matter of life and death. You expect a doctor, surgeon, or physician to provide the highest level of care and perform to the best of his or her abilities. If you feel that your loved one's condition became fatal because of inadequate medical care, it is important for the healthcare provider to be held liable. Whether a failure to properly diagnose and treat the illness or injury, prescription error, surgical error, birth injury, or other medical malpractice, the medical professional should be held responsible for his or her error. Not only can it provide you with a sense of justice and closure in the loss of your loved one, but it can help to save others by making a statement that inadequate medical care cannot and will not be tolerated. An Anne Arundel County wrongful death lawyer will help you make that statement by providing skilled wrongful death representation.
Products Liability
When we purchase a product, we want to believe that the product will do what it claims to do and will meet standards set by state and federal regulations. If a spouse, parent, or child has been fatally injured because of a product misrepresentation or malfunction, you may have a case of wrongful death against the manufacturer or distributor. The experienced Anne Arundel County wrongful death attorneys with our firm will provide you with a free consultation to help you build a case against those responsible for the untimely death of your loved one. Whether it is a case of dangerous or defective drugs or medical devices, dangerous toys, or defective baby products, we have successfully handled cases like yours, and we are ready to make sure you receive financial recompense for your suffering.
Premises Liability
If you lost a loved one because of an accident sustained in a location exhibiting poor safety practices, then your loved one may have suffered a wrongful death. Inadequate safety measures and poor property maintenance may lead to:
Slip and fall accidents
Falling objects
Workplace accidents
Construction site accidents
And many more
If the fatal incident could have been prevented by proper upkeep of the grounds, abiding by OSHA or other safety regulations, or adequate on-site first aid, then you likely have a case for holding those who caused the incident liable for their role in your loved one's death.
Wrongful Death Attorneys in Anne Arundel County
Anne Arundel County is an integral part of the state of Maryland, featuring the state capital, Annapolis, as its county seat, and the state population center along the county line. The home of the United States Naval Academy in Annapolis, Anne Arundel County is billed as "the land of pleasant living." Unfortunately, an accidental death can cast a pall over the lives of those left to grieve the loss.
There is nothing that can fill the hole left in your heart when a loved one is unexpectedly taken from you. To know that your loved one's death could have been prevented if another person had been more responsible, cautious, prepared, or professional can make your loss even harder to bear. Although nothing can bring your parent, spouse, or child back, you can seek restitution and make sure that the responsible party is financially liable for your loss. In addition to the pain of loss, those left behind often endure financial troubles, as well. A wrongful death lawsuit can provide financial compensation for:
Funeral/burial expenses
Medical expenses prior to death
Loss of income from head of household or other financial contributor
Loss of future earnings
Property damage
Pain and suffering endured prior to death, payable to the estate of the deceased
You deserve financial peace of mind so that you can focus on the emotional healing you need. The burden of costs associated with an unexpected death will only hinder your ability to cope with your loss and move ahead with your life. The memory of your loved one will always remain, but the financial burdens don't have to. Contact an Anne Arundel County wrongful death lawyer with our firm who will work with you to develop a strategy to help you receive financial recompense. Call today for a free consultation.