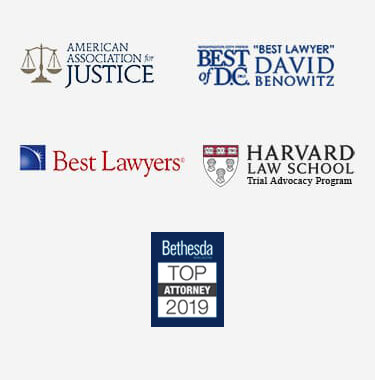 Wicomico County Personal Injury Lawyer
An injury to someone's person may come in many forms and can arise out of numerous accidents and incidents that occur. For an injured party to successfully obtain financial compensation for the losses they have suffered due to negligently inflicted injuries, they must first file a personal injury claim against the at-fault party.
If you recently suffered injuries in an accident due to another person's negligence, you should call a skilled attorney for help in order to receive the monetary damages award you deserve. By obtaining a Wicomico County personal injury lawyer's services, you could optimize your chances of receiving sufficient financial compensation for your injuries.
Understanding Maryland Personal Injury Law
While filing an injury claim for damages can help an injured party recover for the losses they have suffered as a result of their injuries, they could also end up spending more time and money to pursuing a claim rather than settling it. For an injured party to receive the most favorable outcome possible in their case, they should be familiar with their state's injury laws and seek the advice of a personal injury lawyer who understands how and when these laws are applied.
For instance, those in Wicomico County seeking to file a personal injury claim will be subject to the time limitations established for filing such claims. As provided under Maryland Courts and Judicial Proceedings Code Annotated § 5-101, a Maryland plaintiff generally has three years from when they were negligently injured to file a claim against the at-fault party responsible.
Additionally, the plaintiff in a personal injury claim in Wicomico County should also evaluate their claim in light of Maryland's pure contributory negligence law. Under Md. Code Ann., Cts. & Jud. Proc. § 3-1402, if a plaintiff is deemed to have contributed to their injuries in any way, even if said plaintiff's percentage of fault is as low as one percent, they may be barred from recovering monetary damages entirely. To determine how drastically such laws may impact a case, an injured party should seek to consult a qualified personal injury attorney for advice and guidance.
Remedial Damages Awarded in Negligence Cases
In personal injury cases, the damages typically awarded to a plaintiff will include both economic and non-economic damages. Although punitive damages may also be awarded in such cases on occasion, this is an infrequent occurrence. Punitive damages are damages awarded to punish the defendant rather than compensate the plaintiff
Economic damages are those awarded for the quantifiable losses a plaintiff suffers due to their negligently inflicted injuries. Such damages may include loss of wages, medical bills, healthcare costs, etc. There is no cap placed on economic damages under Maryland state law.
Non-economic damages are those awarded for the unquantifiable losses a plaintiff suffers as a result of their injuries, such as pain and suffering, emotional distress, and loss of consortium (i.e., the pleasure derived from familial or other relationships due to injuries incurred).
Although Maryland state law places a cap on non-economic damages, as provided under Md. Code Ann., Cts. & Jud. Proc. § 11-108, the capped amount will vary on a case-by-case basis depending on the type of personal injury claim and the extent of the injuries suffered. To learn more about how Maryland's non-economic damages cap may impact your recoverable damages or how to maximize your awarded damages, an injured party should obtain legal representation from a skilled civil litigator.
Reach Out to a Wicomico County Personal Injury Attorney for Legal Help
Pursuing a personal injury claim can be a daunting and exhausting venture to undertake, particularly if an injured party chooses to do so without a licensed legal professional's expertise. In cases such as these, an injured party may lose out on receiving potential compensatory damages, as well as the chance to re-try their case following an unfavorable judgment.
If you were recently injured in a severe accident and seek to recover damages for your losses, do not fall victim to these easily avoidable errors when filing a personal injury claim. To give yourself the best chance at obtaining adequate financial compensation for your losses, call us today to schedule a risk-free consultation with a Wicomico County personal injury lawyer!