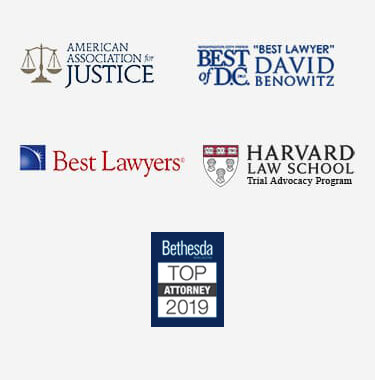 Maryland Accident Lawyer
If you have been hurt and believe another party's negligence or dangerous conduct caused your injuries, a injury lawyer in Maryland can help you pursue the compensation you need in order to pay your medical bills and other expenses. If another person or a company is responsible for causing your accident, your Maryland accident attorney can argue that it is not fair for you to have to bear the burden of your damages – including lost wages, current and future medical bills, and even pain and suffering – since you were not at fault.
Common Types of Accidents in Maryland
The types of injury-causing accidents that can occur are limitless. Some of the most common claims our accident lawyers in Maryland handle include:
Slips and falls
Traffic accidents
Trucking and commercial vehicle crashes
Medical malpractice
Icy sidewalks and roads
Injuries on public and private properties
Workplace injuries
Dangerous drugs and medical devices
Defective consumer products
Transportation accidents
Maryland's Negligence Laws
Maryland is one of only a handful of states that still adhere to the theory of so-called contributory negligence. Most states operate under a form of the legal theory of comparative negligence, which allows injured victims to hold another party responsible for the portion of fault the party held in causing the accident. Victims who bear some responsibility in their own accident are typically still able to recover costs for the percentage of fault the other party bears.
Under contributory negligence, however, the standard is much stricter. Victims who are proven to have contributed to their own accident in some way – even as little as 1 percent fault – may be barred from recovering any compensation whatsoever from the other party.
Because of Maryland's strict contributory negligence standards, it is essential that you work with an experienced Maryland accident lawyer who can establish that you were not even partially responsible for contributing to your accident. Your Maryland accident attorney will be familiar with the type of defenses the other party may try to claim, and can prepare to combat any attempts by the other party to attribute fault for the accident to you.
Even if you worry that you may have contributed to your accident in some way, your Maryland accident lawyer can advise. Maryland maintains specific standards for what is considered to be the actual cause of an accident or incident. Certain mistakes or missteps leading up to an accident are not always considered to be the ultimate cause. Your Maryland accident attorney can examine the details of your case and determine whether you have a valid claim against the other party.
Consult an Experienced Maryland Accident Lawyer
No matter what kind of accident you have suffered or how severe your injuries are, a Maryland accident lawyer can help. It is a good idea to consult with an experienced Maryland accident attorney following any type of accident, even if you do not believe you are injured. Some injuries take a while to develop or may worsen over time. However, Maryland law places limits on the amount of time you have to file a claim after you are injured. Your Maryland accident lawyer can examine your medical records and the facts of your case determine whether you may benefit from pursuing a personal injury claim. They can also help you pursue a settlement and provide valuable advice throughout the process.