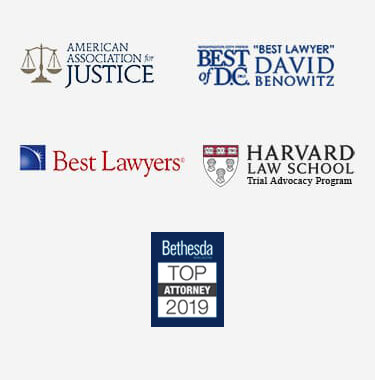 Maryland Social Security Attorney
Social Security Disability Insurance (SSDI) and Supplemental Security Income (SSI) are governmental programs designed to provide financial assistance to disabled Americans who either cannot work or engage in substantial gainful activity as a result of their personal injury, illness, or mental incapacity. While these programs provide
While these programs provide much-needed benefits to qualifying individuals and their dependents, the overwhelming majority of disability claims are rejected at the initial application phase. The process of applying for benefits and appealing denied benefits is a complex legal process. For the best chance of a successful claim, it is wise to rely on a skilled legal professional. Contact a Maryland Social Security lawyer to help with your disability application and, if necessary, continued hearings and appeals.
Lawyers can help you with every step of the disability process. Helping you determine whether you qualify for benefits, filing your application for Social Security benefits, requesting a hearing with an Administrative Law Judge (ALJ), representing you at the disability hearing, and appealing a denial of your disability benefits, if necessary, are all part of the legal services offered by a Maryland Social Security lawyer. En Español.
Eligibility Requirements
Social Security Disability benefits are provided to disabled workers and certain family members if a disability prevents the return to work. Adult children who became disabled prior to the age of 22 may also be eligible for SSD benefits on their parents' income. Supplemental Security Income is a benefit provided to disabled adults and children with limited resources and earning potential, as well as adults over 65 who fall within specified financial limits.
Unfortunately, as many as 70% of disability claims are initially rejected. Maryland attorneys can maximize someone's chance of receiving the benefits that they are entitled to. A disability claim is statistically more likely to be accepted if the applicant files with representation from a qualified Social Security disability lawyer in Maryland.
Importance of an Attorney
If a person is filing a social security claim, the chances are that they are in a tough spot and the benefits they are hoping to receive could go a long way towards getting their situation straightened out, or at least helping them return to health. When they are filing a claim, and they absolutely need it to go through and be successful, they need to hire an attorney who is not just taking their case to increase their number of clients.
Maryland social security attorneys will work tirelessly on behalf of their clients, and will not rest until the final resolution of their claim. Attorneys will treat their client's case with the professionalism and vigor that they deserve, with the hopes of obtaining a positive result.
Application Process
The process of applying for social security benefits can be extremely confusing, and it is not recommended that you attempt to secure these benefits on your own without the aid of an attorney who is experienced in this area of law. Experienced attorneys have handled these types of cases before, and are current on any changes in the relevant case law that could affect your claim.
The disability process can take years to complete, particularly if benefits are initially denied and an applicant must undergo a disability hearing or ALJ appeal of denied benefits. It is imperative that those wishing to apply for disability benefits begin their claim as soon as they become disabled. If you think you may be eligible for SSD or SSI benefits, contact a Maryland Social Security lawyer without delay. Do not risk your own well-being. Seek immediate legal help in filing your disability claim.