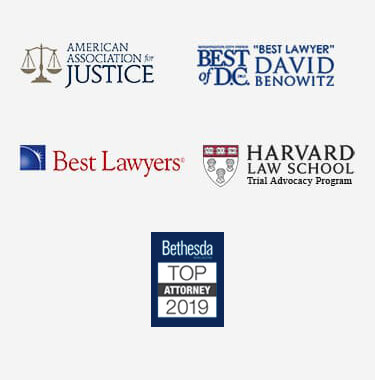 Alexandria Personal Injury Attorney
We live today in a world that presents a number of daily hazards and possibilities to be injured. Every hour of the day someone is injured in their home, while on the road, or while carrying out daily tasks. Whether it's the result of a car accident, defective product, medical malpractice, or slip and fall, a serious injury can cause great financial and emotional hardship. If your injury was the result of someone else's carelessness, you do not have to accept it as mere poor fortune.  With the help of an Alexandria injury lawyer with our firm, you can hold the negligent party responsible for their role in your injury.
People are also injured by defective products and as a result of medical malpractice, among other sources. While there are reams of statistics, many kept by the Centers for Disease Control and Prevention (CDC) that break down who is injured as well as how and where people are injured, several provide particularly useful insights. These include::
Over 37 million incidents of medically attended injuries and poisonings occur each year.
Over 41 million visits to emergency rooms are reported annually.
Deaths from injuries each year total over 180,000.
Motor vehicle deaths average over 33,000 per year.
Firearms are the cause of an average of over 31,000 deaths a year.
Preventable medical malpractice is the sixth biggest killer in the U.S.
Personal Injury Accidents that May Result in Claims
The number of situations and scenarios that can lead to personal injury claims is almost limitless. Some of the most common accidents or incidents that result in medical care, pain and suffering, and other financial and emotional hardships are:
Auto Accidents in Virginia
In the state of Virginia, the annual deaths from auto accidents average more than 700 and over 60,000 people are injured in these accidents. For motorcycles alone, annual deaths range from 79 to 129 and there are a commensurate number of injuries. Alexandria's location so close to the heart of the Washington, DC metropolitan area makes it an especially dangerous place to have careless motorists on the road.
Driver error, alcohol use, and speeding are contributing factors in the vast majority of accidents in Virginia and elsewhere.  Whether it is some form of a vehicle accident, a fall, or another cause, an injury can cause significant financial burdens from medical care, lost wages and other consequences.  Even if the victim escapes serious physical injury, there may still be significant financial repercussions due to the cost of repairing or replacing a vehicle or other property damaged in the accident.
Dangerous or Defective Products and Medical Malpractice
Virginia law requires that any product sold be reasonably safe for the purposes it is intended and for reasonably foreseeable uses. This does not mean a product has to be made totally safe for any circumstances. On the other hand, if a product presents inherent or non-obvious dangers, the vendor must warn of all foreseeable risks of using the product. There are other issues related to such products that can be explored with an Alexandria injury attorney if an injury occurs.
Few people understand the degree of danger in America from medical malpractice. Tens of thousands are injured and die annually from preventable medical errors. Virginia's medical malpractice legislation is primarily addressed in its Medical Malpractice Act. Case decisions by lower courts and the Virginia Supreme Court also determine the potential outcome of any medical malpractice claim. There are a number of issues to be considered in such injuries or death, including the legal issue of contributory or comparative negligence.
Looking Behind the Injury
When accidents occur, they often cause mental and physical injuries that are painful, expensive and debilitating. In more severe cases, the injuries may last a lifetime and result in significant lifestyle changes. In the worst circumstances, death occurs. For these reasons, it is often critical that the causes of an accident be carefully examined and a determination made of whether or not negligence on the part of another party is involved.
Virginia, like all states, has developed a comprehensive set of statutes and case law that deal with the issue of personal injury. It is a part of the law in which Alexandria injury lawyers gain extensive experience in the issues related to negligence, harmful acts and related factors. There are specific guidelines and elements of the law that deal with the issues of establishing blame, determining the possibility of recovery of financial losses, and numerous other issues.
When you or a loved one is involved in an accident or potential medical malpractice that causes serious injury or death, emotions and stress are often barriers to a thoughtful and careful consideration of all the factors involved with the situation. Unfortunately, this is a time when such reasoned dealing with circumstances is very important. The added effort of a lawsuit may be the last thing you desire, but when you put your case in the hands of a personal injury attorney with our firm, you can take much of the hassle away and put your focus more completely on healing.
The Role of an Alexandria Injury Lawyer
Experience and training allows a competent Virginia personal injury attorney to quickly assess the general issues surrounding any type of accident. However, such an initial evaluation is only the beginning of the work of the personal injury attorney. There are many facts and details that must be determined in every case before the decision is made that a degree of negligence is a factor. These investigations provide the factual basis for seeking an acceptable settlement or the basis of a lawsuit.
One example of this detail and the importance of experience is the case of a collision between a commercial truck and a passenger car. Every day, dozens of these accidents occur with often devastating results to the driver and passengers of the smaller vehicle. Attorneys that deal with this type of situation have a detailed checklist of factors that are involved and investigate those items in detail.
When investigating a commercial truck accident, your Alexandria injury lawyer will examine everything from the weather to the condition of the roads to the maintenance records for the truck. Drivers are also carefully scrutinized to determine their training, health issues, safety record and potential fatigue. Each and all of these details are a part of the often laborious process of determining blame and/or negligence.
Protect Your Options
As noted, you and your loved ones are at risk of being involved in an accident, injured by a product, or exposed to medical malpractice that causes injury or death. In these cases an early consultation with a qualified attorney is the best way to safeguard your legal rights and ensure the ability to pursue legal and financial remedies. A simple call and free visit will go a long way to providing peace of mind and providing the protection you need and deserve.