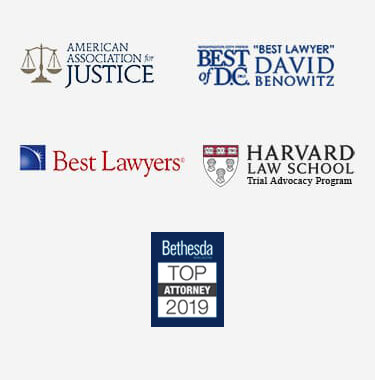 Loudoun County Personal Injury
When one is injured by the actions or negligence of another person or party, there may be some confusion regarding liability. When an accident occurs in a public place and an injury is sustained, determining culpability is best left to a professional. A Loudoun County personal injury lawyer will be experienced in a variety of serious or severe injury liability cases and will be able to properly assess the chain of events or actions which caused the accident, which helps to accurately ascribe the degree of liability regarding the various individuals and entities involved. Serious or catastrophic injuries require keen legal insight because such injuries can cause pain and suffering for victims for the remainder of their lives. If a loved one has died because of an injury in Loudoun County, you may have a personal injury claim.
Loudoun County Injury Lawyers Handle These Cases
One of the most commonly litigated serious injury categories involves major motor vehicle accidents. Other ways in which a person may suffer severe or catastrophic injuries in Loudoun County may involve:
Products liability (dangerous drugs or defective products)
Assault
Catastrophic Injuries
Catastrophic or severe injuries are, by definition, so severe that they may result in permanent disability, long-term medical needs, or even a shortened lifespan. Common types of catastrophic injuries include:
Spinal cord damage
Traumatic Brain Injury
Compound and offset bone fractures
Torn muscles, tendons and ligaments
Exsanguination or massive blood loss
Asphyxiation or suffocation
If you were involved in an incident that left you physically or emotionally scarred, you may be entitled to financial compensation. The skills of a dedicated Loudoun County personal injury attorney are best-suited to the pursuit of maximum awards for any and all harms and losses that you have suffered. And your work to hold those responsible for your injuries to task will help protect others who would have been in danger of suffering similarly had the carelessness or recklessness that led to your injury gone unchecked.
Motor Vehicle Accidents in Virginia
According to a report by the Virginia Highway Safety Office, 775 people were killed in motor vehicle crashes in the state in 2012, which accounted for a 1.44 percent increase in traffic fatalities when compared with the previous year. An additional 67.004 people were injured and a 123,579 traffic crashes were reported in 2012. Of those crashes, alcohol and speed were major factors. More than 200 of the traffic fatalities were related to alcohol-related crashes and more than 300 individuals died as a result of speed-related crashes. If you were seriously injured, or lost a loved one, due to the reckless or negligent actions of a drunk driver or a speeding driver, a Loudoun County personal injury lawyer can help you craft a claim for the harms and losses you have suffered and will work to ensure that the individual who caused your injury, or who killed your love done, does not go on to hurt anyone else.
Premises Liability in Loudoun County
Hazardous or dangerous conditions on public or private property cause numerous injury accidents. If hazards are not fixed or removed, or if they are not clearly marked or warned against, can cause an unsuspecting person severe mental and physical anguish. When proper maintenance and upkeep is neglected or sufficient security is not implemented, injuries may abound. In these cases, liability may fall upon the property owner or manager, or the person or party responsible for the upkeep of the property. When proper care and precautions are not taken, the injured party may seek financial compensation for damages they have incurred, including, but not limited to:
Physical pain/injury;
Emotional trauma;
Property damage;
Lost wages from time away from work, or an inability to continue working in their chosen profession;
Financial responsibilities, such as medical bills and the cost of on-going treatment.
If you were injured on another person's property because of the owner's negligence or lack of adherence to standard practices of safety, contact a Loudoun County personal injury lawyer to discuss your rights.
Products Liability in Loudoun County
A defective product can pose serious harm to innocent consumers. In cases of dangerous or defective products. From the design, manufacture, marketing, distribution, and sale of consumer goods, those that put defective products into the hands of the public may be held responsible when serious injuries ensue. There are several common types of product liability. In the case of negligence, it must be shown that there was a degree of carelessness in the product's design or manufacture that led to personal injury through a defect or hazard. With strict liability, one must prove that an injury was sustained because of a product defect. The manufacturer is then liable for resulting damages, regardless of the manner in which the product was utilized. Lastly, a breach of warranty deals with failed promises made by the manufacturer. The express warranty is a written or spoken promise regarding the performance, nature, character, purpose, quality, or use of an item made by a seller to the consumer. The implied warranty is a guarantee by the seller that the item sold is fit for the intended purpose. These warranties are in place to protect consumers. If you suffered a major injury because of a product defect or because a product failed to live up to its promises or didn't warn against improper use, contact a personal injury attorney in Loudoun County to review your case and help you determine whether you have a viable claim.
Workplace Accidents
The Occupational Safety and Health Administration (OSHA) is a government agency developed by Congress in conjunction with the Occupational Safety and Health Act of 1970. Its sole purpose is to ensure safe and healthful working conditions for working men and women by setting and enforcing standards and by providing training, outreach, education and assistance to millions of American workers and their employers. The agency is considered small by federal standards, with roughly 2,200 inspectors responsible for the health and safety of 130 million workers and more than 8 million work sites around the country. Some of the most common workplace safety violations involve:
Fall protection
Hazard communication
Ergonomic/Musculoskeletal Disorders
Scaffolding and ladders
Respiratory protection
Control of hazardous energy
Powered industrial trucks
Electrical systems and wiring methods
General machine requirements
If your employer violated mandated safety standards or neglected to maintain a safe working environment, contact a Loudoun County personal injury lawyer immediately to discuss your case and to start the process of reporting the hazard.
Dog Bites in Loudoun County
Loudoun County, VA has strict definitions and legal requirements for owners of dogs and other potentially dangerous animals. County Section 3.2-6540 defines a "dangerous dog" as a canine or canine crossbreed that has bitten, attacked, inflicted injury on a person or another pet or has killed another pet or companion animal. There are exceptions to this rule, such as in cases of attacks that occur while hunting or if a court rules that the totality of the evidence showed the dog in question does not pose a threat to the community. Owners of dogs deemed dangerous or vicious animals can face misdemeanor and felony charges and can be found criminally and civilly liable for any harms and losses suffered as a result of an attack or bite.
Loudoun County Personal Injury Lawyers Can Help
Price Benowitz LLP is a full-service law firm with offices located throughout Virginia. Our Loudoun County personal injury attorneys have extensive experience pursuing claims related to premises liability, products liability, motor vehicle crashes, workplace injury, dog bites and many other forms of personal injury. They understand that catastrophic injuries incurred as a result of the negligence or carelessness of another can have lasting consequences and that you will need assistance not just in the immediate aftermath of your injury, but for many years to come, if not the rest of your life. If you have suffered because of the carelessness, recklessness, negligence, or maliciousness of another person or entity, you have the right and duty to seek financial compensation. Contact our Leesburg office to schedule a free, initial case review. Here is more information on personal injury claims in Leesburg.