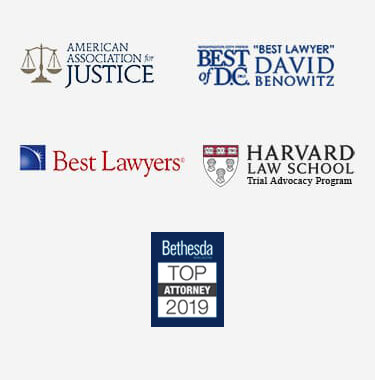 Stafford County Personal Injury Attorney
When a motor vehicle accident, slip-and-fall accident, medical error, animal attack or any other personal injury befalls you or a loved one because of someone else's recklessness or carelessness, you deserve just compensation. Whatever your accident situation may be, if you feel that another's actions were the cause of your injury, contact a reputable Stafford County personal injury lawyer for a free case analysis. With effective case representation, you may receive financial compensation through a civil trial or insurance settlement.
While it may seem obvious that the at-fault party should accept financial responsibility for property damage, one may forget to consider the additional damages for which compensation is available, such as:
Emergency care or ambulatory service
Hospitalization
Rehabilitative care or physical therapy
Medications
Emotional trauma/psychiatric therapy
Assistive technologies
Loss of wages for missed work days
Loss of earning potential
And more
In cases of wrongful death, the grieving loved ones may additionally seek compensation for:
Funeral and burial expenses
Loss of consortium
Loss of income
Anguish and despair
And more
If you have suffered material, physical, emotional, and financial damages as the result of an accident or injury caused by another's actions or negligence, contact a Stafford County personal injury lawyer to discuss your rights.
Accident-Related Injuries
Many types of accidents can result in serious or traumatic physical injury, as well as a plethora of associated damages. Diligent legal representation can assist you in receiving recompense for injuries you or a loved one sustained in accidents or incidents including but not limited to:
Auto accidents (including truck accidents)
Recreational vehicle accidents
Assault
Premises liability or slip-and-fall
Dog bite/animal attack
Products liability
And more
No matter the means of the accident, if it occurred because of the carelessness or recklessness of another person or entity, you are entitled to seek a monetary award to compensate for the damages.
Motor Vehicle Accidents
Motor vehicle accidents are the leading cause of unintentional fatalities in the United States. As individuals hit the roadways every day, they are assuming responsibility for their actions behind the wheel. With lives and well-being at stake, Virginia drivers should take care to lend undivided attention to the roadway and its surroundings. However, we live in a world that is far from ideal, and multitasking is a way of life that seeps into driving habits. Momentary inattention as the result of cell phone use, operating vehicle controls, tending to other passengers, and other distractions far too often result in a car crash. Auto accidents resulting from simple driving error can be just as destructive or deadly as accidents caused by reckless driving, intoxicated driving, roadway hazards, inclement weather, vehicle malfunction, and traffic violations.
Medical Malpractice and Medical Negligence
Cases of medical malpractice result from negligence on the part of the medical care provider which causes actual physical harm to the patient. A number of health care professionals may be responsible for the total treatment of one person, and finding the one(s) guilty of providing substandard or incompetent care is best left to an experienced Stafford County personal injury lawyer. An attorney with vast experience in medical claims is prepared to litigate against anyone guilty of foul play throughout medical treatments, including:
Doctors
Surgeons
Obstetricians/gynecologists
Anesthesiologists
Nurse Practitioners
Physicians' Assistants
Ancillary medical staff
Pharmacists
Dentists
Through an in-depth case review, a reputable Stafford County personal injury lawyer can determine on whom and to what degree responsibility for a malpractice injury lies.
Harmful Animal Encounters
Pet owners have an implicit responsibility for the actions of their animals. In caring for or housing an animal, the owners assume liability for any attacks or damages caused by the animal. In order to protect the public from risk of harm, certain practices should be upheld, such as:
Keeping the animal on a leash when outdoors
Fencing or caging the animal in an appropriately-sized manner of containment
Warning the public of the dangerous or aggressive nature of the animal
It is estimated that almost five million dog bites occur each year in the United States, with approximately 800,000 of those requiring medical treatment. Fatal dog attacks occurred because of an unrestrained dog in 82% of reported cases. The danger unrestrained animals can pose to unsuspecting humans is great. Owners of dogs and other potentially aggressive pets, therefore, must take precautions to protect the public from such harm.
Personal Injury Liability Representatives in Stafford, Virginia
If you live in Stafford, Virginia, you have the choice of a number of attorneys to handle your personal injury suit. Taking time to research and choose the best lawyer for your case, however, can ultimately make a world of difference in the outcome. It is important to choose a legal professional with skills, knowledge, experience and above all, success in civil cases similar to yours.
If you were injured in an accident because of the negligence or recklessness of another person, you may be able to receive financial compensation with the help of a Stafford County personal injury attorney. The law offices at Price Benowitz offer a free initial consultation for you to appraise your legal options. Give us a call today to get answers to the questions you have about your case.