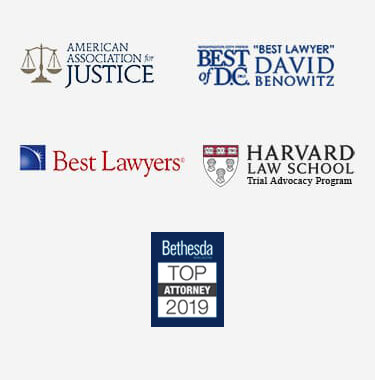 Clarke County Personal Injury Attorney
In 2010, unintentional injuries ranked 5th among the most common causes of death. This type of injury also ranked as the leading cause of death for individuals between the ages of 1 to 44 years old (Centers for Disease Control and Prevention). Unfortunately, suffering a personal injury transcends the physical pain of the injury and recovery. If you have suffered an injury, you may find that it disrupts your ability to care for your family and to keep a stable professional life. A Clarke County, VA personal injury lawyer from Price Benowitz LLP will know how to handle personal injury cases with care and perseverance, and will work to try to minimize the disruption an accident and injury has on a victim's home and work life.
Clarke County, VA Personal Injury Cases
Even if the injury is minor, there is a strong chance that you will miss days from work. If the injury is serious, it is possible that the injured person may not even be able to return to their job, or at very least will have to miss work for long periods of time while dealing with prolonged medical treatment, physical therapy, and rehabilitation.
This can add an emotional strain that is often exacerbated by the financial burdens accompanying a personal injury or illness. The lost income from missed work, the mounting medical bills, and the associated expenses of prolonged medical treatment (travel, etc.) are all compounded with the need to keep up with car payments, mortgages, rent, and other bills. The lack of financial resources severely hinders your ability to focus on what you should be focused on– healing and recovery. Instead, you become drawn into a downward spiral of physical pain, emotional anxiety, and financial desperation.
If you have suffered an injury because of the negligent or careless actions of another, you may be entitled to damages in the form of financial compensation. This compensation is not merely intended to fulfill some abstract sense of justice. Rather, it will provide the financial support necessary for you and your loved ones to avoid undue anxiety, so you can focus wholly on a swift and comprehensive recovery. A personal injury claim can allow you to put aside financial worries and stress about your family. Our team of Clarke County, VA personal injury attorneys will fight on your behalf so you can heal and recover as quickly as possible, while using our vast experience to ensure you are provided with the financial support you need.
Clarke County, VA Medical Malpractice
Generally, medical malpractice is professional negligence (an act or omission which falls below the standards of medical practice) that results in injury or death to the patient. The nature of medical malpractice cases in Clarke County (and elsewhere) requires highly experienced, dedicated, professional, and specialized legal counsel. The claims involve complex legal procedures, intricate demonstrations of causation, a wealth of information from medical experts, and an unimpeachable understanding of Virginia laws on the matter. Our team of Clarke County, VA personal injury lawyers are experienced and have successfully handled medical malpractice claims throughout Virginia.
It is important to contact a Clarke County injury attorney as soon after the injury as possible, in part because of the statute of limitations (generally two years in Virginia), bu also, to ensure that your or your loved one's injury is medically documented from as early a point as possible. Contact a Clarke County, VA personal injury attorney now for a free consultation to understand what options are available to you.
Clarke County, VA Workplace Accidents
Workplace accidents are far too common in a state and country where workplace environments are supposed to meet well-developed standards for the safety and health of their workers. Often, workplace accidents occur because employers fail to recognize that their workers' safety and health must be a priority.
If you or a loved one has suffered an injury resulting from a workplace accident, it is in your best interest to contact an injury lawyer in Clarke County today. Aside from the statute of limitations, which restricts the window of opportunity for filing a personal injury action, our team can help you decide which remedy is best for you situation, whether it is a personal injury action or workers' compensation.
More importantly, it is extremely important that dangerous workplace environments are brought to a company's attention so they may adhere to the Department of Health Occupational Safety and Health Administration (OSHA) standards and to the Virginia Occupational Safety and Health (VOSH) standards. If not, it is quite possible that another person will be injured in a similar manner. Many cases of workplace accidents occur because the manager or owner fails to comply with safety standards, acting recklessly or negligently at their workers' expense. As stated before, it is paramount that employers make the health and safety of their workers a top priority, and if they do not, they should be held accountable under the law. If any of this section applies to you or a loved one, please contact a Clarke County, VA personal injury attorney as soon as possible so we can fight on your behalf and help alleviate the physical, emotional, and financial strain that is prone to arise from a personal injury (particularly one where the workplace is the cause).
Clarke County, VA Motor Vehicle Accidents
If as the result of another driver's error, you or a loved one sustained an injury, you may be entitled to financial compensation. This compensation can cover your medical bills, expenses associated with the damage to your vehicle, and even non-economic damages in certain cases (i.e., mental anguish, pain, suffering, etc.). Our experienced team of litigators routinely handle motor vehicle accident personal injury cases and we are dedicated to ensuring you receive the recompense you are owed. Call a Clarke County, VA personal injury lawyer with our firm for assistance.
Personal injury attorneys in Clarke County, VA
Personal injury cases can be complex matters and therefore, it is important to seek out a case-tested, dedicated legal team to help you get the financial support for a smooth recovery free from anxiety. The personal injury practice group at our firm has successfully handled numerous personal injury claims across a range of case types, from premises liability and products liability to motor vehicle accidents, assault, and medical malpractice. Our team has experience resolving cases inside and outside of the courtroom, and will battle to get you the most favorable settlement possible.
Virginia has certain laws that govern the amount of damages that a plaintiff can ask for, in addition to a strict statute of limitations with very limited exceptions. Our firm's personal injury attorneys understand the nuances of Virginia laws and doctrines, and they are ready to put their track record of success to work to seek justice for you. Call our offices today for a free consultation to understand what options are available to you.