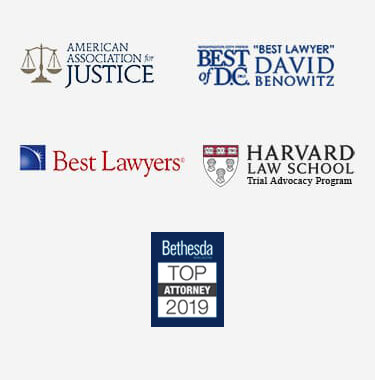 Washington DC Attorney License Defense Lawyer
Attorneys work for years to earn the right to practice law. However, lawyers must continue to act with good moral character after obtaining their license. If you are at risk of having your license to practice revoked, you should seek legal counsel.
A Washington DC attorney license defense lawyer could present powerful arguments before the Board on Professional Responsibility. Call our office today to learn how we could work towards a positive resolution.
Potential Acts that May Lead to Disciplinary Investigations
Attorneys are required to represent their clients with appropriate skill and care. Allegations of misconduct can lead to disciplinary investigations. Lawyers who are found at fault in these investigations may risk losing their license and reputation.
The Washington DC Board on Professional Responsibility oversees and regulates the practice of law in the District. This includes allowing members of the public to file complaints that allege lawyer misconduct. An individual may also file a lawsuit against an attorney for malpractice.
A lawyer has not committed malpractice solely because a client's case ended poorly. However, attorneys have a responsibility act within the best interest of those they are representing. Legal professionals are also required to conduct themselves with dignity and care at all times.
The Board may investigate any actions that indicate a lack of morality, such as drunk driving or violent crimes. A local license defense attorney could help an accused party evaluate the claims made against them.
Defending an Attorney's Ability to Practice Law in DC
The Board on Professional Responsibility has broad powers to investigate and punish acts that violate their rules of conduct. A lawyer who is found at fault may be ordered to pay a fine, attend ethics classes, or retake the Multistate Professional Responsibility Examination (MPRE). In extreme cases, an attorney could have their license suspended or complete revoked.
Once a legal professional receives notice of a complaint, they have the opportunity to file an official response. If the Board believes there is cause to continue the case, they may hold informal sessions with the lawyer in an attempt to resolve the dispute. If these talks are not successful, the Board will hold a formal hearing to decide the issue.
During the hearing, the defendant may call witnesses, present documentary evidence, and cross-examine anyone testifying to the violation. A license defense attorney could help another lawyer negotiate a fair settlement or argue against allegations presented in a formal hearing.
A Washington DC Attorney License Defense Lawyer May be Able to Help
Every attorney who receives notice that the Board on Professional Responsibility has initiated an investigation should act swiftly to protect their reputation and livelihood. A poor result in this type of case could lead to a formal reprimand on your file or an order to cease your practice.
A Washington DC attorney license defense lawyer could protect you against allegations of misconduct. Our team could evaluate the case from a neutral perspective to recommend a course of action. Contact today to schedule a consultation.