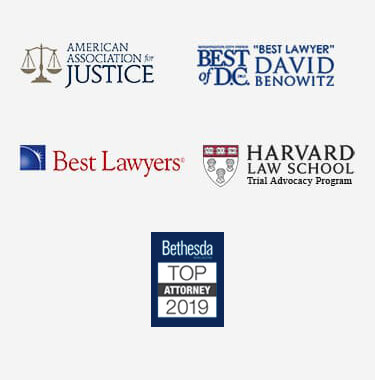 Fairfax Slip and Fall Attorney
Millions of people are injured each year in slip and fall accidents. In fact, they are one of the leading causes for unintentional injuries in the country, resulting in approximately 8.9 million visits to emergency rooms annually, according to the National Safety Council. The majority of these incidents take place because of dangerous conditions. The floor might be slick, the stairs might not be stable, or you might stumble on a crack in the sidewalk. The episode could occur at a shopping mall, school, an office or on a sidewalk. Whatever the reason, if you believe someone else is responsible for your personal injury, you can contact a Fairfax slip and fall lawyer to fight for your rights.
If a slip and fall has resulted in someone's death, please visit our wrongful death page.
Examples of Slip and Fall Lawsuits
If you fall while you are on someone else's property in Fairfax, the owner or manager of that property could be liable for your injuries. Some of the examples of commonly-successful slip and fall claims include:
A handle on a stairway is not secure, so you fall
You fall on a slick floor at a place of business
You fall in a deep pothole in a parking lot
You trip on a wire, cord or other obstruction in a store
A balcony collapses at your apartment and you fall
The pier at the lake collapses, causing you to tumble
A Fairfax slip and fall attorney with our firm can evaluate your individual situation to help determine how best you might proceed to file an injury claim.
Proving Your Case
Property owners are not always responsible for your carelessness. In order to receive compensation, you must determine liability. For a third party to be responsible, the property owner or employee must have caused the wet spot or other perilous surface or remained oblivious to the potential for such a dangerous condition.  Likewise, the property owner or manager had to have notice of the condition, that is he or she knew about the problem or should have reasonably known, about the condition and still failed to address it.
In other words, you must prove that the owner did not make a serious effort to keep the property safe. If you tripped over a lose wire or snag in the carpet, you must show proof that the condition had been there long enough for the owner to know about it. In some cases, the defendant will show that he has a consistent process for inspecting the premises. If you fell over an object that was left in the floor, you will need to prove that there was not a legitimate reason that object was left there. Perhaps the object could have been placed in a safer location, or maybe a barrier could have been placed around it. Perhaps the lighting was poor, causing you to slip and fall.
Prove You Were Not Negligence
Virginia is one of only a handful of U.S. states to operate under the doctrine of contributory negligence, meaning that if a personal injury claimant bears some part of the blame for the accident, even only one percent, he or she is ineligible to recover any damages.  Because of this, in a slip and fall case, the defendant might try to prove that you were careless when you fell. You will need to prove that you had a valid reason for being in the area, and you need to prove that no warnings were present. The property owner will try to show evidence that you were distracted when you fell, for example if you were talking or texting on a cell phone.  An attorney can help you properly file and maintain your case, and keep you from making mistakes that might jeopardize your settlement.
Reasons a Fairfax Slip and Fall Lawyer Can Help
If you are injured in a slip and fall accident, an attorney can help get you compensation for medical expenses, lost wages and emotional distress. He can also fight to get you compensation for loss of future earnings, and any other damages that occurred in the accident.
You might think your case is a slam dunk and you do not need an attorney; however, things are not always what they seem. The field of Virginia personal injury law is very difficult to get through without any legal training. A Fairfax slip and fall lawyer will help gather evidence to prove that negligence took place.
The defendant will have an attorney who will do everything possible to help his or her client evade responsibility. When you get help from Price Benowitz, you can count on our legal team handling your case with the same level of intelligence and tenacity.  Our attorneys will inspect the site and talk to anyone who witnessed the event. We will also research to see if any previous incidents have taken place at the site.
Our Fairfax slip and fall lawyers will not collect any money unless your case is won. Therefore, you will not pay any out of pocket expenses. We will try to settle out of court, but we have the successful trial record to recover you a favorable settlement in that arena as well.  If you have fallen on someone else's property, don't incur any more stress than you already have. Contact the Fairfax County slip and fall attorneys at Price Benowitz for a free consultation, to evaluate your options and determine the validity of a case.