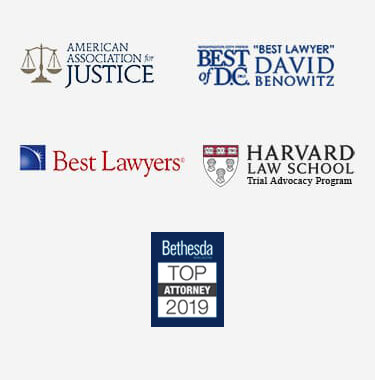 Virginia Motorcycle Accident Attorney
Many motorcycle riders are extremely adept and far more conscientious than the other drivers on the road. But that lack of protection still puts them at great risk. If you, or someone you love, have suffered an injury as a result of a motorcycle crash in NoVa, you may benefit from retaining the services of a Virginia motorcycle accident lawyer. Your attorney will understand the nature of your accident and the unique complications posed by such incidents, and will fight vigorously for your compensation.
Unlike automobiles, there are not a lot of safety measures that can be added because of the basic design of motorcycles. As the smallest vehicle on the roadway, a motorcycle does not fare well in a collision with a tractor trailer, sport utility vehicle (SUV), pickup truck, or even the smallest of passenger cars. It's not uncommon for a motorcycle rider to be thrown from his or her vehicle or to become pinned beneath their bike. While Virginia state law mandates the use of protective helmets for the riders – both driver and passenger — these provide a nominal amount of protection, especially in more serious crashes. Contact a Virginia motorcycle accident lawyer today for more information on filing an injury claim.
Advantages of a Hiring Accident Lawyers
If you have suffered a serious injury in a motorcycle accident caused by the reckless or careless actions of another driver, or if your motorcycle malfunctioned because of faulty maintenance or defective parts, there may be financial compensation available for you. Personal injury, property damage, lost wages, pain and suffering, and numerous other factors associated with your accident may cause serious financial burdens to you and your family. With the help of an experienced Virginia motorcycle accident lawyer, you can pursue a monetary award from those responsible for your injury and damaged property. If you have lost a loved one, your attorney can help you pursue a wrongful death claim. Call our law offices today to schedule a free, initial consultation with one of our skilled NoVa motorcycle accident attorneys.
Motorcycle Crash Facts
National statistics compiled by the Centers for Disease Control and Prevention (CDC) show that the number of motorcycle crash fatalities peaked in the United States in 2008, while the number of deaths in light truck and passenger car accidents dropped. In the state of Virginia, this same pattern held true. And although the number of motorcycle accidents decreased considerably between 2008 and 2009, the occurrence of such crashes has been on the rise again since 2009. In 2012, Virginia had more than 2,400 motorcycle crashes which injured almost 2,150 people and resulted in nearly 80 deaths. Motorcycles accounted for 2 percent of all the state's traffic accidents, more than 3 percent of all traffic-related injuries, and greater than 10 percent of all traffic fatalities in the Commonwealth, according to the Virginia Department of Motor Vehicles. Those involved in motorcycle accidents are overwhelmingly male, representing between 88 and 98 percent of accident victims in all age brackets. It is estimated that the vast majority of motorcycle operators involved in a crash, nearly 95 percent, are not found to be under the influence of alcohol and/or drugs at the time of the accident, which our NoVa motorcycle accident lawyers believe speaks to the nature of most riders' responsibility. In the Virginia Department of Motor Vehicles Traffic Crash Facts 2012 Report (PDF), it is shown that nearly two-thirds of motorcycle accidents are not in direct relation to any particular traffic violation. The violations or driver actions which are most likely to cause an accident in the other fraction of occasions are as follows:
Following too closely
Speeding
Avoiding another vehicle
Failure to yield
Improper lane change
Improper passing
Because motorcycle riders have a higher frequency of fatality when involved in a traffic collision, it is important to watch out for motorcycles at all times. Awareness of motorcycles on the roadway is key to preventing motorcycle accidents.
The Need for Speed
Motorcycle engines are categorized in cubic centimeters (cc) based on the volume of fuel and air the engine forces through each rotation of the engine cycle. The higher the cc-rating, the more power and the higher the speed.  Motorcycle engines range from 50 cc to more than 2,000 cc. Our Virginia motorcycle accident lawyers understand the thrill of fast bikes. But unfortunately, based on crash data, certain motorcycles are more likely to be involved in traffic accidents than others. In 2011, nearly 30 percent of fatally wounded motorcyclists drove a bike with an engine capacity of 1,400 cc or greater. Based on personality type, budget, and transportation needs, there are different types of vehicles available. The five main motorcycle designs include the following:
Dual-purpose motorcycles
Off-road motorcycles
Standard/traditional motorcycles
Sport motorcycles
Street motorcycles
Of these types of bikes, sport bikes or super-sport cycles are the most likely to be involved in fatal traffic collisions. While speeding is not listed as the leading reported cause of motorcycle accidents, bikes that are known and made for speed tend to produce more deadly results when involved in a collision.
Motorcycle Safety and Helmets
Because the leading cause of motorcycle fatalities stems from head injuries, a great deal of research has been done to determine the effectiveness of helmet use in preventing serious injury and death. As a Virginia motorcycle accident lawyer can tell you, Evidence supports the fact that helmets to provide a significant level of protection for motorcycle riders. According to the Department of Transportation's National Highway Traffic Safety Administration, helmets saved an estimated 1,784 motorcyclists' lives in 2007, and an additional 800 could have been saved had they been wearing helmets at the time of their fatal crashes. You can view the full NHTSA report here (pdf). In an effort to prevent serious and fatal injuries, Virginia, along with Washington D.C., Puerto Rico, the U.S. Virgin Islands, and the Northern Mariana Islands have invoked a universal helmet law. An additional 28 states and Guam have a partial helmet law which requires certain drivers and passengers to wear a helmet.
Virginia Motorcycle Laws
Motorcycle laws vary from state to state, and knowing what is required of a motorcycle operator is the responsibility of the driver. Out-of-state riders should be particularly aware about the nuances of Virginia laws. The Commonwealth incorporates these and other regulations into motorcycle traffic safety:
According to the Code of Virginia Section 46.2-910, eye protection is required for a motorcycle driver unless the motorcycle is equipped with a windscreen.
There is no law regarding the maximum acoustical level permitted; however, it is unlawful to operate a motorcycle that has no muffler or other sound-dissipating device, per Section 46.2-1050 of the Code.
There is no minimum passenger age restriction; however, if a motorcycle is carrying a passenger, it is required that the passenger have both a footrest and a seat, according to Section 46.2-909.
In Section 46.2-1050, the code states that operable radar detectors are prohibited on any personal motor vehicle, including motorcycles.
While on roadways, according to Section 46.2-910, it is mandatory that all motorcycle operators and their passengers wear a protective helmet which has met or exceeded the standards and specifications of the Snell Memorial Foundation, the American National Standards Institute, Inc., or the federal Department of Transportation.
Unlike automobiles, it is permitted that two motorcycles may drive abreast, sharing a lane while travelling side by side.
Turn signals are not required on motorcycles in the Commonwealth.
Section 46.2-833 states that motorcycles may cautiously move through non-responsive red lights after two complete cycles of the signal or 120 seconds, whichever is shorter.
In Section 46.2-1082, it is written that "no person shall drive a motor vehicle on a highway in the Commonwealth if the vehicle is not equipped with a mirror which reflects to the driver a view of the highway for a distance of not less than 200 feet to the rear of such vehicle." Motorcycles are not excluded from this requirement.
Call a Virginia Motorcycle Accident Lawyer Today
When you're injured, there's no substitute for experienced legal representation to help you get the compensation you deserve. After reading this informational page, we hope you'll call our law offices and complete your free initial consultation. Our legal team is standing by to field any questions you may have.