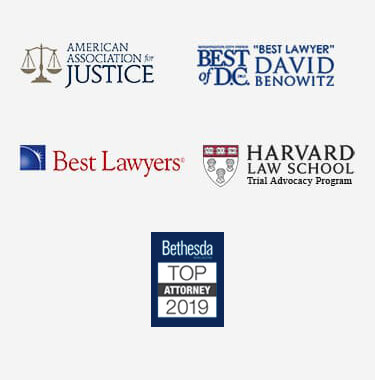 Fairfax Workers' Compensation Lawyer
While many people are injured on the job in Fairfax each year, many of those injuries are relatively minor and resolve themselves relatively easily. However, not every employer or insurance company has the best interests of their employees at heart. Insurance carriers are notorious for providing the least possible benefits to injured workers, especially if the incident wasn't witnessed or reported right away or if the employer or insurance carrier feels that the injuries or aspects of the claim are being exaggerated.
This is why it is important for you to speak with a dedicated Fairfax workers compensation lawyer if you have suffered serious injury or illness as a result of your job duties or workplace environment. Price Benowitz LLP does not handle workers' compensation claims in Virginia, but we can help you find an attorney who does. Call to learn more, or find information on other injury claims in Fairfax.
Workplace Injuries in Fairfax County, Virginia
In Fairfax, there are a number of employers that provide jobs for thousands of workers and residents in the region. Fairfax is home to ten Fortune 500 companies. Among the 50 largest employers in the county, and excluding public-sector and retail establishments, are Northrup Grumman, AT&T, Gannett publishing, Inova Health System, Lockheed Martin and Federal Home Loan Mortgage Corp. (Freddie Mac).  Among the public agencies located in the area are the Central Intelligence Agency (CIA), the National Geospatial-Intelligence Agency and the National Counterterrorism Center (NCTC) and the Office of the Director of National Intelligence. Many of the people who work in Fairfax also live in the region, making it the most populous jurisdiction in the Commonwealth of Virginia and the Washington Metropolitan Area, according to the 2010 census.
Do I Need a Fairfax Workers Compensation Lawyer?
If your workers' compensation claim includes any of the following, you may benefit from an attorney's help:
Permanent or Long-Term Disability – If your physical or mental capabilities are affected long-term, or permanently, you may qualify for long-term disability. According to the Social Security Administration, disability is defined by a number of points, including whether or not you can do work that you did before and your disability is expected to last for at least one year or to result in death.
Severe Injuries – If the injuries you've sustained on the job have resulted in costly medical bills, a lengthy absence from work or an inability to continue in your chosen career a workers' compensation attorney can fight for your reimbursement;
Toxic Exposure – Many people don't know it, but respiratory problems and other ailments, such as certain cancers may be the result of work-related exposure to air, soil, or water contaminates. An experienced Fairfax workers compensation lawyer can help you determine if your illness has ties to your workplace and whether you should pursue a civil claim;
Insurance Company Refuses to Pay – If an employer fails to reimburse you for medical expenses and lost income, or altogether fails to offer a fair settlement, you may have cause for civil action.
What to Do to Protect Your Claim in Fairfax, VA
Notify Employer Immediately – Many workers' compensation claims are denied when it's found that the employer wasn't properly notified of the incident. After consulting with an attorney, and if possible, prepare a brief written statement that outlines the incident, the type of injuries that you sustained, available witnesses, if any, and the date and time of the incident. At the very least, be sure to tell your employer or supervisor that you were hurt.
Get Immediate and Continuous Medical Attention – Don't delay treatment or wait to see how you feel tomorrow. Have your injury evaluated right away and be sure that each emergency room or doctor's visit is documented. It is imperative that you make it to your scheduled appointments; cancelling an appointment may negatively impact your case. If your doctor tells you that you are unable to work, request a disability slip to provide to your employer.
File Workers' Compensation Claim – If you live or work in Fairfax, Virginia, you are required to file a workers' compensation claim within two years of the accident/incident. Never assume that your employer or someone else has filed this claim for you.
Watch What You Say – Never discuss details of your case with anyone besides your attorney. Your attorney should receive copies of every medical bill and workers' compensation check and notify your Fairfax workers compensation attorney immediately if there is any change to your condition or circumstances.
Contact a Fairfax Workers Compensation Attorney Today
Workers' compensation claims present a host of complex legal challenges and are never as straightforward as one would hope. If you've been injured on the job, you will benefit from the services of an experienced Virginia personal injury attorney for representation and guidance through the process of fighting for your workers' compensation rights.
An experienced Fairfax workers compensation lawyer will work aggressively to earn you the compensation to which you are entitled under Virginia law. Legal representation will help you to sidestep common obstacles that can severely reduce or terminate your eligibility for benefits. An attorney will make sure that all of your lost wages and the various other harms and losses you have suffered are taken into consideration.
An attorney will also make sure that an employer is held accountable if they were negligent for failing to safeguard known on-site dangers, discouraged you from reporting the incident or seeking proper medical care, or unfairly docked your pay.