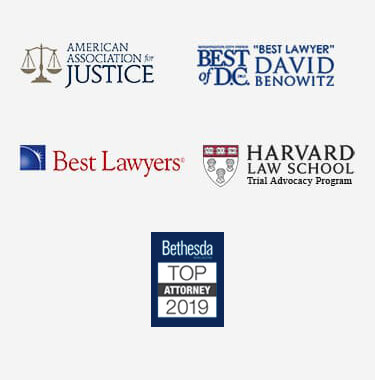 Fairfax Car Accident Attorney
Fairfax County's status as a part of the DC metropolitan area means there are a great number of people on Fairfax roadways each and every day, and with an average travel time to work of more than 30 minutes, that places the typical driver in danger of an automobile accident for at least one hour each weekday. Every Fairfax County driver knows just how busy and dangerous the I-95/I-495 corridor can be. Accidents are caused by careless and reckless drivers every day of the year. For the innocent victims of driver negligence, the pain and suffering caused by a serious automobile accident can endure for many years. If you have been injured in a car accident you may have grounds for a personal injury claim in Fairfax. Contact a Fairfax car accident lawyer today to discuss your legal options.
The daily commute can be the most dangerous time of day for many. Rushing to get to work on time, hurrying home to family or events, distractions both in and around the vehicle, and many other factors can affect the level of safety and focus one maintains when on the roadway. Additionally, no matter how safe of a driver you may be, you cannot control the actions of the drivers and vehicles around you. When you're injured a car accident attorney in Fairfax is one of the first people you should call.
How a Fairfax Car Accident Lawyer Can Help
If you suffered an injury in an accident caused by another driver, you have the right to seek compensation for the damages incurred. To determine the maximum financial award to which you may be entitled, contact an experienced Fairfax car accident lawyer. With a meticulous analysis of all facets of your accident, your attorney can factor the appropriate compensatory value for various aspects of your injury and the associated burdens. A skillfully-handled claim may include compensation for:
Hospitalization and medical care costs
Lost wages for time away from work
Pain and suffering from physical injury
Emotional trauma
Vehicle repair
Vehicle rental
Property damage
Court costs/fees
Disability
Loss of consortium
To find out the value of compensation due you, contact an experienced Fairfax car accident lawyer with our firm to schedule a free consultation. After someone is in a car accident, they will need to deal with insurance to sort out the details of the event and seek compensation for their injuries. In such cases, it is incredibly valuable to have an experienced legal professional by a person's side guiding them every step of the way.
Third-Party Negligence
The thought of being admitted to the Fairfax Surgical Center or Inova Fairfax Hospital isn't on anyone's list of desirable situations, but a car crash caused by a negligent driver can change a victim's life forever.We believe it is important for accident victims to have the ability to pursue just financial compensation for their injuries by retaining an experienced Fairfax auto accident lawyer. An experienced, talented accident lawyer will aggressively fight the insurance companies and their adjusters to represent the victim's best interests, including taking the matter to trial, if necessary. The following kinds of injuries can easily result from a car, motorcycle, truck, bus or other vehicle-related accident:
Whiplash
Strains or sprains
Nerve damage
Lacerations
Head trauma
Spinal cord injury
Bone or joint damage, including fractures and compression injuries
It's rare that a car crash victim is in a financial position to pay for the property losses and physical injuries associated with a serious accident. It's essential that every car collision victim or survivor speak with a dedicated Fairfax auto accident lawyer before they settle for less than they deserve. Many victims have no idea of how much it will cost to recover from an automobile accident.
Automobile Accidents in Fairfax
Fairfax County boasts a population of more than 1.1 million residents, and more than three-quarters of a million of those individuals are licensed drivers. As these drivers hit the streets, there are a vast array of factors which can increase the risk of motor vehicle accidents, such as:
Speeding
Failure to stop
Improper passing
Impaired driving
Distracted driving
Faulty brakes
Motor vehicle malfunction
Adverse weather conditions
Roadway conditions/construction
And much more
Traffic accidents are far less often the result of aggressive or impaired driving than the result of driver distraction, common traffic violations, or roadway conditions. Regardless of the means by which the accident occurs, however, the results for even a minor traffic infraction can be just as deadly as those caused by an intoxicated driver. Plus, Fairfax and the rest of Virginia also has considerations for filing claims that differ from neighboring jurisdictions like DC and Maryland.
Statistics and Effects of Fairfax Car Accidents
In the Commonwealth of Virginia, there were 116,386 crashes in 2010 with approximately 37 percent involving injuries. These injury crashes affected the health of more than 61,000 people in the Commonwealth. In Fairfax County alone, there were 7,600 injuries resulting from more than 13,000 motor vehicle accidents. In addition, 35 lives were lost to fatal accident injuries.
On average, there are more than 300 motor vehicle accidents in Virginia on a daily basis, and statistics from 2010 indicated nearly 40 percent of crashes result in injury to the driver, passenger, or both. A car crash can result in far more than physical injury, however. The injury itself may require hospitalization, physical therapy, rehabilitative care, and other medical and mental health care that may necessitate time away from work. Without adequate sick leave, one may begin to lose wages that can become a serious burden as medical bills begin to accumulate. The inability for an income-provider to continue to support his or her family can cause feelings of despair and helplessness which may develop into clinically-diagnosed depression that can require long-term medication or counseling.
The ripple effects stemming from a serious automobile accident may affect not only the ones involved in the crash, but the entire household, family, and friends. If you or a loved one is enduring the fallout from a car accident caused by the actions of another driver, you can hold him or her liable for the injury and associated financial and emotional burdens. A Fairfax county car accident attorney can provide you with the legal representation necessary to help you obtain financial compensation from the responsible party.
Benefits of Legal Counsel
Virginia law allows traffic accident victims to seek financial damages to pay for the emotional and mental trauma, medical bills, lost wages and other expenses that third-party negligence can impose. The victim of a serious auto accident should never attempt to contact the responsible party or their insurance company on his or her own. Any statement that is made by an accident victim may be used by an insurance company to limit or invalidate their claim for compensation.
A dedicated Fairfax car accident lawyer with experience in pursuing car crashes and other vehicle accident claims will thoroughly investigate the circumstances surrounding the accident and then work with you to determine the compensation available based upon the unique factual circumstances of your case. Dealing with the trauma of a collision or crash is stressful and time consuming. Relying on a trusted attorney to obtain the financial resources necessary to pay for the cost of recovering from a major accident – whether it involves a car, motorcycle, truck, bus, ATV or other mechanized vehicle — makes an enormous difference. Although many vehicle accident claims result in out-of-court settlements, the insurance companies are determined to minimize their losses and work hard to keep those settlements far below the amount that victims require and deserve. An aggressive attorney will dutifully prepare their case to maximize your claim and will work hard to ensure that all of your needs are addressed.