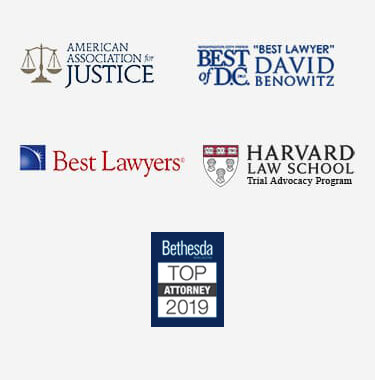 Washington, D.C. Coronavirus and Workplace Rights Lawyer
Employers and workers across the nation are facing unprecedented times in the age of COVID-19. As many companies employing essential and non-essential employees have risen to the occasion to protect their staff from the threat of coronavirus, some workers face increasing concerns over insufficient preventative measures from their employers and fear of retaliation if they speak up.
A Washington D.C. coronavirus and workplace rights lawyer can investigate the situation further if you believe your employer has failed to protect your interests and health during the pandemic. An experienced workers' compensation attorney can answer your questions and what legal steps may be taken if your employer neglected to apply appropriate safety standards or infringed upon your worker rights.
Sick Leave Protections for Employees
Numerous federal and local laws may entitle workers to sick leave during the pandemic. The establishment of the Families First Coronavirus Response Act (FFCRA) in April 2020 affords eligible workers two weeks of sick leave for full or partial pay, subject to daily earning limits, depending on the exact reason for their emergency leave. Covered situations include when a doctor instructs an employee to self-isolate, the employee is exhibiting indications of COVID-19 and is under a doctor's care, or has been forced to quarantine due to a government directive. The FFCRA applies to companies that have fewer than 500 workers.
Employees in Washington D.C. who need to self-isolate due to COVID-19 upon the advice of their doctor or guidance from local authorities can take emergency leave under the District of Columbia Family and Medical Leave Act. Federal law also offers protections to employees who are ill, under the Family and Medical Leave Act. Under federal FMLA, an employee who has been diagnosed with COVID-19 may claim up to three months of leave to quarantine and convalesce. Individuals concerned about how their workplace is protecting their rights during the coronavirus pandemic should speak with a Washington D.C. attorney.
Preventative Steps Employers Should Take to Protect Their Staff
The Centers for Disease Control and Prevention, plus the Occupational Health and Safety Administration (OSHA) have outlined recommendations for employers across the nation. These recommendations include the preventative steps employers should take in protecting their workers from the risk of infection, as well as essential measures to detect and isolate sick individuals to mitigate the spread of the virus.
Employers should encourage compliance with social distancing measures and advice their workers to stay home, if they are unwell. If feasible, companies should try to keep personnel onsite down to essential employees and examine options for remote work. Work areas should be sanitized often, and workers should be properly trained and informed to report and respond to virus exposure. Hand sanitizer or areas where workers can cleanse their hands with soap and water should be available.
The Rights of Employees During the Pandemic
Employers have a legal obligation to their employees to use care to avoid exposing them to an unreasonable risk of harm. If a company does not implement adequate preventive measures to mitigate the spread of COVID-19 and workers become ill as a result, they could open themselves up to allegations of liability. If a worker shows signs of the virus, they should leave work. Workers with frequent, immediate contact with the infected individual should also leave work to self-isolate for two weeks unless they are an essential employee without symptoms of COVID-19.
Generally speaking, an employee cannot simply decline to come into work, although if doing so would place them at impending risk of injury or death from coronavirus, they may have grounds to reject to work. With the fluidity of the coronavirus situation, Washington D.C. workers should speak with a lawyer if they have questions about their legal rights amid the pandemic.
Call a Washington D.C. Coronavirus and Workplace Rights Attorney
If your company's negligence caused you to contract COVID-19, a Washington D.C. coronavirus and workplace rights lawyer could help determine whether you have a well-founded legal claim. Call the office today to schedule your confidential legal consultation with a Washington D.C. attorney.