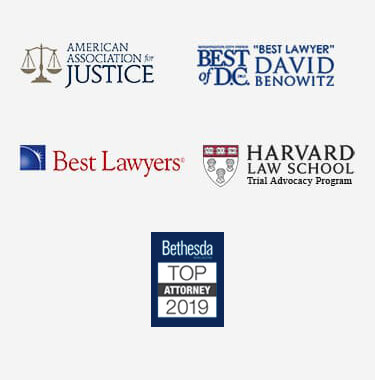 Alexandria Workers' Compensation Lawyer
In Alexandria, almost all on-the-job injuries are covered under the Virginia Workers' Compensation Act, with the Virginia Workers' Compensation Commission overseeing portions the Act. The Virginia Workers' Compensation Act may cover injuries if they occur outside of the state of Virginia if the worker contracted for employment in Virginia, the employer's place of business is in the state and/or the employment was not specifically stated to be performed exclusively outside of the state. The Virginia Workers' Compensation Act can be confusing and complex, which is why choosing an experienced Alexandria workers compensation lawyer is critical to protecting your rights under the law.
At Price Benowitz LLP, we do not handle workers' compensation claims in Virginia. However, we can help you find a workers' compensation attorney who does handle these claims in the Alexandria area.
Workers' Compensation Insurance in Alexandria, VA
In Alexandria, certain employers are required by law to maintain workers' compensation insurance for their employees and a failure to do so may allow an injured employee to file a civil suit against the employer to recover damages. Generally speaking, any employer with three or more employees is subject to the act and part-time employees count toward the employer's total workforce if they work regularly. Employers with less than three employees may elect to be covered under the Workers' Compensation Act, but are not required by law to do so.
Workers' Compensation for Sub-Contractors
Companies that use sub-contractors in Alexandria to perform certain duties may be held liable for injuries suffered by the employees of the sub-contractor. There are, however, exceptions to this rule. Which is why anyone considering filing a workers' compensation claim should speak with a dedicated Alexandria workers compensation lawyer.
Injuries that Qualify for Compensation
In Virginia, an employee may be eligible for workers' compensation if they are injured due to:
Accidents – Because Virginia is an "actual risk" state, and not a "potential risk" state, an injury on the job must have a causal connection between the injury and the workplace conditions in order to be compensable. Therefore, not every injury at the workplace is covered by the act. Contact an Alexandria workers compensation attorney if you have been injured on the job and are not sure if your injury qualifies for compensation under the law.
Occupational Disease – Certain occupational diseases are compensable under the Virginia Workers' Compensation Act. The may include, but aren't necessarily limited to, skin diseases and disorders (e.g. eczema or chrome ulcers), respiratory conditions, poisoning, hearing loss and other illnesses, such as decompression sickness, radiation exposure, and blood-borne pathogenic diseases (e.g. AIDS, HIV, hepatitis B or C). If there is a direct connection between the disease and job duties or if the illness is caused by exposure to hazards as a result of employment, they may be compensable. In addition, the cause of the disease must be traced back to the employment, must not be a disease that the employer would have developed if they had not been performing the duties of employment, and must be incidental to the type of work being performed. Anyone who develops an occupational disease should contact a Workers Compensation attorney to learn if they are eligible for compensation under the act.
Ordinary Diseases of Life – Section 65.2-401 of the Code of Virginia indicates that workers' compensation also covers non-occupational diseases that either result from an occupational disease or are contracted during employment as a medical worker at a hospital, sanitarium, or as emergency medical or rescue personnel.
Aggressive Alexandria Workers Compensation Lawyers
Employers in Alexandria and throughout the Commonwealth have a responsibility to maintain safe working conditions for those in their employ. When this duty is violated and accidents occur, injured employees in Alexandria should protect their rights by contacting a local workers compensation attorney. An Alexandria workers compensation lawyer can help in determining how best to pursue your potential claim and fight for the compensation you deserve for the harms and losses that you have suffered.