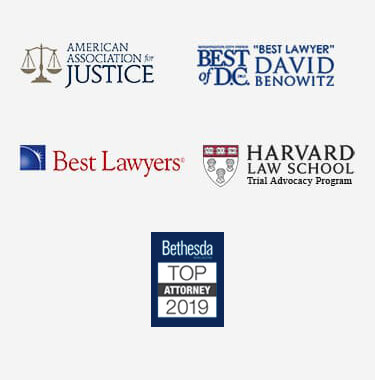 Alexandria Car Accident Attorney
One of the most common scenarios leading to a personal injury lawsuit is a car accident. Although transportation by car has become a common, everyday means of accomplishing everyday tasks, around 120,000 accidents occur each year in the state of Virginia alone. Most of these accidents are attributed to driver error.  If another motorist caused a car accident that led you to suffer injuries or property damage, you have the right to hold him or her responsible for these careless actions. Call an Alexandria car accident lawyer today for a free consultation, or learn more about other kinds of injury cases we handle in Alexandria.
Steps to Take After a Car Accident in Alexandria
There are many steps one should take after an accident to ensure that you is exercising your full rights concerning acquiring compensation for a personal injury that is the result of another driver's negligence.
The most important step is finding the right Alexandria car accident lawyer. Knowledgeable and experienced legal representation drastically increases your chances of being appropriately compensated for an injury.
Another important step in pursuing compensation after a personal injury caused by a vehicle accident involves doing your research and learning what Virginia rules and regulations will affect your case. It is important to carefully record events and keep careful track of medical records showing the procession of a personal injury, as any information relevant to the scenario that resulted in the incident and to the personal injury that resulted from the accident could be used to prove the liability of the defendant in a personal injury case.
How a Car Accident Attorney Can Help
However, you also need to understand Virginia's legal precedents and regulations to fully exploit the information surrounding your case. Below is some information on Virginia's typical dictates regarding cases of car accidents resulting in personal injury:
Fault insurance– Virginia takes a traditional "fault" view of car accidents and compensation for car accident injuries. This means that that a driver may opt to pursue the other driver in an accident to acquire compensation for a personal injury.
Insurance requirements– The fact that Virginia does not require drivers to purchase car insurance can sometimes complicate personal injury lawsuit involving car accidents in the state. This means that a driver in an accident may not be able to rely on insurance for any liability claims against them and may have to pay any costs involved in a car accident out of pocket.
Requirements on insurance policies– If a Virginia driver is in fact insured, the minimum requirements on the insurance policy dictated by the state for each individual accident are as follows: at least $25,000 in personal injury insurance in the case of one injured individual and $50,000 in personal injury insurance in the case of more than one injured individual, and $20,000 in property damage.
Uninsured or underinsured motorist insurance– This type of insurance can increase the overall payout on an insurance claim if a motorist involved in an accident did not have insurance or did not have enough insurance to cover the full costs of an accident.
While the fact that Virginia has a traditional "fault" setup to resolving disputes caused by car accidents, there is a statute of limitations of two years on personal injury cases. This means that those who wish to file a claim after an accident must do so within two years of the accident or they will be unable to acquire compensation for the incident. There are exceptions to the statute of limitations for certain kinds of personal injury cases, so be sure to check with an Alexandria car accident lawyer soon.
Working with an Experienced Alexandria Car Accident Lawyer
In a personal injury case resulting from a car accident in Virginia, a plaintiff may acquire coverage for a variety of different expenses caused by the accident. These include costs resulting from the treatment of physical injury or physical injuries, loss of wages due to an injured individual's being unable to work, financial compensation for pain and suffering caused by personal injuries, and any loss of property caused by a vehicle accident. An experienced Alexandria car accident attorney can help you to accurately calculate the value of the medical care, lost wages, and pain and suffering you may have incurred since the accident and may reasonably anticipate incurring in the future.
It is important that an individual pursuing compensation through a personal injury lawsuit in the state of Virginia be aware of the concept of contributory negligence. If the defendant in your personal injury case can prove that you as the plaintiff were in some way responsible for the accident or contributed in some way to the hazardous situation that resulted in the accident, you will have trouble winning the lawsuit. However, if you were exercising what is generally accepted as the proper amount of care and caution in the situation and still were involved in an accident due to the negligence of another, you should not have any problems winning a personal injury case in Northern Virginia through the assistance of an experienced Alexandria car accident lawyer. For more information on how you can win your personal injury claim, contact an Alexandria car accident lawyer with our firm and put yourself on the path towards fair compensation.
Our firm also handles other types of personal injury cases in DC – learn more here.