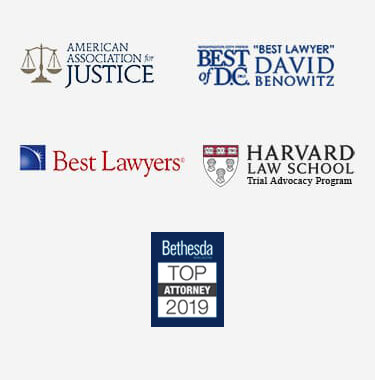 DC Wrongful Death FAQs
If you have lost a loved one due to the neglect or wrongful act of another party, you may be eligible to file a wrongful death lawsuit in order to receive monetary compensation for your losses. Many family members have questions about what qualifies as wrongful death and how a lawsuit may proceed. The DC wrongful death FAQs below will provide answers to your questions about the laws, regulations and common practices associated with a wrongful death lawsuit in the District of Columbia.
What Qualifies as a Wrongful Death in DC?
A wrongful death is defined as a death following an injury that was "caused by the wrongful act, neglect, or default of another person or corporation." D.C. Code §16-2701. A wrongful death suit can be filed if the death is caused by any sort of negligence, carelessness, recklessness, or intentional conduct that would otherwise provide the decedent a right to recovery if they had survived. These instances can include slips, falls, malfunctioning or defective products, car accidents, or other types of accidents resulting from actions or neglect of an individual, hospital, corporation, government entity, or other business.
Who is Eligible to File a Wrongful Death Suit?
Wrongful death lawsuits must be brought in the name of the Personal Representative of the deceased person. D.C. Code § 16-2702. The wrongful death beneficiaries are defined by statute, and generally include any surviving spouse and children, but can also include additional family members depending on the facts of each case. If the deceased person did not have a surviving spouse or partner, then children, parents, or siblings may qualify as next of kin, making them eligible to recover damages through the wrongful death suit.
How Much Time Do I Have to File a Wrongful Death Lawsuit in DC?
Under the Wrongful Death Act of 2012, the victim's Personal Representative must file a wrongful death lawsuit within two years of the date of death. This two-year period is known as the statute of limitations. If the lawsuit is not filed within this two-year time period, the victim's family essentially forgoes the right to receive any monetary compensation for their loss, as any defendants may plead the statute of limitations as a defense to any wrongful death claims.
Can a Wrongful Death Suit be Filed if there is Already a Criminal Case in Process?
Yes. Because a wrongful death lawsuit is a civil case, it can be filed even if there are already criminal proceedings in place. For example, if a person is facing criminal charges for manslaughter or DUI, the victim's family may also file a wrongful death case in order to receive damages to compensate for their personal losses.
What Types of Damages may be Recovered for Wrongful Death?
In a Washington, DC, wrongful death case, damages may be awarded to the family members of the deceased person to cover the following expenses and losses:
Cost of the funeral and burial
Medical bills for treatments or emergency medical care provided to the victim during his or her last illness or injury.
Loss of financial support, including wages and benefits that would likely have been earned by the deceased person if he or she had lived. These damages may cover all wages and benefits through the victim's probable retirement age.
The value of lost services such as support, care, companionship, training, education, personal advice, and other potential services the deceased would likely have provided for his or her family. DC Code § 16-2701; Doe v. Binker, 492 A.2d 857, 863 (citing Runyon v. District of Columbia, 150 U.S. App. D.C. 228, 231, 463 F.2d 1319, 1322 (1972); Graves v. United States, 517 F. Supp. 95, 99-100 (D.D.C. 1981).
In Washington, DC, beneficiaries will not be awarded damages for grief, mental distress, or the loss of love and affection. There is no set limit governing how much money can be awarded in damages in a wrongful death case. The jury assigned to the case will decide the amount of money awarded. If there is no jury, the decision is made by the judge. In jury cases, the judge may still exercise their discretion to reduce a verdict deemed to be out of proportion with the actual losses suffered.
How are damages distributed?
The jury or judge on a case will decide how much compensation the victim's estate will receive in damages. The amount of money to be awarded is based on the losses suffered by the surviving family members as a result of the victim's death. If the deceased person had a will, then the Personal Representative of the decedent's estate will act as a trustee for the family and will be responsible for distributing damages among family members in order to compensate them for in proportion to the suffering and loss experienced by each person. If the victim died intestate (without a will), and the verdict or judgment does not specify an allocation of damages, then damages will be distributed directly to the surviving spouse, domestic partner, or next of kin according to statute, depending on the remaining descendants. See DC Code Section 19-301 et seq. In the absence of a judgment or verdict specifying the allocation of the damages, the law dictates that the same rules governing the distributions apply. Some examples of possible distributions are as follows:
If there are no descendants or parents, the deceased person's spouse or domestic partner will receive the entire amount.
If there are children who belong both to the victim and to the surviving spouse or domestic partner, then the children will receive one-third of the damages, and the surviving spouse or domestic partner will receive two-thirds.
If there are children and no other descendants, then the children share equally.
If there are surviving parents but no spouse, children, or other descendants, then the parents will receive the entire amount.
If there are siblings or descendants of siblings, but no spouse, parents, or children, then the siblings and descendants of siblings will receive the entire amount equally.
These examples do not account for all possible distributions, but they illustrate how complex the distribution of wrongful death proceeds can become.
Is it likely that my wrongful death case will be tried in court?
As is the case in most civil litigation, many wrongful death cases can be settled out of court by coming to a settlement agreement with the parties responsible for causing the death. However, because it is possible for any lawsuit to go to trial, it is important that you choose an attorney who is experienced in handling wrongful death cases. An experienced wrongful death attorney not only will be able to effectively handle your case in the courtroom, but also will have the experience necessary to negotiate a favorable settlement out of court if the responsible party is willing to settle.
What is the cost for hiring an attorney to handle a wrongful death case?
In most wrongful death cases, the client and lawyer will agree to a contingent fee arrangement. In such an arrangement, the client does not pay any money upfront. Instead, the lawyer will receive a specified percentage of the total amount of money received in damages at the conclusion of the case. If no money is recovered, then there is no fee. The percentage of money paid to the wrongful death attorney may vary based on the specific circumstances of the case, including whether or not the case goes to trial or is settled prior to litigation.
Will I have to pay for a consultation if I do not choose to hire your firm?
No. You may call our law offices for a free consultation at any time. One of our experienced wrongful death attorneys will speak to you in detail about your case, provide the information you need to make a decision, and explain to you what the next steps would be. If you do not choose to retain the firm, you pay nothing. If you have lost a loved one to wrongful death circumstances, you need an attorney who has experience with wrongful death lawsuits and who can skillfully negotiate a settlement for your case. If your case goes to trial, you need a lawyer who will fight for you and litigate your case in front of a judge or jury. Our team of lawyers has an established reputation for delivering positive results to our clients, and we will work tirelessly to ensure that you receive the compensation that you deserve for the losses you have suffered as a result of the wrongful death of your loved one. Call our law office today for a free consultation with an attorney who can talk with you about the facts of your case, provide counsel for moving forward, and give personal attention to the specific circumstances involved.